Tastes from Around the World
Food brings people together and it functions as an expression of cultural identity. Throughout history humans have brought the food of their countries with them wherever they go and cooking traditional food is a way of preserving their culture when they move to new places.
Tastes from Around the World Recipes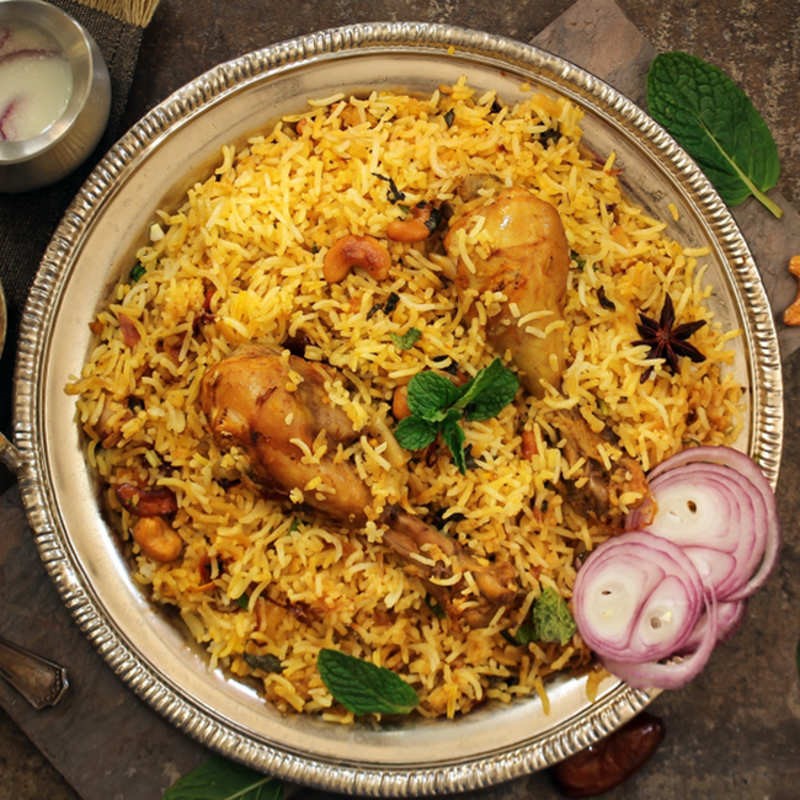 Once a dish for royalty, today biryani reflects the flavor and traditions of each locality and is a common dish across many places in Pakistan. My entire family loves rice and biryani is our favorite, and everyone knows how to cook it. It's my all-time favorite that is why I choose it. It's so popular, Its rich flavor. It is a hearty meal that one can enjoy at any hour of the day or night.
Ingredients/Directions
This recipe needs half kg chicken (1.1 lbs.). Make few slits on all the chicken pieces and add to a large bowl. Then add:
3 tablespoons plain yogurt (Indian curd)
1¼ tablespoons ginger garlic paste
½ to 1 tablespoon garam masala (or biriyani masala)
½ teaspoon salt
½ to 1 teaspoon red chili powder (reduce for kids)
¼ teaspoon ground turmeric
1 tablespoon lemon juice (optional)
Mix everything well and marinate the chicken. Cover and set this aside for 1 hour. You can also rest it overnight in the fridge.
Meanwhile add 2 cups basmati rice to a large pot and rinse it at least thrice. Drain and soak in fresh water for 30 mins. Drain to a colander after 30 mins. Optional – Soak a pinch of saffron strands in 2 tablespoons hot milk.
Heat ghee or oil in a heavy bottom pot or pressure cooker. Make sure you use a large one for this. Using whole spices is optional but recommended. Use whatever you have. I use
1 bay leaf
4 green cardamoms
6 cloves
1 inch cinnamon piece
1 star anise
¾ teaspoon shahi jeera (caraway seeds)
1 strand mace
Add thinly sliced onions. On a medium heat, fry them stirring often until uniformly light brown. Do not burn them as they leave a bitter taste.
Add marinated chicken & saute until it becomes pale for 5 minutes.
Lower the flame completely. Cover and cook until the chicken is soft, tender and completely cooked. Check if the chicken is cooked by pricking with a fork or knife. It has to be just cooked and not overdone. Evaporate any excess moisture left in the pot by cooking further without the lid. Taste test and add more salt if needed. I added ¼ more salt here.
Then Add
¼ cup plain yogurt (Indian curd)
1 teaspoon garam masala (or biryani masala)
¼ to ½ teaspoon red chili powder (optional)
1 slit green chili pepper (optional)
2 tablespoons chopped mint leaves (pudina)
Layer drained rice all over the chicken. To a separate bowl, pour 3 cups water and add ¼ to ½ teaspoon salt. If cooking in a pot, start with 3 cups water at this stage.
Stir and taste the water. It must be slightly salty. Pour 2 cups of this across the sides of the cooker or pot. Pour rest of the water over the rice gently.
Level the rice gently on top. Add 2 tablespoons more mint leaves. Do not mix up everything, the taste of the biryani cooked in the shown method is good. Optionally you can sprinkle 2 tablespoons fried onions & saffron soaked milk.
Finally cover the pot or cooker.
If cooking in a pot, cook on a medium heat until the rice is done completely. If the rice is undercooked pour ¼ to ½ cup boiling water at this stage. How much to add depends on the quality of basmati rice. Cook covered until the biryani rice is perfectly done, grainy and fully cooked. Rest it covered for 15 mins.
If cooking in a cooker, cook for 1 whistle. Later remove the cooker from the hot burner to stop cooking further.
When the pressure releases naturally, open the lid. Gently fluff up with a fork.
Serve chicken biryani in layers – top layer with rice and bottom layer with chicken.
Enjoy!
Submitted by: Syeda Naqvi (Student)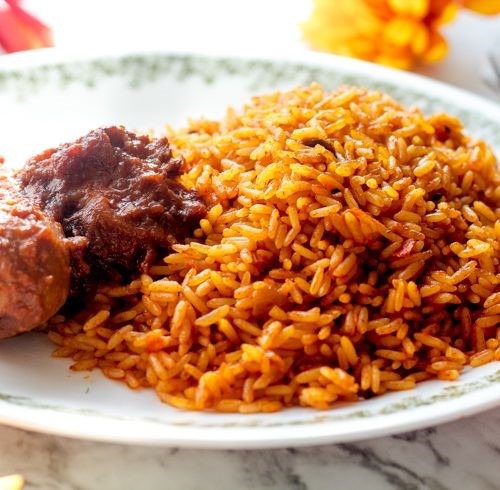 There are many African countries that serve this type of rice in gatherings but Nigerian Jollof rice is the best. According to research the history of jollof rice, it is from the 1300 century.
Ingredients
2 cups of rice
2 cubes of maggi
1 tablespoon of salt
5-6 tomatoes
3 habaneros
1 large onions
2 big red bell pepper
curry/ thyme
some ginger
Tomato paste and vegetable oil
Directions
Blend the pepper/onion/tomatoes in a blender.
Slice in round shape one tomato and onion.
Put the pot on the stove, pour some vegetable oil inside the pot like 1/4 cup.
Pour in some of the slice onion and the tomatoes.
Add tomato paste to it, add maggi, salt, curry & thyme
5 minutes later pour in the blended pepper and cook for 15 minutes.
Add 2 cups of water, add washed rice to it and gently stir (don't touch the bottom of the pot) and cook on mid heat for 25-30 minutes and steam until it is well cooked. Rice is served.
Submitted by: Olufunke Oniyelu (Student)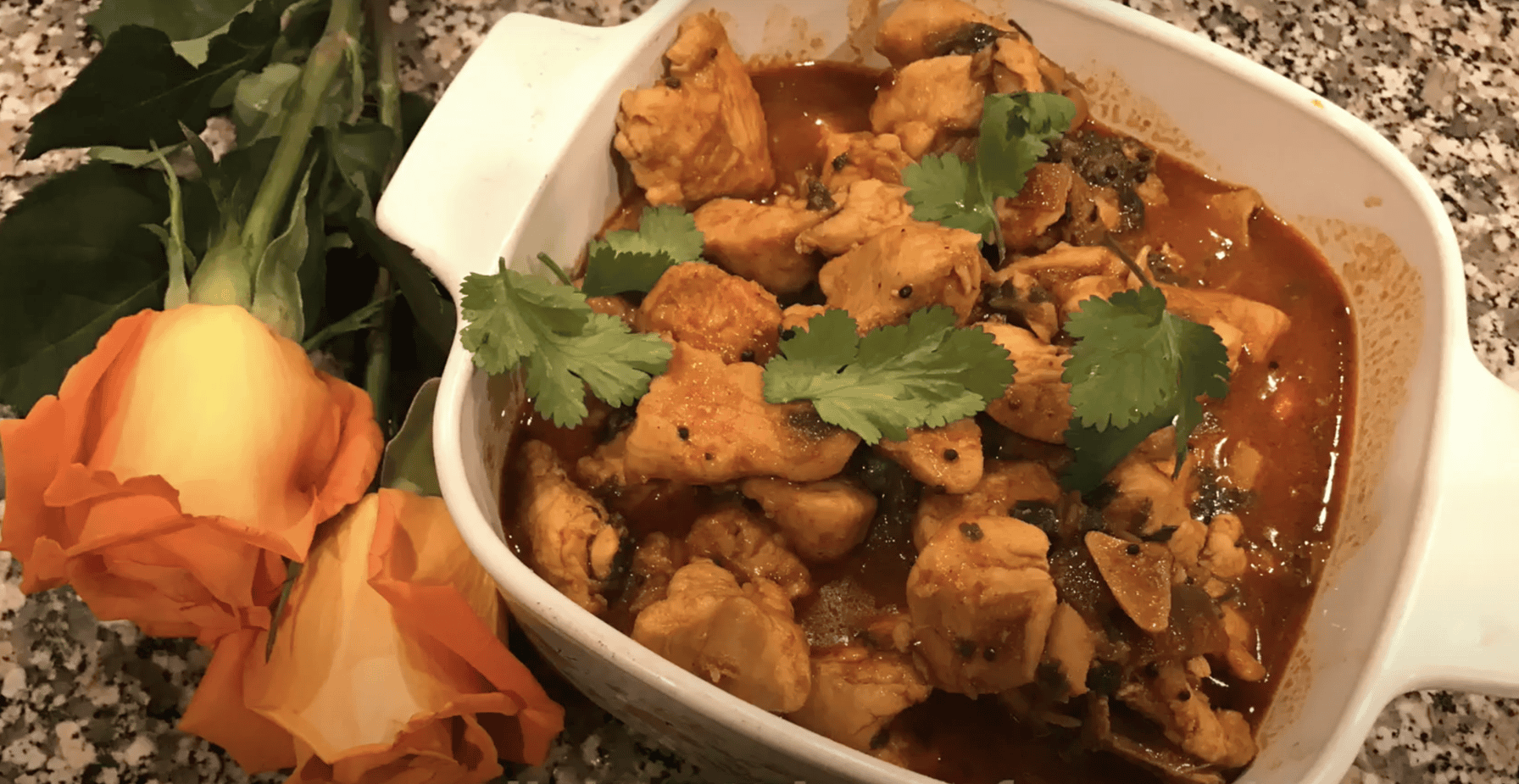 Most people know what Chicken Tikka is, but this is rarely eaten in the South of India where my family is from. My grandma commonly makes this dish and has taught me how to make it as well. My friends love it when I do make it. I wanted to share this recipe, because this food is what makes me feel at home. It is a dish I grew up with, and a dish that is also very integral to India's culture for millions of Indians.
Ingredients
3 pounds of chicken cut into 1/4 inch
3 teaspoons of curry powder
1 teaspoon of garam masala
1 teaspoon of coriander powder
1/2 teaspoon of turmeric powder
3-4 tablespoons of cooking oil
1 teaspoon of mustard seeds
1 teaspoon of methi seed or powder
1 medium onion
6 Garlic cloves
2 tablespoons of fresh ginger
1/2 cup of coconut milk
1/4 cup of chopped fresh cilantro
Salt (to taste)
Directions
Fry mustard seed and methi seed until dark in a little oil of your choice (we used coconut oil).
Then add onion and garlic and fry.
Add chicken pieces, and cook until not completely white then add all the spices. Make sure chicken is covered in spices equally, then add a squeeze of lemon, then add coconut milk and cilantro.
Let it boil for 15-20 minutes.
Then all done! Enjoy with some rice or chapathi/roti.
Here is a video to help as well – https://www.youtube.com/watch?v=5LCJpG97NkQ&ab_channel=BessJ
Submitted by: Meera Joseph (Student)
Crowned as the official national dish of Myanmar (Burma), mohinga is a fish and rice noodle soup that can, depending on the region, be enriched with an array of different ingredients by adding them to the soup or using them as a dressing or garnish. When it comes to the origin, various accounts exist, some of them dating as far back to the first century. By the 19th century, mohinga was regarded as a working-class meal due to its low cost, but over time, it has become so popular that today it can even be purchased as a ready-made soup. Although this fish soup is typically consumed for breakfast, it evolved into an all-day dish that is traditionally sold by street hawkers and roadside sellers. I choose to share this recipe because it was easy to make and my favorite dish of all Burmese food. I was from Myanmar too so it relates.
Ingredients
1/2 cup uncooked jasmine rice
Broth
3 quarts water
3 stalks lemongrass, cut into 3-inch pieces
1 2-ounce piece ginger (unpeeled), thickly sliced crosswise into slabs
5 bay leaves
1 1/2 teaspoons ground black pepper
1/2 teaspoon ground white pepper
2 teaspoons salt
1 scaled and gutted catfish (about 3 pounds)
Soup
1/3 cup vegetable oil
1 stalk lemongrass, minced
1/4 cup minced garlic
3 tablespoons minced ginger
1 tablespoon paprika
1 teaspoon turmeric
2 red onions, diced into 1/2-inch pieces (about 3 1/2 cups)
1/4 cup fish sauce
salt
10 ounces fine round rice noodles
Serving
6 hard-boiled eggs, sliced
12 Yellow Split Pea Crackers, broken into pieces
1/2 cup chopped cilantro
2 limes, cut into wedges
Thinly sliced red onions
Directions
For the mohinga: Heat the oven to 350°F. Spread the rice across a rimmed baking pan and bake, giving the pan an occasional stir, until the rice is an even golden color and aromatic, 20 minutes. Cool to room temperature and then pulverize in a clean coffee grinder.
To make the broth: Select a large wide pot that will fit the catfish comfortably with room to spare. (An 8-quart pot works well.) Add the water, lemongrass, ginger, bay leaves, black and white pepper, and salt and bring to a boil. Lower the heat and simmer for 15 minutes.
Carefully lower the fish into the pot. The fish may not be completely covered in water, but that's okay. Bring the pot to a brisk simmer, lower the heat, and cook gently for 15 minutes. Using tongs, carefully turn the fish over or at least rotate it slightly to cook the side that was sticking out of the water. Simmer for another 5 minutes or until the fish flesh pulls away cleanly from the bone. Using tongs and a spider or slotted spoon, lift the fish out of the broth and transfer to a bowl. Turn off the heat and let the broth sit on the stove.
When the fish is cool enough to handle, pull off the skin and discard. Separate the cooked fish from the bones, trying to keep the skeleton (or skeleton portions if the fish is cut in pieces) intact. Set aside the cooked fish. Return the skeleton (including head and tail) to the pot.
Bring the pot to a boil. Lower the heat and simmer for 15 minutes. The broth should have a mild ginger-lemongrass flavor and be slightly cloudy. Strain the broth through a fine-mesh strainer. You will have about 10 cups. Give the pot a quick rinse (when it's cool enough to handle), and return the broth to the pot.
In a small bowl, whisk together the powdered rice and a ladleful of the broth until no lumps remain. Stir into the broth. Bring the broth to a simmer and cook, stirring often, until it starts to barely thicken, about 5 minutes. Turn the heat to low and cook the broth at a gentle simmer while preparing the soup.
To make the soup: In a wok or large skillet, heat the oil over high heat. Add the lemongrass, garlic, and ginger and stir-fry for 1 minute. Add the cooked fish, paprika, and turmeric, mashing the fish gently with a spoon to turn it into a coarse paste, and cook for about 1 minute. If you see any errant bones, pick them out.
Pour the contents of the wok into the broth and bring to a brisk simmer. Add the red onions and fish sauce. Simmer for 5 minutes more or until the flavors start to come together. Taste the broth: it should be on the salty side because the noodles will not have any salt. If it's not that salty, add some salt or fish sauce. (At this point, the soup can be cooled and served the next day.)
To cook the noodles: Bring a pot of water to a boil. Add the noodles and cook, stirring often with tongs or chopsticks to prevent sticking, for 5 to 6 minutes or until softened. Turn off the heat and let the noodles sit in the water for 3 minutes. Drain in a colander, rinse under cool running water, and give the colander a shake to remove excess water. If not serving right away, mix some canola oil into the noodles with your hands to keep them from sticking together. (You can also cook the noodles in advance and soak them in warm water before serving.)
To serve: Divide the noodles among the bowls. Ladle the soup over the noodles and serve the hard-boiled eggs, crackers, cilantro, and lime wedges alongside.
Submitted by: Naychi Shein (Student)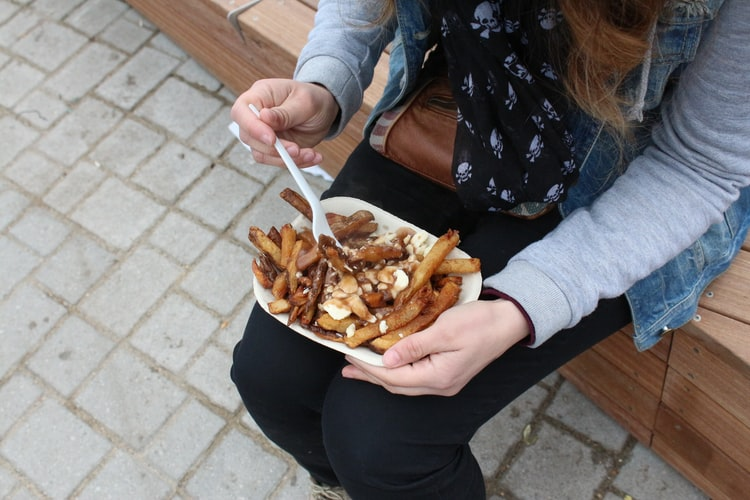 Poutine, eh? It is the classic, savory Canadian Dish. It is so, so yummy as the hot beef gravy slightly softens the fresh hand-cut crispy fries and melts the gooey cheese curds. It truly tastes like home, the true north strong and free. Since I was a young child, poutine has been my favorite food and every time I go back home I have to get some. There are lots of little things that can be done to make it your own. For instance, some restaurants add unique different toppings on the traditional version, such as pulled pork poutine, and I even had poutine from a restaurant once that added cinnamon to it was crazy (it was super tasty and unique). For me though, my favorite addition is just a slight drizzle of ketchup. No matter what you add to it, you can always return to the traditional fries, gravy, and cheese curds. Either way, the dish can be made as diverse as the great nation of Canada and I recommend you try it both traditionally and with a unique twist of your own.
Ingredients
Poutine Gravy
3 Tbsp cornstarch
2 Tbsp water
6 Tbsp unsalted butter
1/4 cup unbleached all-purpose flour
20 oz beef broth
10 oz chicken broth
Pepper, to taste
For Deep Fried Fries
2 lbs Russet potatoes ((3-4 medium potatoes))
Peanut or other frying oil
Toppings
1 - 1 1/2 cups white cheddar cheese curds (Or torn chunks of mozzarella cheese would be the closest substitution)
Directions
Prepare the gravy: In a small bowl, dissolve the cornstarch in the water and set aside.
In a large saucepan, melt the butter. Add the flour and cook, stirring regularly, for about 5 minutes, until the mixture turns golden brown.
Add the beef and chicken broth and bring to a boil, stirring with a whisk. Stir in about HALF the cornstarch mixture and simmer for a minute or so. If you'd like your gravy thicker, add a more of the cornstarch mixture, in small increments, as needed, to thicken. Season with pepper. Taste and add additional salt, if necessary, to taste. Make ahead and re-warm or keep warm until your fries are ready.
For Deep-Fried Fries: Prepare your potatoes and cut into 1/2-inch thick sticks. Place into a large bowl and cover completely with cold water. Allow to stand at least one hour or several hours. When ready to cook, heat your oil in your deep fryer or large, wide, heavy cooking pot to 300° F.
Remove the potatoes from the water and place onto a sheet of paper towel. Blot to remove as much excess moisture as possible.
Add your fries to the 300°F oil and cook for 5-8 minutes, just until potatoes are starting to cook but are not yet browned. Remove potatoes from oil and scatter on a wire rack. Increase oil temperature to 375°F Once oil is heated to that temperature, return the potatoes to the fryer and cook until potatoes are golden brown. Remove to a paper towel-lined bowl.
To Prepare Poutine: Add your fried or baked fries to a large, clean bowl. Season lightly with salt while still warm. Add a ladle of hot poutine gravy to the bowl and using tongs, toss the fries in the gravy. Add more gravy, as needed to mostly coat the fries.
Add the cheese curds and toss with the hot fries and gravy. Serve with freshly ground pepper. Serve immediately.
Submitted by: Kaylee Bjarnason (Student)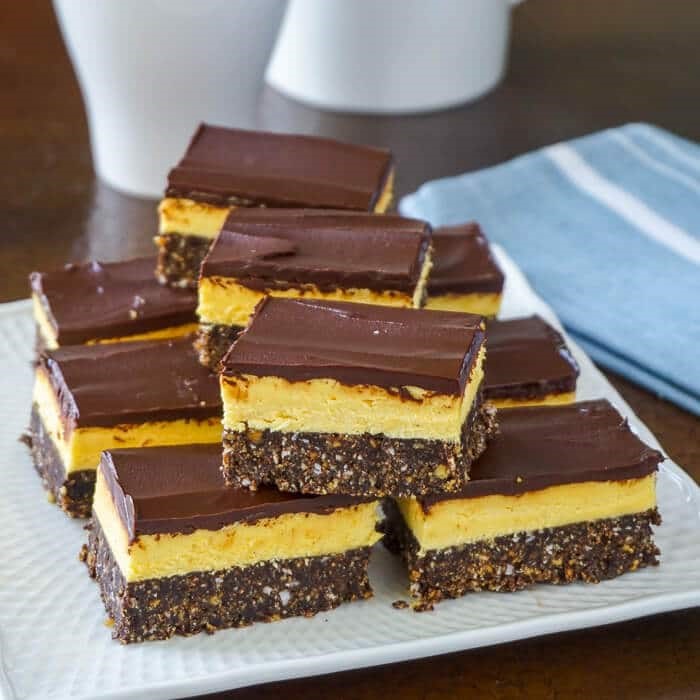 To be honest, these have never been my absolute favorite but they are a staple Canadian dessert. Done right, they are light and sweet and perfect for the holidays. I chose to include them in my submissions because it would be a disgrace to my home and native land not to include them. I encourage you to give them a try, who knows they may just bring out your inner Canadian!
Ingredients
½ cup butter, softened
¼ cup white sugar
5 tablespoons unsweetened cocoa powder
1 egg, beaten
1 ¾ cups graham cracker crumbs
1 cup flaked coconut
½ cup finely chopped almonds (Optional)
½ cup butter, softened
3 tablespoons heavy cream
2 tablespoons custard powder
2 cups confectioners' sugar
4 (1 ounce) squares semisweet baking chocolate
2 teaspoons butter
Directions
In the top of a double boiler, combine 1/2 cup butter, white sugar and cocoa powder. Stir occasionally until melted and smooth. Beat in the egg, stirring until thick, 2 to 3 minutes. Remove from heat and mix in the graham cracker crumbs, coconut and almonds (if you like). Press into the bottom of an ungreased 8x8 inch pan.
For the middle layer, cream together 1/2 cup butter, heavy cream and custard powder until light and fluffy. Mix in the confectioners' sugar until smooth. Spread over the bottom layer in the pan. Chill to set.
While the second layer is chilling, melt the semisweet chocolate and 2 teaspoons butter together in the microwave or over low heat. Spread over the chilled bars. Let the chocolate set before cutting into squares.
Submitted by: Kaylee Bjarnason (Student)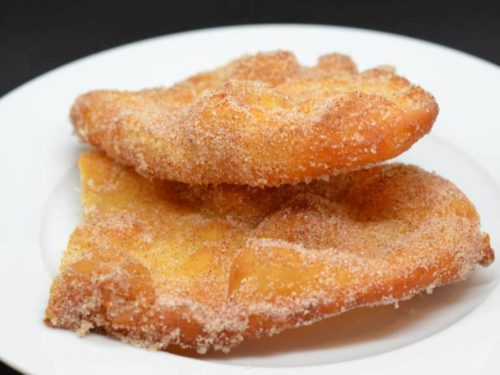 Where I grew up, we called these delicious treats elephant ears, but in other regions in Canada they are called beaver tails, which really is more fitting, eh? They are not hard to make really, but for me growing up they were always a treat we only got once a year at our local Canada Day fair. You can put almost any sweet thing on them, but my favorite is the classic way with just a sprinkle of icing sugar or with cinnamon sugar. Whichever way you choose to eat it, it will be super yummy and hopefully reminds you of the shape of a beaver tail!
Ingredients
½ cup warm water (110 degrees F/45 degrees C)
5 teaspoons active dry yeast
1 pinch white sugar
1 cup warm milk (110 degrees F/45 degrees C)
⅓ cup white sugar
1 ½ teaspoons salt
1 teaspoon vanilla extract
3 beaten eggs
⅓ cup vegetable oil
5 cups whole-wheat flour, divided
1-quart vegetable oil for frying
2 cups white sugar
½ teaspoon ground cinnamon, or to taste
Directions
Mix warm water, yeast, and 1 pinch of sugar in a large bowl, and let stand until the yeast begins to foam and form a creamy layer, about 5 minutes. Stir in milk, 1/3 cup sugar, salt, vanilla extract, eggs, and 1/3 cup vegetable oil until the sugar has dissolved. Mix in about half the whole-wheat flour, and stir until the dough is too stiff to add more flour. Turn the dough out onto a floured surface, and knead in more flour until the dough is no longer sticky. Knead until smooth and elastic, about 10 minutes. Form the dough into a ball, place into an oiled bowl, and cover. Let rise until the dough has doubled in size, about 1 hour.
Punch down the dough, knead a few times to reshape it, and pinch off a piece of dough about the size of an egg. Roll the dough ball out into an oval shape about 1/4 inch thick. Place finished fried dough on a cloth and cover while you finish rolling out the pastries.
Heat oil in a deep-fryer or large, deep skillet to 375 degrees F (190 degrees C). Oil should be at least 4 inches deep. Combine 2 cups of sugar with cinnamon to taste in a shallow dish or pie plate, and set aside.
Gently lower the pastries, one at a time, into the hot oil, and fry 1 to 2 minutes per side until golden brown. Blot excess oil from fried pastries with paper towels; gently press each pastry into the cinnamon sugar while still warm. Shake off excess sugar.
Submitted by:
Kaylee Bjarnason (Student)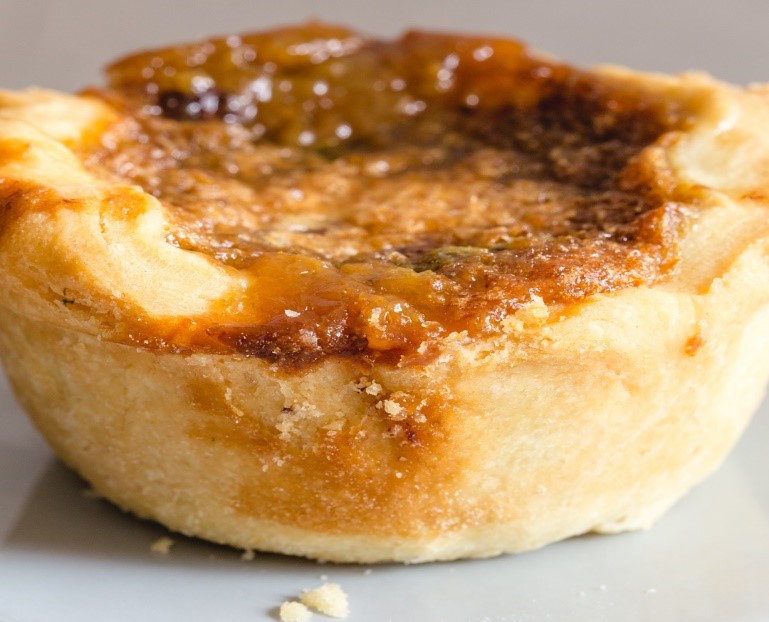 I love butter tarts and they are an absolute staple in my family's holiday dessert assortment. For generations my family has made these sweet little tarts and although each member has their own twist on the crust or the filling, they all are true and blue butter tarts. I actually hate raisins but I will still eat them even with the raisins in them, though if my mom is feeling generous around the holidays she will make some special for me without them or substitute the raisins for pecans if she's really feeling the Christmas spirit.
Ingredients
Pastry
2 ¼ cups flour, pastry flour is best to use but all-purpose will do
1 tbsp brown sugar
½ tsp salt
1/2 cup shortening, very cold and cut in cubes
1/2 cup butter, very cold and cut in cubes
6 tbsp ice water, approximately, enough to bring the dough together
Filling
1/2 cup lightly packed brown sugar
1/2 cup corn syrup
1/4 cup butter, melted
1 egg
1 tsp vanilla extract
1/4 tsp salt
½ cup raisins, substituting, pecans, walnuts or chocolate chips also make good variations
Directions
Pastry
Pulse the cold butter and shortening into the flour sugar and salt using a food processor until the shortening or butter is reduced to pea sized pieces.
Sprinkle the water over the surface and toss with a fork until the water is just incorporated into the dough. Do not over work the dough; handle it only enough so that the dough stays together.
Form the dough into two rounds about an inch thick.
Wrap in plastic wrap and let rest in the fridge for about a half hour.
Roll out on lightly floured surface. Cut into rounds with 4-inch cutter. Fit into muffin cups. Chill in the fridge or freezer while you prepare the filling. Cold pastry heading into a hot oven will always be flakier.
Filling
Combine all filling ingredients except raisins.
Mix well.
Sprinkle raisins in a single layer in the bottom of the pastry lined muffin cups.
Fill 2/3 full with syrup mixture.
Bake on bottom shelf of oven at 425 degrees F for 12 to 15 minutes.
Cool completely on a wire rack and remove tarts from pans.
Submitted by: Kaylee Bjarnason (Student)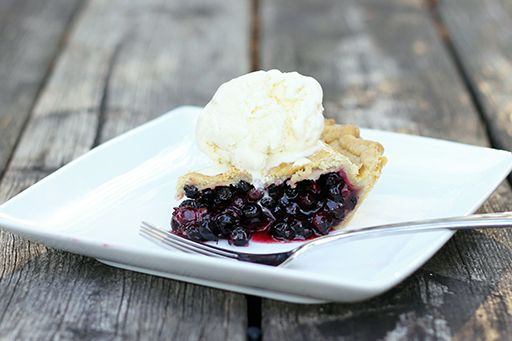 This is something that not only has its origins in Canada but more specifically comes right from my home province, Saskatchewan. They are berries native to the area that are most comparable to blueberries, though they are definitely not the same thing. When turned into a pie filling, the berries really bring out their beautiful deep purple colour and their sweet aroma. Growing up, I for some reason was not very fond of saskatoon berries, but as I have gotten older I have grown to love a slice of warm saskatoon berry pie with a scoop of vanilla ice cream. However, despite that I did not always enjoy the taste of saskatoon berry pie until my adulthood, the smell has always been one of my favourites and I have long wished that I could have a candle that had that exact smell.
Ingredients
Filling
4 cups fresh serviceberries
¼ cup water
2 tablespoons lemon juice
¾ cup white sugar
3 tablespoons all-purpose flour
1 recipe pastry for a 9-inch double crust pie
1 tablespoon butter
Pie Crust
1 2/ 3 cup flour
1 tsp salt
3/4 cup butter
5 tbsp orange juice
Directions
Filing
Preheat oven to 425 degrees F (220 degrees C).
In a large saucepan, simmer berries in 1/4 cup water for 10 minutes. Stir in lemon juice with berries. Combine sugar and flour together in a medium bowl, then stir into berry mixture. Pour mixture into a pastry lined 9-inch pie pan. Dot with butter. Place second crust on top of pie; seal and flute edges.
Bake in preheated oven for 15 minutes. Then reduce oven temperature to 350 degrees F (175 degrees C) and bake for an additional 35 to 45 minutes, or until golden brown.
Pie Crust
Combine flour and salt into bowl.
Cut in butter and mix until it resembles coarse crumbs.
Add orange juice in slowly, tossing until the mixture is moistened.
Dough should be able to be squeezed into a ball.
Refrigerate before rolling.
Submitted by: Kaylee Bjarnason (Student)