NOTE:
The Wignall Museum will be closed
9/21 (Thursday)
10/12 (Thursday)
11/10 (Friday) for Veterans Day
---
Seeing the Unseen: Science + Art
August 21 - November 18, 2023
Wignall Museum of Contemporary Art
Reception on August 29 from 4-6pm
---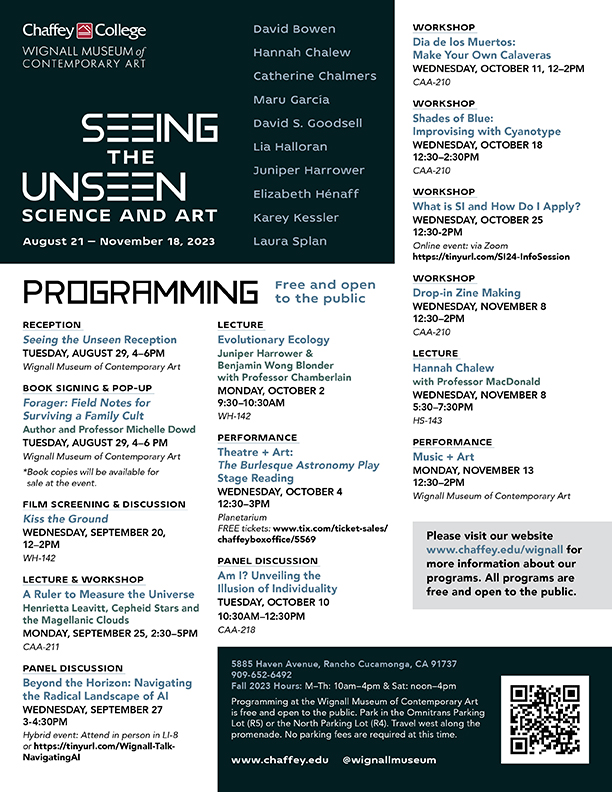 ---
Exhibition Description
Seeing the Unseen: Science and Art is a group exhibition featuring works of art that investigates the intersections of the sciences and the arts. The work asks several prescient questions including: Why do artists engage with science? Why are scientists interested in visual or creative representations of their work? Are these collaborations creating clarity or new access points for information in the STEM fields? Are artists expressing and making visible the work of scientists and science? The exhibition further attempts to increase our understanding of how art and science influence each other. Artists engage in new methods of scientific research in their rigorous and awe-inspiring works of art.
Seeing the Unseen: Science and Art is the first of two exhibitions presented during the 23-24 academic year that explores the intersections of the arts and STEM. Both exhibitions are presented in collaboration with the STEM Academic and Career Community. The fall exhibition is curated by Professors Joann Eisberg, Robin Ikeda, Mark Padilla, and Wignall Museum Director and Curator, Rebecca Trawick.
Featured Artists
David Bowen
Hannah Chalew
Catherine Chalmers
Maru García
David S. Goodsell
Lia Halloran
Juniper Harrower
Elizabeth Hénaff
Karey Kessler
Laura Splan
---
---
Programming
All programs are free and open to the public.
Seeing the Unseen Reception
Tuesday, August 29 from 4-6pm
Wignall Museum of Contemporary Art
Book Signing & Pop-up
Forager: Field Notes for Surviving a Family Cult
Author and Professor Michelle Dowd
Tuesday, August 29 from 4-6pm
Wignall Museum of Contemporary Art
*Book copies will be available for sale at the event.
Film Screening & Discussion
Kiss the Ground
Wednesday, September 20 from 12-2pm
WH-142
Lecture & Workshop
A Ruler to Measure the Universe:
Henrietta Leavitt, Cepheid Stars and the Magellanic Clouds
Monday, September 25 from 230-5pm
CAA-211
Panel Discussion
Beyond the Horizon:
Navigating the Radical Landscape of AI
Wednesday, September 27 from 3-430pm
LI-8 or https://tinyurl.com/Wignall-Talk-NavigatingAI
Lecture
Evolutionary Ecology:
Juniper Harrower & Benjamin Wong Blonder with Professor Chamberlain
Monday, October 2 from 930-1030am
WH-142
Performance
Theatre + Art:
Stage Reading of The Burlesque Astronomy Play
Wednesday, October 4 from 1230-3pm
Planetarium
FREE tickets: https://www.tix.com/ticket-sales/chaffeyboxoffice/5569
Panel Discussion
Am I? Unveiling the Illusion of Individuality
Tuesday, October 10 from 1030-1230pm
CAA-218
Workshop
Día de los Muertos:
Make Your Own Calaveras
Wednesday, October 11 from 12-2pm
CAA-210
Workshop
Shades of Blue:
Improvising with Cyanotype
Wednesday, October 18 from 1230-230pm
CAA-210
Workshop
What is SI and How Do I Apply?
Wednesday, October 25 from 1230-2pm
ONLINE via Zoom
REGISTER: https://tinyurl.com/SI24-InfoSession
Workshop
Drop-in Zine Making Session
Wednesday, November 8 from 1230-2pm
CAA-210
Lecture
Hannah Chalew with Professor MacDonald
Wednesday, November 8 from 530-730pm
HS-143
Performance
Music + Art
Monday, November 13 from 1230-2pm
Wignall Museum of Contemporary Art
---
Past
Reunion
January 9 – March 11, 2023
Wignall Museum of Contemporary Art
Reception on January 24 from 4-7pm (PST)
Exhibition Guide
Schedule of Programming
Programming Poster
PRINT Exhibition PDF
The ongoing global pandemic has left communities living, working, and interacting differently from pre-pandemic times. As Chaffey College continues to move towards more open campuses, the Wignall Museum presents an exhibition that reminds us all of the continued creativity of the Chaffey College community and that introduces students to the skills and abilities of our faculty and staff in the Arts, Communication, and Design (ACD) Academic and Career Community (ACC). Discipline areas from the ACD Degrees and Certificates that are represented in the exhibition include English, Journalism, Studio Art, ESL, Theatre Arts, Art-Ceramic Studio, Dance, Graphic Design for Digital Media, Broadcasting and Cinema, and Photography.
Reunion proudly presents recent work from faculty and staff within the ACD ACC. The work artists have selected to share in the exhibition may or may not be directly pandemic-related, but all of the work was created within the last three years. For many students, spring term 2023 may be the first time they are taking courses on the campus in a face-to-face modality. For others, spring term may represent a return to Chaffey College. Regardless, Reunion presents an opportunity to come together around the innovation, the artistry, and the expertise found in the Arts, Communication, and Design community at Chaffey College.
Reunion features: Brody Albert, Cabrina Alviar, Mark Batongmalaque, Mary Beierle, Brian Benfer, Brice Bischoff, Haylee Bolinger, Jason Charles Dawes, Michelle Dowd, Kevin Eichorst, Charity Capili Ellis, Megan Fowler-Hurst, Kent Hammond, Stanton Hunter, Daniel Jacobo, Cj Jilek, Arthur Kayzakian, Mark Robert Lewis, Sheila A. Malone, Amy Maloof, Carrie Ohm, Michael Penilla, Jenny Phelps, Charmaine Phipps, Laura Picklesimer, Elizabeth Preger, Seth Pringle, Amber Marie Smith, Roman Stollenwerk, Oliver Sutter, Sympathie Fahteague, Andrew K. Thompson, Victoria Barras Tulacro, Pamela Valfer, Robert Watkins, and meital Yaniv.
---
---
Xavier Cázares Cortéz
A Mixed Media Site-Specific Installation
*on view in the museum lobby
October 24, 2022 – March 11, 2023
ESTE ES EL JARABE LOCO
QUE A LOS MUERTOS RESUCITA
QUE A LOS MUERTOS RESUCITA
SALEN DE LA SEPULTURA, MENEANDO LA CABECITA
(ALSO)
I WANT EAGLES IN MY DAYDREAMS, DIAMONDS IN MY EYES
WE WERE BORN UPSIDE-DOWN (I'M A STAR STAR)
Presented by the Chaffey College Center for Culture and Social Justice.