International Student Center
If you've decided to experience college life in America, Chaffey College can provide you with a quality, affordable education and a diverse community that includes hundreds of international students like you.
Chaffey College serves international students from across the globe every year. They come from Asia, Australia, Canada, Europe, South America, Mexico, the Middle East, Africa and more. They thrive here, with more than 97 percent continuing their education more than one semester in the 2018-2019 academic year.
Chaffey awards both associate's degrees and certificates, including 28 degree programs that you can use to transfer to a four-year university in the U.S. You can also apply your degree to colleges or programs back at home or elsewhere in the world. Being a college student in Southern California gives you the benefits of being close to countless destinations including Los Angeles, the San Bernardino Mountains, the Pacific Ocean and Disneyland.
Contact
909-652-6195
Email: international@chaffey.edu
Hours: 8 a.m. to 4:30 p.m. Monday through Friday
Location: Rancho Cucamonga Campus, Campus Center East, Student Life
Admission
You qualify for admission to Chaffey College if:
You completed high school or are in the final year of high school. For general guidance on this academic requirement, please refer to the

UCSD US high school diploma equivalency chart.
You're 18-years-old by the time you begin classes. If you are younger, please use the additional form
You satisfy English proficiency requirement by meeting 1 of the below:
By Test
TOEFL iBT: 60
IELTS: 5.0
PTE Academic: 45
Duolingo English Test: 50
iTEP: 3.5
GTEC CBT: 1000
EIKEN: 2A
SAT Evidence-Based Reading and Writing: 480
ACT English: 18
IGCSE English: C
Singapore-Cambridge GCE O-level English: C
By ESL or Intensive English Program
ELS: level 109
UC Riverside IEP: level 600
Cal Poly English Language Institute: level 5
UCLA Extension: level 105
USC International Academy: level 4
Other approved programs (email us for verification)
By college-level English class
Completion of English composition class at another college or university.
By Secondary Education
Completion of high school where medium of instruction in majority of classes is in English. This includes American curriculum schools, International Baccalaureate (IB) schools, and UK curriculum schools.
Completion of high school (minimum 2 years) in the U.S.
By Native Language
Your native language is English. This applies to native English speakers from countries such as the United Kingdom, Australia, New Zealand, Singapore and Canada (except Quebec), where English is both the official language of the country and the language of instruction.
Complete the Chaffey College Application
Complete the international student application.
Note: Applicants must complete BOTH the online and PDF applications.
2. Complete the Chaffey College Application: Admission Application Link: https://www.opencccapply.net/gateway/apply?cccMisCode=921
3. Complete the International Student Application pdf file

Questions about our application and admissions process? Please contact:
International Student Center staff
909-652-6195
international@chaffey.edu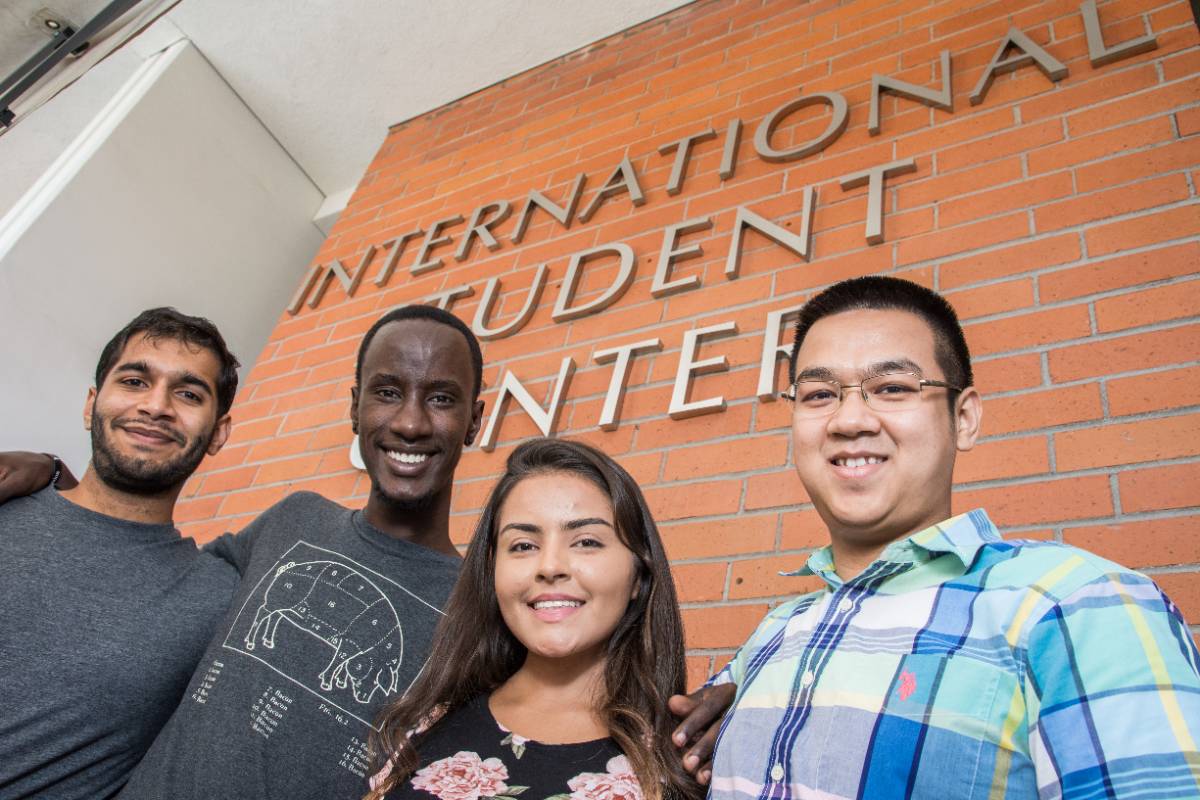 Arrival and Orientation
Once you've chosen to pursue an education at Chaffey College, you'll need to take the following steps to begin your journey:
Attend the international student orientation. This event usually takes place the week before the first day of classes, but you will receive a notice about the date and time. Attendance is mandatory.
Arrange for placement in English and math courses. You can do this in person, online or by other methods. Learn more about this through our

Counseling department. We recommend you make arrangements for placement in these courses as soon as possible.
Create an educational plan with a counselor. After receiving placement, develop an educational plan to guide you through your journey at Chaffey College. This will keep you on track for taking the appropriate classes for your educational goal. Contact the counseling department to schedule an appointment. Phone: +1 909-652-6200.
Receive your class registration date. This will be available through the MyChaffey web portal approximately two weeks before the start of registration for the term. To register for classes, log on to

MyChaffey, where you can search and register for classes on or after your registration date. Waiting can affect your chances of enrolling in the classes you need to complete your goal. Information: +1 909-652-6600 or the

admissions page.
Pay enrollment fees and health insurance. You can pay your enrollment online through the MyChaffey portal. Once you have registered, you will have 10 days to pay prior to the start of the semester. If you register less than 10 days before the first day of instruction, your payment is due the day before classes begin. Enrollment fees can be paid online using your Visa, Mastercard, Discover, American Express or by wire transfer. Information: +1 909-652-6600 or at the

cashier's page. Health insurance can be paid directly to

ISO Insurance. Failure to purchase medical insurance will result in a block on class registration and release of official records. You can find more information at the

Relation insurance coverage website.
Submit proof of tuberculosis (TB) test result or take the TB test at Chaffey. If you have not taken your TB test prior to arrival, please have this done at our Student Health Services. Chaffey requires proof that you've received a TB test within the past six months. Information: +1 909-652-6331 or at the

Health Services page.
Attend first class meeting. It is important to attend your first class meeting because students who do not attend may be dropped from classes. It is your responsibility to drop any classes you no longer wish to take. You will be responsible for all fees due for any class that is not dropped before the published refund.
Housing
We offer a number of resources to help you secure housing. As we are a 2-year community college, we do not have on-campus dormitories or residence halls. Please utilize the helpful list below as you begin your search.
*Chaffey College does not operate as a real estate or rental agency and is not responsible for placing students. Chaffey College does not assume or accept any responsibility for inspecting, supervising, or resolving any issues that may arise in the landlord-tenant relationship. All prospective tenants are encouraged to exercise their own good judgment when evaluating a prospective rental unit, landlord or roommate.
Option 1: Homestay
It's a great way to immerse yourself in U.S. culture by becoming part of an American family. Students live inside the host's home in a private bedroom and meals can be provided. For students younger than 18, homestay is the recommended choice.
USH Homestays
* Both organizations can also provide pick-up service from the airport.
Option 2: Apartments & Rooms for Rent
Rancho Cucamonga is well known for its planned living communities and there are many wonderful apartments in the area. Please note each apartment community will have different rental requirements. All will require a bank statement with significant funds and additional steps for international students. Also, neighborhood homeowners with extra bedrooms frequently rent out rooms to our students.
Lewis Apartment Communities (3.5 miles south)
* Click "Our Communities" and scroll down to apartments in Rancho Cucamonga, CA 91730
Sierra Heights Apartment (1.5 miles south)
Creekside Alta Loma Apartment (1.5 miles south)
info.creeksidealtaloma@fpimgt.com
Apartments.com is a useful site for look for additional apartment options. In addition to the popular apartments above, JumpOffCampus provides a listing of rooms or apartments near the college. The site also provides a page for local apartment owners to post listings for students.
Furniture Rental
Chaffey College and the furniture rental company CORT have partnered to provide rental packages for students living off campus.
Furniture Rental for Students Studying in the U.S.A.
Bus Service
Omnitrans provides public bus service in the area surrounding Chaffey College. The small transportation fee all students pay allows students to get unlimited rides on any routes using their student ID. The college has its own transit center and the following bus routes come directly into the college: Routes 67, 80, 81, and 85. When looking for housing, it's a good idea to check how close the accommodation will be to a bus route serving Chaffey. Visit Chaffey's GoSmart page to learn more about bus services.
Academic Programs
If you're interested in transferring to a 4-year college or university, Chaffey College can get you ready with the same lower division courses offered by universities, but at a more affordable rate. Because requirements vary among these institutions, we encourage you to choose a college or university for transfer early in your college career. Concentrate on meeting admission requirements for your major and general education courses while attending Chaffey College.
Although we offer English language support classes, we do not offer short-term English as a Second Language or the Intensive English Program.
Most students will complete:
IGETC (Intersegmental General Education Transfer Curriculum) = Transfer to UC (University of California) institutions
CSUGE (California State University General Education) = Transfer to CSU (California State University) institutions
General Education requirements at other 4-year universities in California and out-of-state
Combination of pathways above

Other students will complete:
Associate degrees and certificates
Transfer Resources
The Transfer Center can provide you with the guidance and support to transition from Chaffey to a 4-year university. The center provides students with access to representatives from universities, seminars and workshops, free transportation to visit different University of California and California State University schools, as well as private universities, each semester. We also have numerous Transfer Admission Guarantees with UC Irvine, UC Davis, UC Santa Barbara, UC Riverside, UC Merced, UC Santa Cruz, Arizona State University, California Baptist University, University of La Verne, University of Redlands and more.
Honors Program
Are you a motivated student looking for an extra challenge? The Honors program provides you with advanced academic activities and research opportunities that will help you achieve your educational goals. Honors program students have access to advanced curriculum, small classes that encourage creative interaction and transfer agreements with designated universities such as UCLA, University of San Francisco, Loyola Marymount University and more.

For Current Students
All F-1 international students must follow immigration regulations as outlined by the U.S. government in order to maintain international student status. Students can use information on the website below to learn about the process and rules for studying as an international student.
Questions about your F-1 student status? Please contact our designated school official (DSO):
Saba Kazmi
Coordinator of international student services
saba.kazmi@chaffey.edu
909-652-6193
On-Campus Jobs
Although F-1 students have on-campus employment privilege, on-campus jobs are usually limited for international students. Check the Career Center website for possible opportunities.
Basic Guidelines:
You must maintain valid F-1 status
You can work up to 20 hours per week while school is in session
International students are not eligible for "Federal Work-Study" jobs. These are only available to U.S. citizens and permanent residents
Please note working without proper authorization is a serious violation of F-1 student status, and all students should consult with the international student center with any concerns.
Tuition and Fees
Estimated Cost for one academic year
Tuition cost is $331 per unit. International students must be enrolled in minimum of 12 units per semester (fall and spring).
Tuition (24 units) $7944
Health Insurance (required) $1,008
Health Services Fee (required) $34
Transportation Fee (required) $18
Books and Supplies (estimated) $1,000
Housing and Personal Expenses (estimated) $15,000
Total* $25,000
*This is an estimated yearly cost for attendance based on 12 units per semester
for fall and spring (24 units total). All fees are subject to change.
For detailed figures, visit the cashier's office page.
Staff
Saba Kazmi
Coordinator
Email: saba.kazmi@chaffey.edu
I have been working in higher education since 1997 and have been a member of the Association of International Educators (NAFSA) since 1999. I have extensive experience with immigration rules and regulations and currently serve as our designated school official (DSO) to help our international students with their F-1 status questions. My passion is to assist students with their educational and occupational goals, and I cherish the many great relationships established with students from all over the globe. I'm bilingual in English and Urdu, and I earned my bachelor's and master's degrees from the University of La Verne.
Why Chaffey?
We're a top 10 community college in the nation, and you can transfer to a 4-year university with ease.
International student advice:
Make sure to plan early and follow through. Think carefully about various majors but don't be too quick to change often as it will cost time and money.
Food: Thai, Chinese and Indian
Hobbies: Daily walk and gym, watching a good movie or favorite program and traveling around the world