The Chaffey College Governing Board is composed of five members elected by the community and a student member elected by the College student body. The Board holds regular public meetings the fourth Thursday of each month at 2:00 p.m. (unless posted otherwise) on the Rancho Cucamonga campus in the Board Room of the Student Services/Administration Building (SSA). Members of the public can also participate in person at this location. The meeting may be accessed for viewing live by clicking on the View Meeting link below. For more information regarding the Governing Board, please call (909) 652-6102. Public comments are accepted in person.
Governing Board Meeting Agenda
Click Here for Governing Board Meeting Agendas
Anyone wishing to view this meeting virtually may do so using this link at the time of the meeting:

View Meeting
Passcode: 282371

Or Telephone: Dial (for higher quality, dial a number based on your current location):

US: +1 669 900 6833 or +1 253 215 8782 or +1 346 248 7799 or +1 312 626 6799 or +1 929 205 6099 or +1 301 715 8592

Webinar ID: 851 0872 0714
Passcode: 282371
Meeting dates for 2023-2024
July 27, 2023
August 24, 2023
September 26, 2023
October 26, 2023
November 14, 2023
November 15, 2023
December 14, 2023
January 25, 2024
January 26, 2024 - Board Study Session
February 22, 2024
March 28, 2024
April 11, 2024
May 23, 2024
June 27, 2024
For individual maps of the respective Trustee Areas (1, 2, 3, 4, and 5), please follow the "Governing Board District" links below. You can also contact the San Bernardino County Registrar of Voters at 909-387-8300 or via email at https://www.sbcountyelections.com/ regarding the Trustee Areas.


Chaffey College Governing Board Officers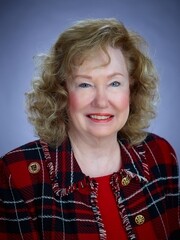 Kathleen Brugger has served on the Chaffey College Governing Board since 1993. Previously, she was a member of the Board of Trustees of the Ontario-Montclair School District for 16 years.

Ms. Brugger earned an Associate in Arts degree from Chaffey College and a bachelor of science degree from California State Polytechnic University, Pomona. Mrs. Brugger worked alongside her late husband leading a local construction business. Her former employment was in the field of social work with the County of San Bernardino.

Ms. Brugger's civic activities have included: San Bernardino County Committee on School District Organization, San Bernardino County School Boards Association, Montclair Chamber of Commerce, Montclair Kiwanis, Ontario YMCA, Assistance League, American Association of University Women, San Bernardino County Lincoln Club, Friends of the Ontario Museum. Former Gov. Arnold Schwarzenegger appointed Ms. Brugger to the California State Teachers' Retirement System (CalSTRS) Board in 2005.
Chaffey College honored her with the "Alumni of the Year" award in 2002.
The Chaffey College Governing Board appointed Deana Olivares-Lambert to the board on Nov. 25, 2020.
Olivares-Lambert is a partner at The 20/20 Network, A Southern California-based communications firm specializing in media and community relations, branding, strategic planning and crisis management. She has worked in private, public and nonprofit sectors and is fluent in Spanish.
Olivares-Lambert has handled strategic planning, operations management, financial management and more for organizations such as Inland Empire United Way, the San Bernardino Sun newspaper, San Bernardino County and Southern California Association of Governments. Her firm has handled primary strategic communications for the San Bernardino County Workforce Development Board since 2016.
As a leader in communication efforts for the Lewis Group of Companies, she works to advance racial equity in government and public agencies through the Randall Lewis Health Policy Fellowship.
A Southern California native, Olivares-Lambert graduated from the University of La Verne in 2006 with a bachelor's degree in psychology and from the University of Redlands in 2012 with a master's degree in management.
Olivares-Lambert serves as an executive board member for Children's Fund and is also a member of the National Latina Business Women Association of the Inland Empire. She participated in the 2019 Emerging Leaders Program of the Small Business Administration, Los Angeles. She is a member of the Whitehead Leadership Society for the University of Redlands.
A Navy mom, Olivares-Lambert and her husband, Steve Lambert, have five children and live in Upland.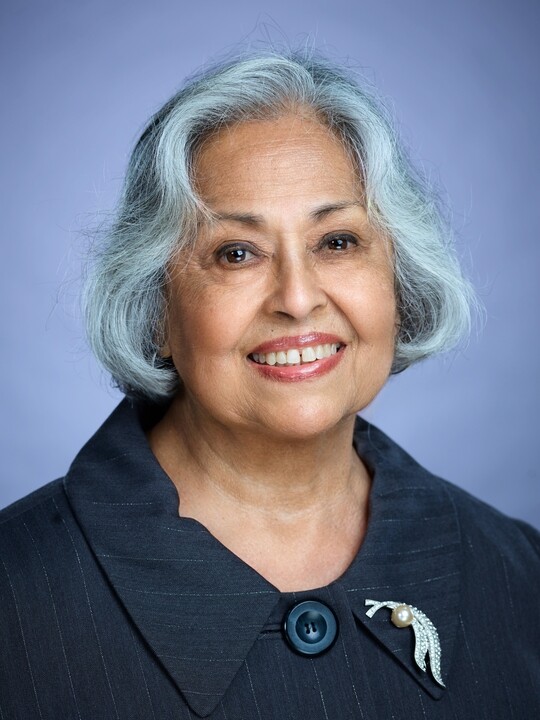 Gloria Negrete McLeod was elected to the Chaffey College Governing Board in 2015 after more than two decades of public service. She formerly served as a board member for Chaffey College before representing the region in the California State Assembly, State Senate, and in the United States Congress.
Gloria Negrete McLeod has distinguished herself as an effective advocate for helping improve local schools and community colleges. As a member of the Chaffey College Governing Board from 1995–2000, Ms. Negrete McLeod worked to expand access to critical job training programs and improve academic outcomes for students of all ages. Serving as president of the Governing Board, she ensured that services were met at the college for students and faculty.
As a local Assembly member, she served on the Higher Education Committee, and as a State Senator, she served as co-chair of the Education Master Plan Review. As a legislator, she authored more than 160 bipartisan bills that were signed into law by three different governors, including new laws that helped local school districts recruit quality teachers, expanded job-training programs, and made it easier for California's families to send their children to college. From 2013–15, she represented the region as a member of the United States House of Representatives, where she introduced legislation addressing the rising cost of college tuition. During her tenure, she also served on the House Committee on Veteran Affairs, where she advocated on behalf of veterans.
Gloria and her husband Gilbert, a retired police lieutenant, have lived in the Chaffey College District for 49 years. They have 10 children, 27 grandchildren, and 35 great grandchildren.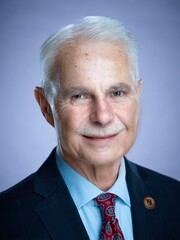 Mr. Ovitt was elected to the Chaffey College Governing Board in November 2015. Prior to serving on the Governing Board, Mr. Ovitt served on the San Bernardino County Board of Supervisors representing the Fourth District from 2004–14, mayor and councilman for the City of Ontario from 1992–2004, and taught social studies at Chaffey High School from 1970 to 2004.
Mr. Ovitt obtained a bachelor of arts degree in history, with minors in Spanish and physical education, and a secondary teaching credential from the University of Redlands. Further study includes post graduate education at University of Southern California School of Policy, Planning, and Development; SCAG Leadership and Training Institute; University of California Berkeley, Haas School of Business; SACRS Public Pension Investment Management Program, and the CSAC Executive Leadership Symposium.
Gary Ovitt and his wife, Sue, are very active in their communities. In 2010, the Ontario Library was renamed the Ovitt Family Community Library, and in 2009, Chaffey College named the Chino Campus Science Complex the Gary C. Ovitt Health Science Complex – an honor for which Mr. Ovitt is most proud. Mr. Ovitt is also an Ontario Parks and Recreation commissioner, a board member on Children's Fund of San Bernardino County, Ontario-Chaffey Community Show Band, Chaffey Alumni Association, Chaffey College Trust, and serves as an associate pastor at his church, Community Christian Fellowship.
The Ovitts have one daughter, Amanda Balcombe, who lives locally and is a registered nurse. Mr. Ovitt has made Ontario his home for his entire life. With that, he has been able to contribute to his hometown's "quality of life" as an educator for 34 years and as a policy maker for 22 years.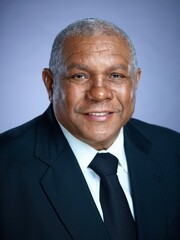 Mr. Lee McDougal has served on the Chaffey College Governing Board since 2000. Lee McDougal retired from the city of Montclair on June 15, 2010, completing 35 years of service with the city, the last 18 years as city manager. Mr. McDougal began serving Montclair in 1976 as housing coordinator, overseeing the city's Community Development Block Grant Program. By his third year, he became the director of housing and redevelopment, charged with administration of the city's Redevelopment, Community Development Block Grant and Code Enforcement Programs. In 1984, he was promoted to director of administrative services/redevelopment, serving in this capacity until becoming city manager in 1992.
Mr. McDougal graduated in 1974 from the University of California at Riverside, College of Social and Behavioral Science. He received two Bachelor of Arts degrees-one in urban studies and the other in black studies.
Mr. McDougal is the Immediate Past President of The Leadership Connection, former board member of OPARC, chairman of Augusta Communities Inc., chairman of Housing Partners Inc. (both nonprofit housing corporations), former member of University of California at Riverside Alumni Association (past president twice), and past chairman of the West End Communications Authority (WECA). He is an active community member, devoting much of his time to service organizations, including the Mt. Baldy Chapter of Habitat for Humanity Advisory Board.