Commencement
Dear Class of 2020,

You worked hard to complete your academic journey at Chaffey College, but haven't really had a chance to properly celebrate your accomplishment. We recognize that this is an important moment in your life, so we're working on a safe way to make this happen!

While COVID-19 has prevented us from holding a traditional commencement ceremony, we're going to instead hold a smaller, socially distanced ceremony on the Rancho Cucamonga campus the first week of December.
If you are interested in participating, please be sure to RSVP using the link below. More details regarding the specific date, time, and location will be sent as part of the RSVP.

Save the date and we look forward to seeing you in December!

Sincerely,
Henry Shannon, Ph.D.
December 2020 Drive-In Commencement RSVP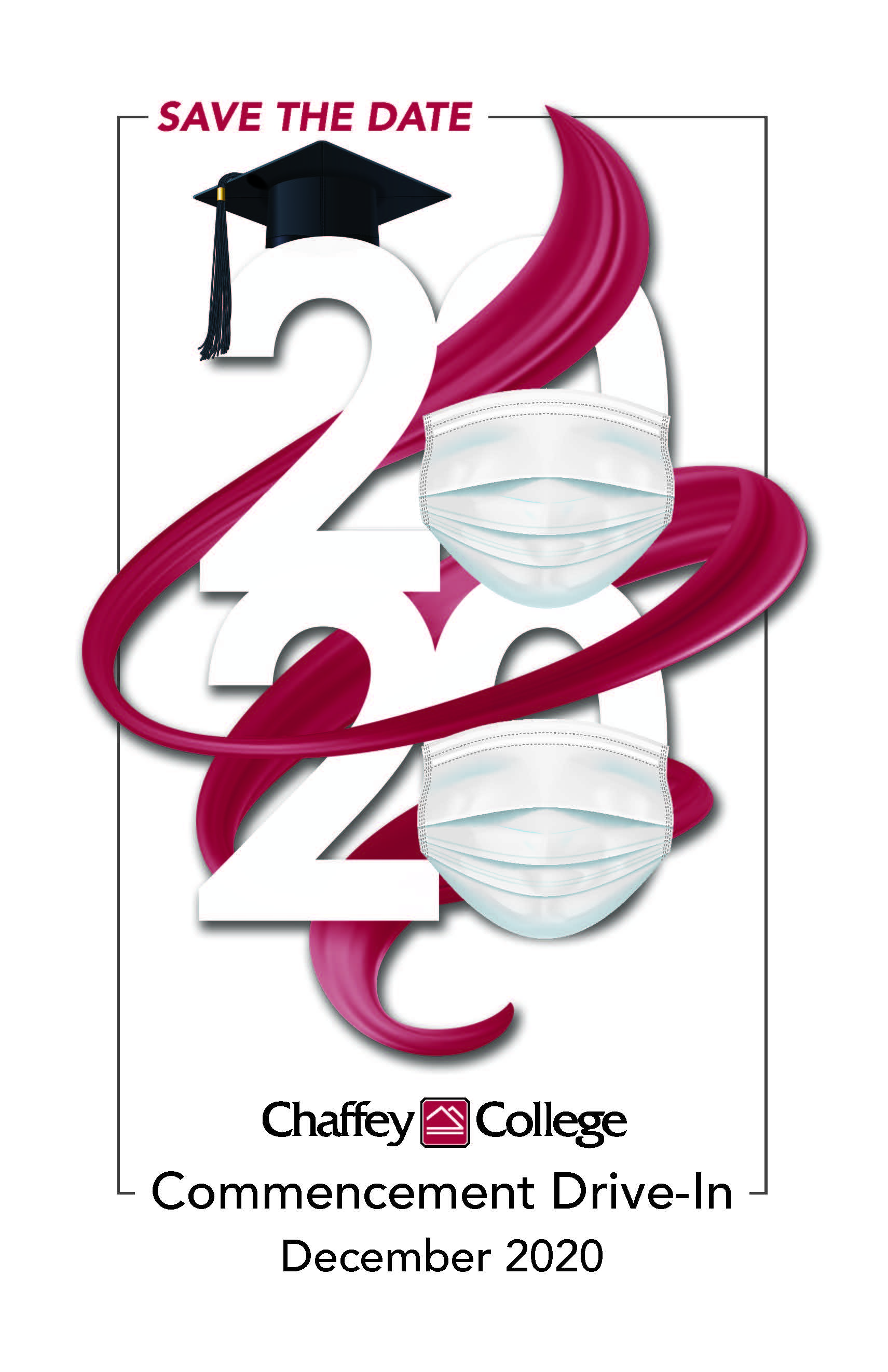 December 2020 Commencement Drive-In Ceremony Participation RSVP Form
The deadline to RSVP to participate in the December 2020 Drive-In Commencement ceremony is Friday, November 6, 2020.
Questions? Contact us at commencement@chaffey.edu.
Frequently Asked Questions
Eligibility
If you completed or expect to complete your degree or certificate in the summer, fall or spring preceding the next commencement date, you will be invited to participate in the commencement ceremony. Check your Panther email for your eligibility notification.
You can check your status online via the portal.
You must complete the following steps:
Apply for graduation prior to the published deadline.
Complete the student graduate RSVP form.
Purchase and pick up your regalia.
Arrive at the ceremony by 2:30 p.m. for check-in.
If you have earned an associate degree and have a 3.50 GPA or above in degree applicable units, you will graduate with honors. GPA for honors at graduation (listed in commencement ceremony booklet) is computed after the fall semester grades are recorded on the transcript for spring commencement.
You must have earned an associate's degree and a cumulative 4.00 GPA in degree applicable units, and have completed a minimum of 12 degree applicable units at Chaffey College each consecutive term, except the first term in college may be fewer than 12 units. If you are eligible to be a valedictorian, you will be notified by the commencement office by April 1st.
Dress Code
Dress appropriately for the special occasion. If you do not have your regalia (which includes a cap, gown and tassel) you will not be able to participate in the ceremony.
Students can begin purchasing their regalia at the Grad Fest events scheduled at the Chino, Fontana, and Rancho Campuses, through the Chaffey College campus store. Please visit the Chaffey campus store website for more information regarding how you may purchase academic regalia.
No. Only college-approved regalia is allowed, as this is Chaffey College's commencement ceremony. College staff may ask you to remove any non-approved or inappropriate regalia.
It is completely acceptable to decorate your cap. Please be respectful when decorating your cap, but have fun. Please note that your graduation gown should not be decorated.
Connect With Other Graduates
How can I connect with other graduates on social media?
Use the hashtag #chaffey20 to join the conversation on Twitter and see what's trending among your fellow graduates and alumni.
Photography
GradImages® is the official photographer for our commencement.
You can view and order your photos by visiting their website at www.gradimages.com.
Simply enter your last name, your school name: school and select 2020 from the dropdown menu.
Once you see your name, click on the link to view your photos.
If you need additional help to locate your photos, call the GradImages customer service department at 800-261-2576 or email them at giservice@gradimages.net.