A VIRTUAL WHODUNNIT
Chaffey College Theatre Department presents: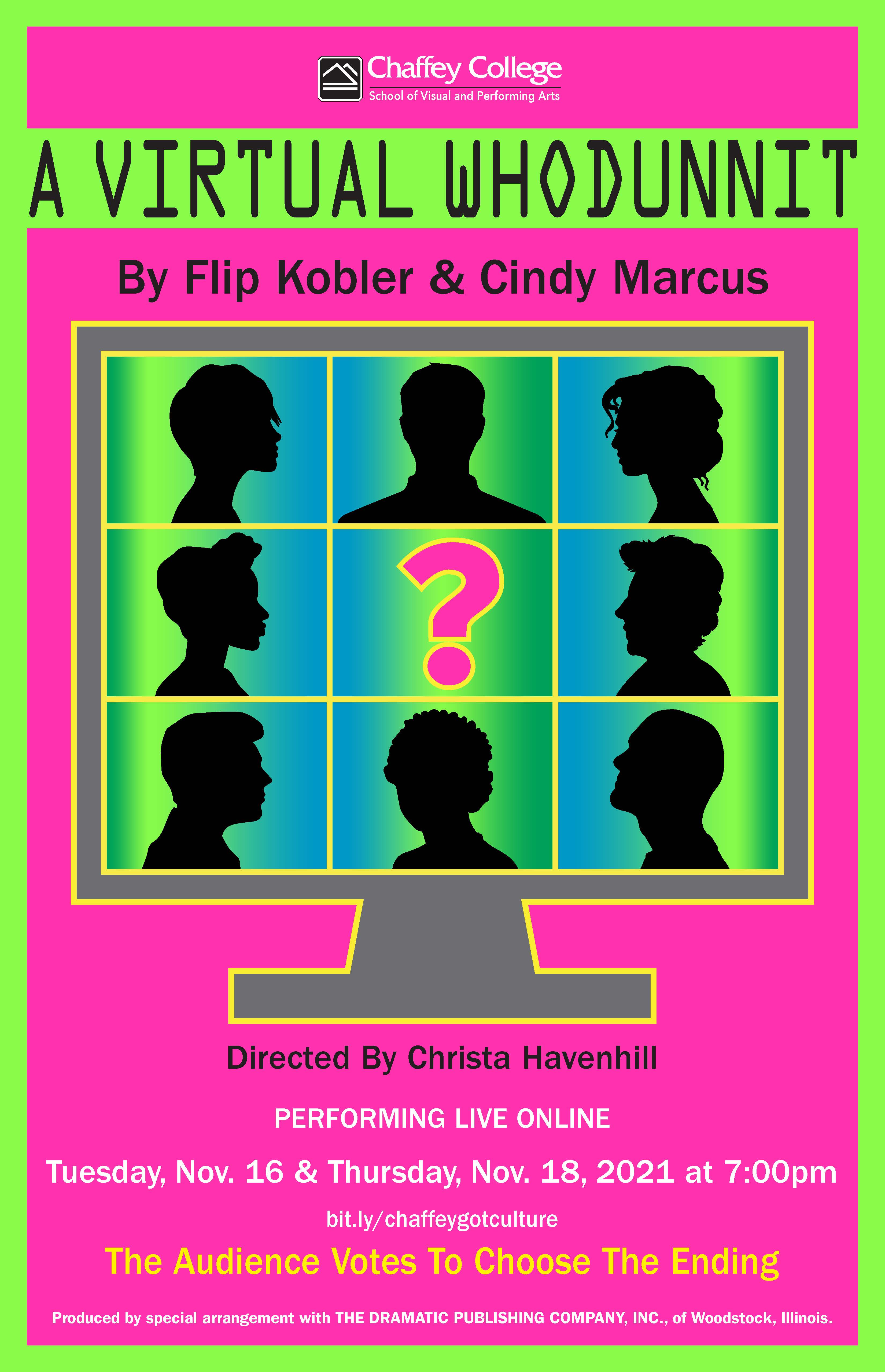 A Virtual Whodunnit
By Flip Kobler and Cindy Marcus
Directed by Professor Christa Havenhill
Online Performance Dates: November 16 & 18, 7:00pm
Both performances will be live streamed free of charge. Show link will be posted to our Got Culture? page in November.
Preston Sterling is hosting a Zoom meeting with his children, third wife and closest staff to celebrate his birthday. The bitter old billionaire is bullying everyone once again and threatening to change his will when—ZZZZZT! Sterling is electrocuted through his phone. Enter Sloan, Rockford Sloan, homicide detective. Through a series of Zoom conferences, Sloan questions the usual suspects, all of whom had a motive. When every suspect has motive and opportunity, it's up to our brave detective AND the audience to find the killer. With three possible endings, every performance means you'll never be sure whodunnit.
Produced by special arrangement with THE DRAMATIC PUBLISHING COMPANY, INC., of Woodstock, IL
Original poster design by Catherine Montenegro and Art direction by Sheree Haley
---
The GOLDEN AGE OF RADIO
Directed by Kelly Ford - Kaminski
Chaffey College theatre department is proud to present the 1940s "Golden Age of Radio". Come celebrate the 100 year Anniversary of Radio by tuning in to the likes of George and Gracie, Jackie "Moms" Mabley, Louis Armstrong, Cab Calloway, commercials and Jingles from the past. Let the comedy, music and mystery of 1940s era, entertain you at home.
But wait…………. there's more! (Cue Foley sound fx of wood creaking by twisting celery sticks)
What's that creeping behind you?
Can you hear the door creak open? (Cue Foley sound fx by opening squeaky door prop)
Are you lost in a dark unfamiliar place? (Cue Foley sound fx wind by blowing into the mic)
Or have you entered into (Cue Spooky Organ music) the "Inner Sanctum".
Set your Radio dial and tune in Wednesday night, April 14, 21, 28 and May 5, 2021, at 5:00pm to find out if you have made it out……. ALIVE!! (Cue Spooky Organ music)
Episodes will be posted here the day of the performance​. Stay tuned!
Episode 1: Wednesday, April 14, 2021 at 5:00pm
The GOLDEN AGE OF RADIO - Episode 1 - Audio Video Description
Episode 2: Wednesday, April 21, 2021 at 5:00pm
The GOLDEN AGE OF RADIO - Episode 2 - Audio Video Description
Episode 3: Wednesday, April 28, 2021 at 5:00pm
The GOLDEN AGE OF RADIO - Episode 3 - Audio Video Description
Episode 4: Wednesday, May 5, 2021 at 5:00pm
The GOLDEN AGE OF RADIO - Episode 4 - Audio Video Description