The Chaffey College Dance Department announces
KINETIC CAPTURE
A Multimedia Dance Concert
In Person Auditions: August 26, 2022 at 2:00pm in the Dance Studio CAA-206
*Face coverings (three-ply or K- or N-95 masks) are mandatory*
Orientation Meeting: Tuesday, September 6, 2022 at 6:30pm in CAA-206
Class Meets: September 7, 2022 - December 9, 2022, times TBD
Performance Dates: December 1 - 3, 2022 in the Chaffey College Theatre
If cast, students must enroll in Dance-42-29214 or Dance-44-29215 (Dance Production I/II - 3 Units) by Monday, September 12, 2022. Add Authorizations will be provided by the Instructor, megan.fowler-hurst@chaffey.edu.
Students interested in choreographing for stage or for film or to request more information,
please contact, Artistic Director, Megan.Fowler-Hurst@chaffey.edu
---
AUDITIONS
Theatre Arts Showcase: Fall 2022
This is your opportunity to perform live on the Chaffey College main stage. Open to all types of performances: Acting Scenes, Musical Theatre, Shakespeare, Audition Packages, Puppetry, Movement, Masks, Devised Theatre, Original Monologues and more. Showcase your talents and develop new skills! All technical positions & acting roles are open.
In Person Auditions:
August 16 & 18, 2022 at 2:30pm - 5:20pm in TAS-133 (Rancho Campus)
Email the director Christa.Havenhill@chaffey.edu for more information
*Face coverings (three-ply or K- or N-95 masks) are mandatory*
Class Meets:
Tuesday/Thursday 2:30pm - 5:20pm (August 15, 2022 - November 17, 2022) in person in the Chaffey College Theatre on the Rancho Cucamonga Campus
(TAS-133), Theatre 50B (2 units)
Performance Dates: October 25 & 27, 2022 at 7:00pm
Performers:
Prepare a brief 1-2 minute monologue, song, or performance.
Technicians, Designers, & Stage Managers:
Be prepared to discuss your interests with the director. If possible, provide a resume or examples of your work.
If cast, students must enroll in Theatre-50B-26578 (Theatre Practicum/Rehearsal and Performance - 2 Units) by Thursday, August 18, 2022.
Add Authorizations will be provided by the Instructor, Christa.Havenhill@chaffey.edu.
For more infrormation, please contact Christa.Havenhill@chaffey.edu.
---
AIRNESS
Chaffey College Theatre Department presents: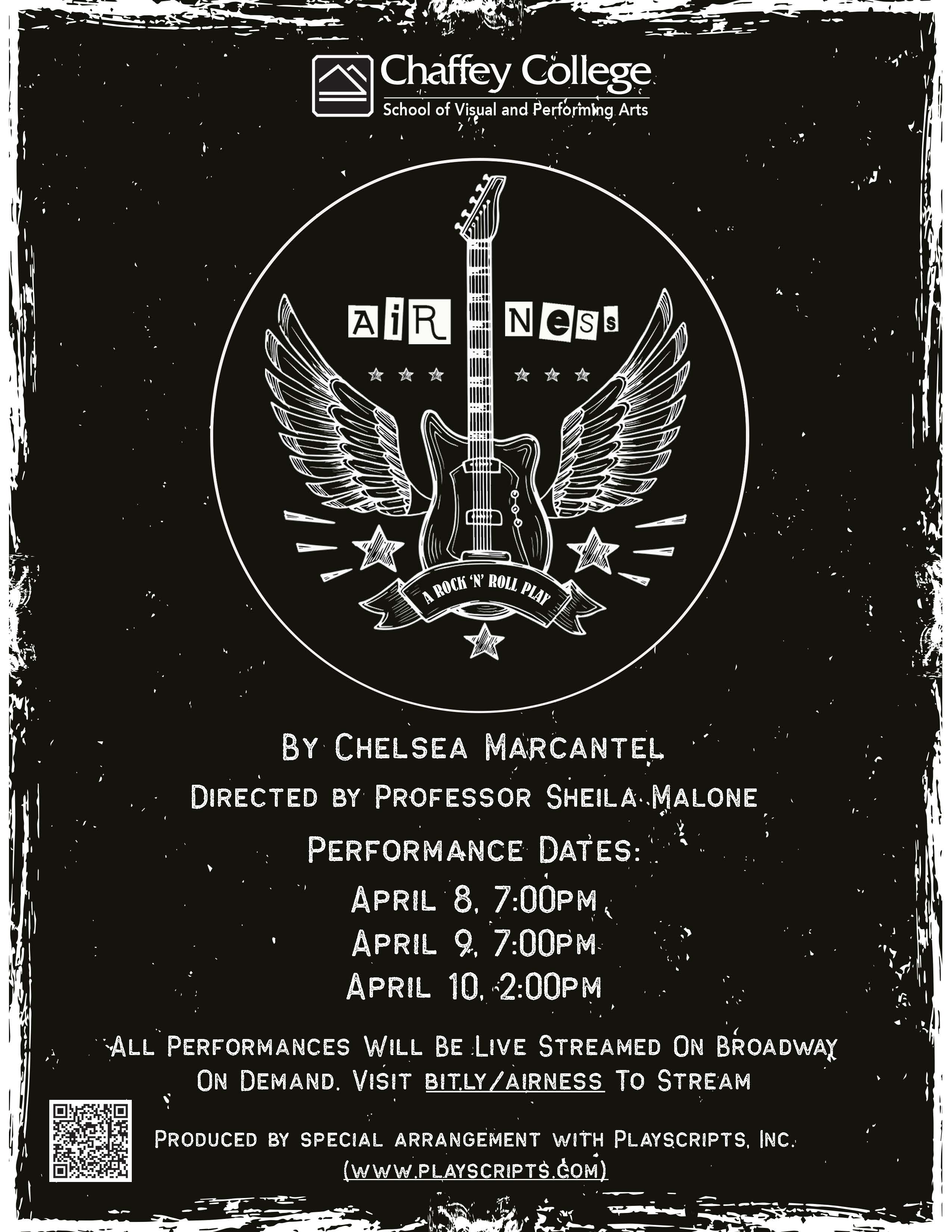 Airness
By Chelsea Marcantel
Directed by Professor Sheila Malone
Live Stream Performance Dates:
April 8, 2022 at 7:00 pm
April 9, 2022 at 7:00 pm
Apil 10, 2022 at 2:00 pm
*All performances will be streamed live on Broadway On Demand*
When Nina enters her first air guitar competition, she thinks winning will be easy. But as she befriends a group of charismatic nerds all committed to becoming the next champion, she discovers that there's more to this art form than playing pretend; it's about finding yourself in your favorite songs, and performing with raw joy.
Will Nina be able to let go and set herself free onstage? Following her mission to shred or be shredded, Airness is an exuberant reminder that everything we need to rock is already inside us. A comedy about competition, completion, and finding the airness inside yourself.
Please note that you will have to set up a free account through broadwayondemand.com to access the stream. The scheduled stream on 11/7 will begin promptly at 7:00pm. To avoid missing the beginning of the performance, please sign up for your Broadway on Demand account prior to the 7pm start time. Visit the BOD FAQ page or their How to Log into my Account video for more information on how to get set up. BOD recommends using Google Chrome as your web browser for optimal streaming. You can also download their free app for your tablet or mobile device on Apple Store or Google Play.
Follow the links below to access the stream and set up your Broadway on Demand Account:
---
A VIRTUAL WHODUNNIT
Chaffey College Theatre Department presents: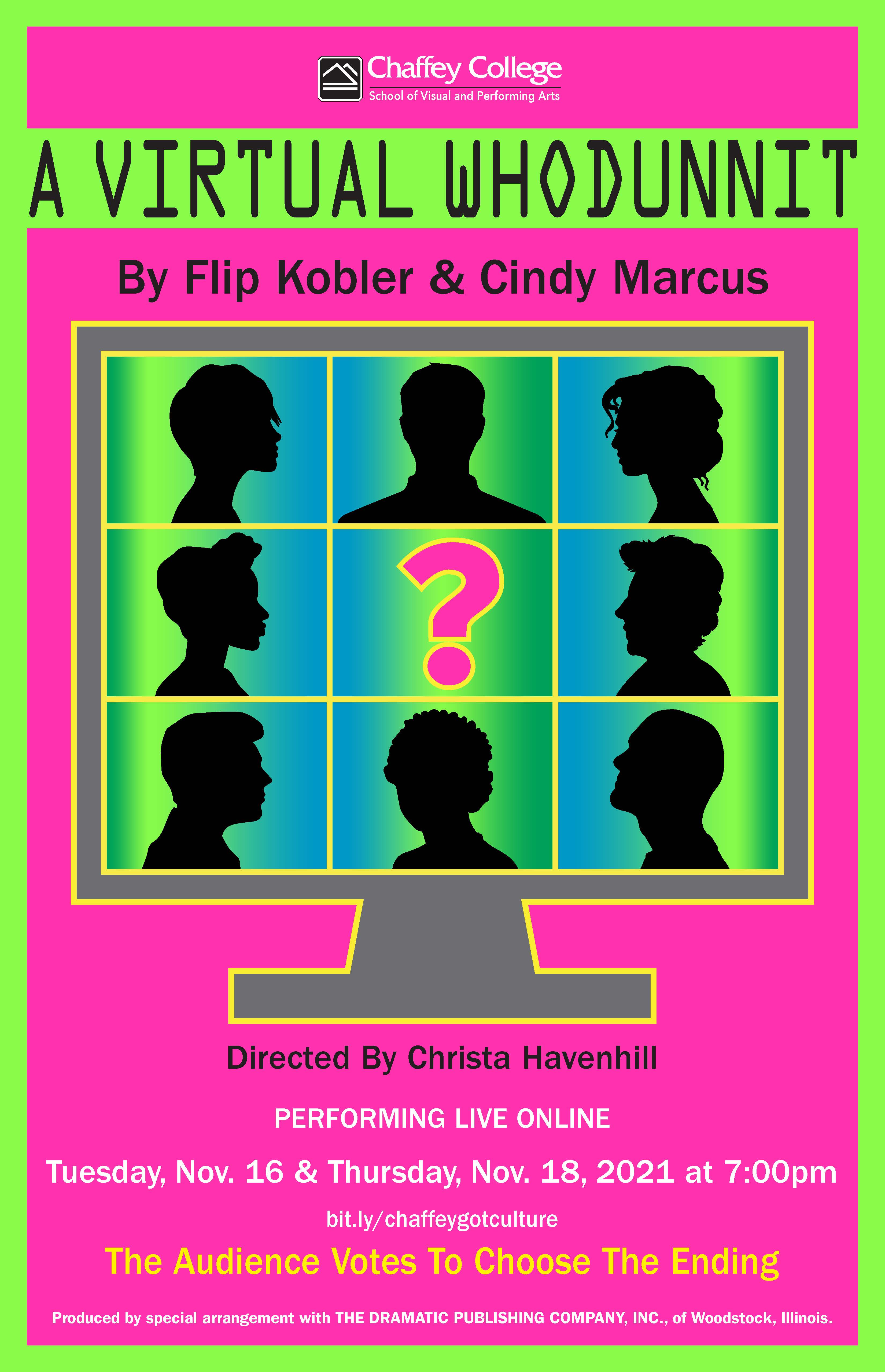 A Virtual Whodunnit
By Flip Kobler and Cindy Marcus
Directed by Professor Christa Havenhill
Online Performance Dates: November 16 & 18, 7:00pm
Tuesday, November 16 Live Stream Link
Thursday, November 18 Live Stream Link
Both performances will be FREE to stream and live captioned on the Chaffey VPA YouTube Channel.
In lieu of purchasing a ticket to our virtual performance, please consider making a donation to the Chaffey College Theatre Department. Donations of any size are welcome and greatly appreciated!
Augustus Sterling is hosting a Zoom meeting with his children, third wife and closest staff to celebrate his birthday. The bitter old billionaire is bullying everyone once again and threatening to change his will when—ZZZZZT! Sterling is electrocuted through his phone. Enter Sloan, Rockford Sloan, homicide detective. Through a series of Zoom conferences, Sloan questions the usual suspects, all of whom had a motive. When every suspect has motive and opportunity, it's up to our brave detective AND the audience to find the killer. This 50-minute interactive murder mystery is suitable for all ages.
Produced by special arrangement with THE DRAMATIC PUBLISHING COMPANY, INC., of Woodstock, IL
Original poster design by Catherine Montenegro and Art direction by Sheree Haley
---
The GOLDEN AGE OF RADIO
Directed by Kelly Ford - Kaminski
Chaffey College theatre department is proud to present the 1940s "Golden Age of Radio". Come celebrate the 100 year Anniversary of Radio by tuning in to the likes of George and Gracie, Jackie "Moms" Mabley, Louis Armstrong, Cab Calloway, commercials and Jingles from the past. Let the comedy, music and mystery of 1940s era, entertain you at home.
But wait…………. there's more! (Cue Foley sound fx of wood creaking by twisting celery sticks)
What's that creeping behind you?
Can you hear the door creak open? (Cue Foley sound fx by opening squeaky door prop)
Are you lost in a dark unfamiliar place? (Cue Foley sound fx wind by blowing into the mic)
Or have you entered into (Cue Spooky Organ music) the "Inner Sanctum".
Set your Radio dial and tune in Wednesday night, April 14, 21, 28 and May 5, 2021, at 5:00pm to find out if you have made it out……. ALIVE!! (Cue Spooky Organ music)
Episodes will be posted here the day of the performance​. Stay tuned!
Episode 1: Wednesday, April 14, 2021 at 5:00pm
The GOLDEN AGE OF RADIO - Episode 1 - Audio Video Description
Episode 2: Wednesday, April 21, 2021 at 5:00pm
The GOLDEN AGE OF RADIO - Episode 2 - Audio Video Description
Episode 3: Wednesday, April 28, 2021 at 5:00pm
The GOLDEN AGE OF RADIO - Episode 3 - Audio Video Description
Episode 4: Wednesday, May 5, 2021 at 5:00pm
The GOLDEN AGE OF RADIO - Episode 4 - Audio Video Description