Police Department
We consider your safety important at Chaffey College and that's why the Chaffey College Police Department is here to protect you and district property. Our officers work to ensure the safety of students, staff, faculty and visitors on campus and at college-sponsored programs and activities.
The Police Department has a force of 14 sworn officers with full arrest powers and 18 non-sworn support employees. Police officers are graduates of a California Peace Officers Standards Training Academy and undergo continued advanced officer training to advance their skills and expertise. All sworn employees have been trained in first aid and CPR.
If you need to report a potential crime or any emergencies on campus, including medical emergencies, please call campus police at extension 6911 or call 909-652-6911. The department will dispatch an officer to the site of the complaint and has the authority to make arrests if necessary.
Hours and Locations
Monday through Thursday, 7:30 a.m. to 6:00 p.m.
Friday, 7:30 a.m. to 4:00 p.m. Closed Saturday and Sunday.
Emergency: 909-652-6911
Business: 909-652-6632
Location
The Chaffey College Police Department is on the Rancho Cucamonga campus between the cafeteria and the bookstore.
A Message From The Chief
Welcome to Chaffey College!
The Chaffey College Police Department is a POST-certified police agency dedicated to the maintenance of safety and security to provide a pleasant environment to learn. Exceptional service with respect to all is the standard of all Police Department employees.
Department personnel diligently work to deter criminal activity. However, we cannot do it alone. As a member of the campus community you can assist the Police Department by notifying us immediately of anything suspicious or unusual. By acting as our eyes and ears you can be part of the solution in providing an enjoyable learning environment.
Sworn police officers are available 24/7 to assist in any situation by calling 909-652-6911. For business-related issues, please call 909-652-6632 or stop by the campus police station adjacent to the bookstore.
Darryl Seube
Acting Chief of Police/Director of Public Safety
Air Quality and Rideshare
Air Quality Management District
In accordance with regional clean air requirements, the Chaffey Community College District conducts a mandatory Employee Commute Survey on a yearly basis. The survey asks employees how they commute to work during a specific time period. For additional information regarding this survey and related matters, please contact Police Chief Darryl Seube, 909-652-6630.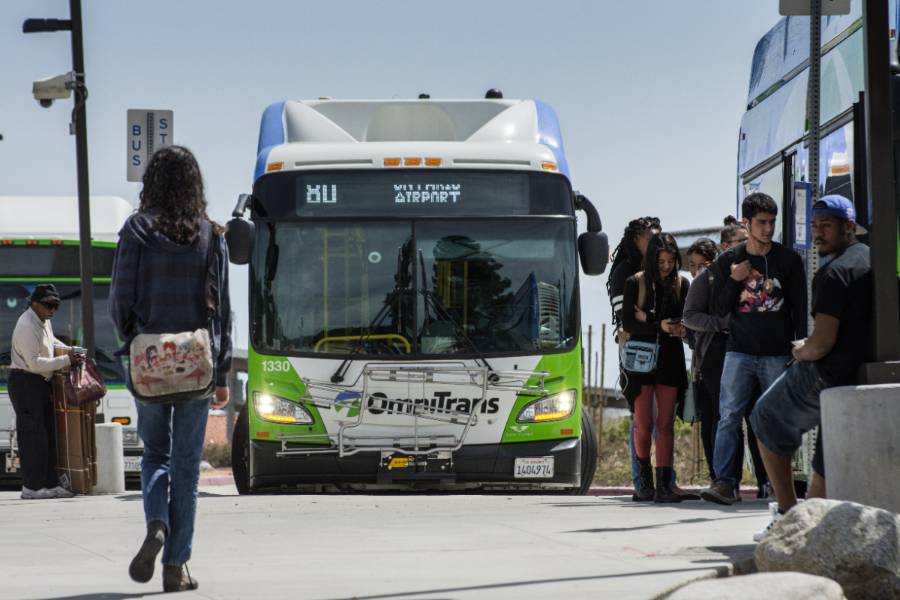 Students, faculty and staff are encouraged to carpool, use public transit, cycle or walk to school/work. Help is available to commuters who wish to find a carpool partner and may register with a confidential database maintained by Inland Empire Commuter Services by calling 909-884-8267. For more information, call toll-free 1-866-RIDESHARE (1-866-743-3742).
Rideshare
Traffic congestion, mobility and air quality concerns are of vital importance to the success and future growth of the Inland Empire. These factors affect product and service, as well as student, faculty and staff morale.
Together with the Inland Empire Commuter Services, Chaffey College Police Department encourages ride sharing and assists Commuter Services' goal of providing rideshare services and tools by participating in their promotions and campaigns. Bicycle or walk to work, ride the bus, take Metrolink, or van pool. If possible, telecommute one day a week. Log onto RideMatch to find a ride share partner or call 866-RIDESHARE.
Rideshare Plus - Sign up to get cash and other incentives for pairing up with other commuters.
CommuteSmart - Search for other commuters to start a rideshare arrangement.
Chaffey College Rideshare Incentives
If you currently drive alone and are willing to start or join a new rideshare arrangement (carpool, vanpool, telecommute, use a public bus or Metrolink, walk or bike) you could be eligible for $2/day in gift certificates for the first three months, as well as other incentives.
If you are currently ridesharing, you may qualify for a membership card that provides unlimited discounts at more than 500 Inland Empire merchants.
Surviving an Active Shooter Event
Frequently Asked Questions
Q: Do I need a parking permit to park on campus?
A: Yes. All vehicles parked on grounds owned or operated by the Chaffey Community College District shall clearly display a current parking permit or a daily parking permit on the lower driver side windshield facing outward with the number or date of the permit clearly visible.
Parking permits for currently enrolled students may be purchased through MyChaffey portal.
Q: What is the cost of a parking permit?
A: The permit cost is $55 per semester for fall and spring, and is $25 for summer session.
Q: I only have a couple of classes a week. Can I just pay for a daily parking permit?
A: Yes. You can purchase a daily parking permit from any one of the permit dispensers on campus located in various parking lots throughout campus. Daily permits are $4 per day or $1 per hour or you can purchase a temporary permit using the ParkMobile app.
Q: What do I do if the permit dispenser I went to is not working or out of order? Do I still need to have a parking permit?
A: If the permit dispenser is not working or out of order, look for another permit dispenser that is working properly. Dispensers are located in various parking lots throughout campus or utilize the park mobile app. You must have a parking permit in order to park on campus.
Q: I have a disabled placard. Do I have to purchase a parking permit?
A: Yes. In addition to having a valid placard properly displayed or a license plate that signifies that you are disabled, your vehicle must display a current Chaffey parking permit. Misuse of disabled parking privileges will be prosecuted to the fullest extent of the law.
Q: I want to contest a parking violation. What do I do?
A: You must appeal a parking violation within 21 days of issuance. You may pick up a parking violation appeal form at the campus police office, online at Pay My Cite or you may write a letter of appeal. If you wait beyond 21 days to appeal the violation, you will have no further recourse to contest the violation.
Please remember that violations are not canceled or dismissed just because the permit was not properly displayed. It is the responsibility of the driver of the vehicle to display the permit as instructed on the back of the parking permit.
Q: May I park in a metered stall with my student parking permit?
A: No. Parking in metered parking areas require the deposit of the correct amount of money as indicated at the meter.
Q: Does Chaffey College have an escort service?
A: Yes. You can request an escort by using a blue emergency phone located throughout the three campuses and parking lots.
Q: I need to leave my vehicle parked on campus overnight (e.g., car broke down, flat tire, field trip). Do I need to notify anyone about this?
A: Yes. You must notify campus police if any vehicle will be left on campus overnight.
Q: Does the college have a lost and found?
A: Yes. The lost and found is located in the campus police office. Every effort is made to contact owners of property turned in to lost and found. In addition, people may report lost items to the campus police. Call 909-652-6632 for assistance. Please fill out this lost and found form.
Health & Safety
The Chaffey College Police Department strives to develop, review and update district procedures concerning health and safety issues. This is accomplished by responding to these issues as they arise, monitoring the effectiveness of current procedures and maintaining an effective training and disaster preparedness program. This program promotes the health and safety of students, faculty, staff and visitors. Through education, training, and information, safety awareness and practices are integrated into all activities at Chaffey College.
Public safety assists the college community by providing consultations, evaluations and inspections, which reduce or eliminate conditions that may lead to injury or loss of resources.
Please use our hazardous condition or safety concern form to report such issues.
Homeless Outreach and Proactive Enforcement (H.O.P.E.)
If you're a homeless student, the Chaffey College Police Department can help you. The department has an officer assigned as a Homeless Outreach and Proactive Enforcement (HOPE) officer. The HOPE program works to connect homeless students with resources and services through the college and partners throughout the county.
Access Card/Key Requests
Please fill out our access request form for keys and access cards. The contents of this form will be sent to the appropriate campus departments for processing and recordkeepping. Please allow reasonable time for the processing of your request. Key requests require a minimum of 24 hours notice. Questions should be directed to the public safety department at extension 6632.