Extended Opportunity Programs and Services
Succeeding in college depends on more than just academic support for many students. You may need extra financial help, specialized counseling that addresses your specific challenges and overall guidance to meet your educational and career goals. Chaffey College offers Extended Opportunity Programs and Services (EOPS) to meet those needs. The state legislature established EOPS in 1969 as a state-funded counseling program for economically and academically disadvantaged students to help them achieve their goals.
Mission Statement
EOPS is a community college counseling program that provides "over and above" academic, personal and financial support to qualified community college students whose educational and socioeconomic backgrounds might prevent them from successfully attending college. Services provided are specifically designed for under-represented students and their specific needs with the ultimate goal being completion of a certificate program, an associate degree and/or transfer to a four-year university.
Spring 2022 Applications will be accepted beginning October 25, 2021

Please click on photo to view the flyer larger and learn how to apply for EOPS
Services
Academic, career and limited personal counseling, including through Guided Pathways
Foster youth specialized counseling services
Priority registration
Orientation to college classes (Guidance 2)
Cultural awareness activities
Assistance in purchasing textbooks for classes
Book rental option
Transportation assistance
Supplemental programs for single parents receiving CalWORKs assistance (CARE), foster youth, students who qualify for Assembly Bill 540 (AB 540) and complete the California Dream Act application, and a summer readiness program (SRP) for recent high school graduates.
Eligibility Requirements
Meet all three of the following:
Have less than 70 degree-applicable units completed (students who have completed an associate's or bachelor's degree are not eligible to the program)
Be enrolled in a minimum of 12 units each fall and spring semester
And one (1) of the following:
Be a student who has not earned a high school diploma or equivalent
Have a high school grade-point average below 2.5
Complete remedial/foundational course work in high school or college
Complete English as a Second Language courses (ESL)
Be a current or former foster youth
Be a first-generation college student (a student whose parents or guardians have not completed a college degree).
How to Apply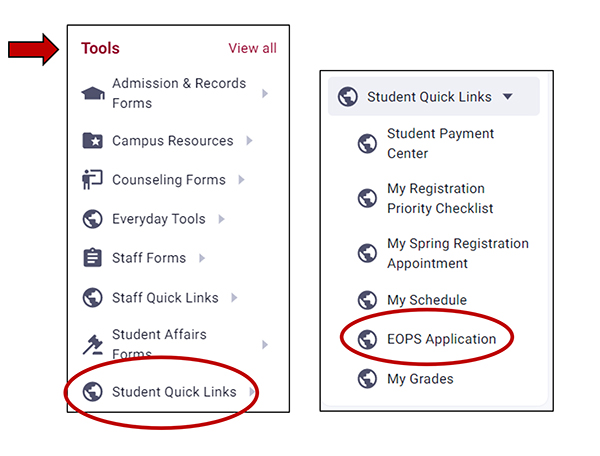 Apply on-line by logging onto your My Chaffey portal account at my.chaffey.edu (a Chaffey student ID number is required)
Locate the EOPS application link on your My Chaffey portal Student Home page, under Quick Links
Once you submit your application, you will receive a confirmation email verifying that your application was successfully submitted. Please save it for your records.
It takes eight to twelve weeks to process your application and determine your eligibility
You will be notified via your Panther email, or the email Chaffey College has on file, of your application status
Request a Classroom Presentation
Would you like EOPS to provide a presentation to your students? Click here to submit your request and an EOPS representative will reach out to you shortly to confirm details.
Contact
Rancho Cucamonga campus

Phone: 909-652-6349 or (909) 652-6358
eops@chaffey.edu
Michael Alexander Campus Center - Room 205
In-person Office Hours:
Monday and Friday, 7:30 am - 4:30 pm


Chino campus

Email: eopschino@chaffey.edu
Chino Main Instructional Building - Room 240
Business Hours: To Be Announced
Fontana campus

Email: eopsfontana@chaffey.edu
Business Hours: To Be Announced
Upcoming Events
12:00 PM - 01:30 PM Center for Culture and Social Justice Online
12:00 PM - 01:30 PM EOPS Online
11:00 AM - 12:15 PM EOPS Online