Disability Programs and Services
If you have developmental, learning, physical and psychological disabilities, that shouldn't stop you from achieving your educational, career or life goals. That's where Disability Programs and Services (DPS) comes in. We can give you skills and knowledge to reach your full potential and be independent. You can use these skills to get a college degree or vocational training to get a job.
DPS serves disabled students in accordance with Title 5 regulations and the Americans with Disabilities Act of 1990. Faculty and staff can also use DPS as a resource to meet the needs of their disabled students. We aim to give our students the same quality education as any other student and a big part of this comes from building awareness across the campus community about human rights and equal access. Your ability counts - not your disability.
As the college has transitioned to an online format, the DPS department team wants you to know that we are here for you as you learn how to navigate the various tools and platforms that are available.
As we continue to integrate more online elements to the Chaffey College website and to give you ease in the upcoming semester, we have created; Ask DPS. We will provide four weekly, 1-hour Q&A Public Zoom Sessions with members of our DPS team and will not be recorded.
There, you will have the opportunity to ask questions related to steps and processes associated with your needs. The goal of these sessions is to help you achieve success, in addition to receiving important technical, campus-wide and department information that you may require. We also invite students to use these Zoom meetings to check in with DPS faculty and staff for social support during these difficult times.
Please note: These will not be counseling sessions. Here is the link if you need to make an appointment with a DPS counselor: https://chaffey.craniumcafe.com/group/dps-counseling/lobby
Take your first steps to Online Learning at Chaffey College!
Use the Chaffey online toolkit to help you with the transition. We are here to help you succeed!
The upcoming Ask DPS session dates are as follows:
Mondays, 2:00 p.m. to 3:00 p.m. https://cccconfer.zoom.us/j/93063904950
Tuesdays, 11:00 a.m. to 12:00 p.m. https://cccconfer.zoom.us/j/93063904950
Wednesdays, 10:00 a.m. to 11:00 a.m. https://cccconfer.zoom.us/j/93063904950
Thursdays, 3:00 p.m. to 4:00 p.m. https://cccconfer.zoom.us/j/93063904950
Disclaimer: These Zoom sessions are in a public chat forum. Please do not disclose anything that you would not otherwise disclose in a public forum. We ask that you present yourself in a dress appropriate for a college setting. The host reserves the right to "mute" you in session if there is excessive background noise.
Please note: If you require captioning services for an Ask DPS Q&A Zoom session please include your information on the link below, using the date and time, Rancho campus for the location and Zoom session for the Building/Room number information:
https://www.chaffey.edu/dps/interpreter_request.shtml
CONTACT INFORMATION
DPS Phone Numbers
909-652-6379 - FRONT DESK
909-652-6393 - TTY
909-652-6385 - FAX

DPS Address
Chaffey College
Disability Programs and Services (CCE-100)
5885 Haven Avenue
Rancho Cucamonga, CA 91737-3002
Location: Campus Center East, Room 100

Hours of Operation
Monday: 7:30 a.m. - 7:00 p.m.
Tuesday, Wednesday: 7:30 a.m. - 4:30 p.m.
Thursday: 7:30 a.m. - 7:00 p.m.
Friday: 7:30 a.m. - 4:00 p.m.
Getting Started
Eligibility Requirements
To be eligible for the program, you must have a disability verified by a physician, psychologist or other appropriate professional (Title 5, section 56006).

If you have a learning disability, you should bring copies of your test results. Moreover, if you believe you have a learning disability, but have not been tested, we administer the test at our facilities for community college eligibility purposes only (subject to availability).

Students who may qualify for services include, but are not limited to, the following disabilities:
Physical Disability
Communication Disability
Learning Disability
Acquired Brain Injury
Developmentally Delayed Learner
Psychological Disability
Other Disabilities
How to apply to the program:
If you have a physical, psychological or communicative disability, you must bring in medical verification of your disability from a physician, psychologist or other appropriate profession prior to the appointment.
If you have a learning disability, you will need to bring in your psychological evaluation report with testing scores or a score report from a certified LD specialist.
Allow up to two weeks for processing of the documents submitted, once reviewed you will be contacted with status. (Depending to the volume of application being submitted at a given time during the year, processing could take more than two weeks)
Contact the DPS department to schedule and complete your placement using the colleges placement self-report tool
Please contact DPS.Records@chaffey.edu.
Fill out and submit at the time of your DPS intake appointment the following forms:

Contact DPS.Records@chaffey.edu for application

Meet with one of our DPS Counselors for coordination of services and/or equipment, and academic planning.
For students
Differences in legal rules
High School
High Schools are governed by the Individuals with Disabilities Education Act (IDEA). Parents are notified and required by law to give permission for any decisions regarding their son or daughter.
College
Colleges are governed by the ADA and the Rehabilitation Act but not governed by IDEA. The Family Rights and Privacy Act (FERPA) mandates that the college cannot release any information concerning an adult over the age of 18 unless the student has given explicit written permission.


Differences in responsibility

High schools are required to:
Educate all children
Provide a free disability evaluation and documentation
Provide an Individual Educational Plan (IEP) that determines placement and appropriate support services
Implement the IEP, making services available and including them in the schedule
Offer fundamental curriculum alterations to allow individualized goals and objectives
Provide personal services such as transportation, mobility between classes or content tutoring beyond that offered by the regular classes
Serve as advocates for students
College students are:
Responsible to choose whether or not to attend college, demonstrate qualifications for college attendance and compete with other adults for classroom seats
Responsible for planning their own education, identifying resources and requesting reasonable accommodations
Responsible for meeting the unaltered fundamental college academic standards, standard course objectives, code of conduct and program requirements
Responsible for providing their own personal services to assure their own independence and safety
Responsible to advocate for themselves
Academic differences
High schools:
Establish a class schedule that fills most of the time during the school day
Have teachers that provide assistance with reading and studying and provide regular homework
Expect students to spend 2-3 hours per day on homework
Give students tests on a regular basis
College students are:
Responsible for reading textbooks, memorizing information, applying concepts, studying, thinking critically and writing on their own.
Responsible for planning how to use free time between college classes.
Responsible for independent learning such as reviewing notes, or studying outside sources in the library or online. College professors may require only one or two out-of-class assignment per semester.
Responsible for studying an additional two hours for every hour in a college class. This may mean six or more hours of studying per day.
Responsible to prepare for fewer opportunities to pass tests. College professors may only give a mid-term and a final test.
How should I prepare for college?
Use the support of high school counselors and psychologists to identify your strengths and interests. Establish realistic academic and career goals before you develop a high school transition plan.
Update your disability documentation. Be sure you have a verification of disability by a licensed professional such as a medical doctor, neurologist, psychiatrist, psychologist, audiologist or ophthalmologist. Be sure the documentation verifies not only the disability but also current educational limitations. Be sure the documentation directly related to the accommodations you will be requesting in college. Give a copy of your documentation to the Disability Programs and Services (DPS) office before entering college.
Understand and be able to articulate what your disability is, how it affects you, and why you need the accommodations you are requesting.
Meet with a DPS counselor at the college well before your first semester to discuss your goals, review your disability documentation and make your request for accommodations.
Use the support of DPS during the college enrollment process. Learn how to use the accommodations similar to those available in college.
Practice good study strategies such as text-book reading, note taking, essay development and reviewing course materials regularly.
Learn how to handle freedom of time, making good choices that enhance opportunities for success. Learn how to balance time with study, work and relaxation.
Organize your daily schedule, living space and study materials by using files, notebooks and a good calendar.
Identify role models who have successfully followed the path you are choosing. Identify the skills and strategies they used. Learn from mentors.
Get to know who the service providers are. Know where your resources are in the community and online. Use these services and resources on a regular basis.
Resources and Links
Students with disabilities preparing for post-secondary education should know their rights and responsibilities. U.S. Department of Education www.ed.gov/ocr/transition.htm
Faculty and Staff
Accommodating Students with Disabilities for Access to Instruction

Access in instruction is critical to any student with a disability. As a faculty member, you can increase the success of your students through the many services DPS offers. By making information and/or technology accessible, the student can focus more attention on the subject matter rather than obstacles.
Of course you may be concerned about how you can provide accommodations fairly, and there is also concern about additional workload. As for the former, please visit our frequently asked questions page for some helpful tips. As for the latter, yes there will be additional work, but DPS wants to help. Please allow us to assist you by contacting us with your questions and concerns.

If you would prefer to view information in a different way, we have also created two additional ways to learn about us. We're currently working on a faculty handbook.

For more information:

Frequently Asked Questions about accommodating students with disabilities (for professionals by professionals) FAQ page
Services
Chaffey College DPS offers robust support services to help maximize students' success in reaching their academic goals. Our goal is to give students academic support and instruction that leads to success in college and in the workforce. We offer:
Counseling Services
Academic / vocational counseling– DPS provides disability-appropriate suggestions for class and career choices.
Educational evaluations – DPS can evaluate students for inclusion in the learning disability program.
Liaison and referral service– DPS can assist students in making connections to campus and community services for persons with disabilities.
Prescriptive education plans – Students enrolled in the DPS instructional programs will have education plans created which are designed to assist the student in reaching their goals.
Instructional Services
Alternate Media (E-text)
Assistive Technology
Video Captioning Service
Sign Language Interpreter Service– DPS will provide classroom interpreters for hearing impaired DPS students who can communicate using American Sign Language.
Note taker service – When appropriate DPS will provide digital recorders and NCR paper for students use in classrooms.
Priority Registration – Students with disabilities who are part of DPS can qualify for priority registration so that they can register for classes that fit best with their limitations.
Registration Assistance– DPS will assist students is selecting classes that are most appropriate for the students' abilities and limitations.
Reader/Writer Service– DPS can provide readers and/or writers on test for students whose disability causes reading and/or writing difficulties.
Taping Lectures – You are required to ask the instructor's permission before taping anything in the classroom (lecture or lab).
Test Taking Facilitation– Students with disabilities may qualify for test accommodations which could include such things as extended time on the test, alternative test formats (Braille, etc.), reading assistance, writing assistance, etc.
Transportation Services
On-Campus Transportation (Rancho Cucamonga Campus only)

Service Suspension / Termination
Qualified students will continue to receive services as long as they adhere to their student responsibilities agreement. If a student violates the agreement, the Suspension and/or Termination of Services Procedure will be followed.
Alternate Media
Alternative Media Services
Alternative media is any instruction-related material that is converted or altered from its original state into a different format so it is accessible and usable by people with disabilities.
This may include, but is not limited to:
Braille
Large print
Tactile graphics
Descriptive narration
Recorded audio
Electronic text (e-text) formats
Video captioning
To qualify for alternative media, you must:
Become registered with Disability Programs and Services (DPS) as a student.
Meet with and be referred by a DPS counselor for alternative media accommodation.
Meet with Jason Schneck (alternative media tech specialist) and complete a request for materials.
If you wish to qualify for alternative media as an accommodation, please make an appointment to speak with your DPS counselor.

If you have questions about alternative media services, please contact Jason Schneck, alternative media tech specialist at jason.schneck@chaffey.edu.
What is an Alternate Media Technical Specialist?
The alternate media technical specialist works with students and faculty in the acquisition and production of instructional materials in alternative media formats for students with disability-related accommodations. These include, but are not limited to, books, articles, audio-visual materials, websites, email, mobile applications, presentations, and educational learning platform materials.
Assistive Technology
Assistive technology (AT) is any item, piece of equipment, software program or product system that is used to increase, maintain or improve the functional capabilities of people with disabilities. Assistive technology helps people who have difficulty speaking, typing, writing, remembering, pointing, seeing, hearing, learning, walking and many other things. Different disabilities require different assistive technologies.
To qualify for assistive technology, you must:
Become registered with Disability Programs and Services (DPS) as a student.
Meet with and be referred by a DPS counselor for assistive technology accommodation.
Meet with Jason Schneck (alternative media tech specialist) and schedule a training session for recommended technologies.
Assistive Technology Lab (Located in the DPS office CCE-100)
Assistive Technology Labs (a.k.a. High Tech Centers) provide a campus location for students with disabilities to learn and acquire new skills for use with assistive computer technology.
The DPS Assistive Technology Lab has a large variety of assistive equipment and assistive software. We also offer an extensive array of assistive technology for checkout, including audio recorders. Our trained tech staff is available to assist students unfamiliar with the various technology, and appointments can be made for formal instruction. Some of our most used assistive equipment and software programs are listed below with a brief description. If you would like to speak with our Alt Media Tech Specialist regarding any of the items listed below please contact Jason Schneck at Jason.schneck@chaffey.edu. *Note: assistive technology will require counselor referral.
We also offer alternative media (E-text conversion) services.
Disability Programs and Services Faculty and Staff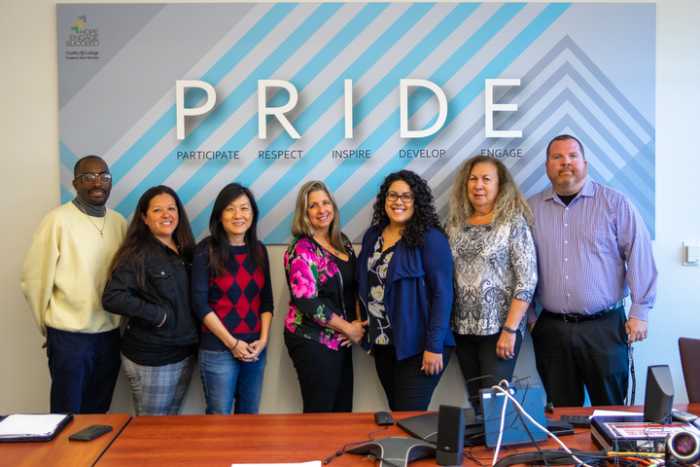 DPS offers students at the Rancho Cucamonga, Fontana and Chino campuses academic support and accommodations. Here are the people who can help you.
Legislation
Disability Programs and Services operates in compliance with extensive legislation to ensure you receive equal access at Chaffey College. Our operations are heavily regulated and protected by confidentiality. We comply with:

Americans with Disabilities Act of 1990
Title I of the Americans with Disabilities Act of 1990, which took effect July 26, 1992, prohibits private employers, state and local governments, employment agencies and labor unions from discriminating against qualified individuals with disabilities in job application procedures, hiring, firing, advancement, compensation, job training, and other terms, conditions and privileges of employment.

Section 504 of the Rehabilitation Act of 1973
Sec. 504.(a) No otherwise qualified individual with a disability in the United States, as defined in section 7(20), shall, solely by reason of her or his disability, be excluded from the participation in, be denied the benefits of, or be subjected to discrimination under any program or activity receiving Federal financial assistance or under any program or activity conducted by any Executive agency or by the United States Postal Service.

Lanterman Developmental Disabilities Services Act
The Lanterman Developmental Disabilities Services Act was enacted in 1977. It states that "persons with developmental disabilities have the same legal rights and responsibilities guaranteed all other individuals by the Federal Constitution and laws and the constitution and laws of the State of California. No otherwise qualified person by reason of having a developmental disability shall be excluded from participation in, be denied the benefits of, or be subjected to discrimination under any program or activity which receives public funds" (Section 4502 of the Welfare and Institutions Code). Since these rights are frequently denied and there is no effective method of implementation, a State Council on Developmental Disabilities was created (Welfare and Institutions Code 4520).

Section 508 of the Rehabilitation Act (as amended in 1998)
508 creates, binding, enforceable standards for electronic and technology accessibility that are to be incorporated into the Federal procurement regulations . Each Federal department/agency is required to revise their procurement policies and regulations to incorporate the 508 standards.

That Act defines "information technology" to include "any equipment or interconnected system or subsystem of equipment, that is used in the automatic acquisition, storage, manipulation, management, movement, control, display, switching, interchange, transmission, or reception of data or information." It includes computer hardware, software, networks, and peripherals as well as many electronic and communications devices commonly used in offices.

Section 508 requires that when Federal agencies develop, procure, maintain, or use electronic and information technology, they must ensure that it is accessible to people with disabilities, unless it would pose an "undue burden" to do so. Federal employees and members of the public who have disabilities must have access to and use of information and services that is comparable to the access and use available to non-disabled Federal employees and members of the public.

Federal agencies which provide information to the public or to their employees through Web sites must ensure that such sites are available to all persons with internet or intranet access, including persons with disabilities.

Designing an accessible Web site is not as difficult as most people believe. Often it is a matter of identifying graphics, elements, frames, etc. For example, HTML code already provides the "Alt Text" tag for graphics that some designers have not been using.

California Assembly Bill 422
This bill requires every individual, firm, partnership or corporation publishing or manufacturing printed instructional materials, as defined, for students attending the University of California, the California State University, or a California Community College to provide to the university, college, or particular campus of the university or college, for use by students at no additional cost and in a timely manner, any printed instructional material in unencrypted electronic form upon the receipt of a written request, provided that the university or college complies with certain conditions.

Title 5, California Code of Regulations
"... no person in the State of California shall, on the basis of ethnic group identification, national origin, religion, age, sex, race, color, ancestry, sexual orientation, or physical or mental disability, be unlawfully denied full and equal access to the benefits of, or be unlawfully subjected to discrimination under any program or activity that is administered by, funded directly by, or that receives any financial assistance from, the Chancellor or Board of Governors of the California Community Colleges." (Title 5, California Code of Regulations, section 59300.)
Sign- Language Interpreter
DPS provides sign-language interpreters for courses, meetings, events and activities at Chaffey College.
Requests for interpreters must be made at least three business days prior to the event. Requests submitted with less than three days' notice may not be able to be granted. We allow exceptions for class-time interpreters.
If you need to cancel the interpreter after a request is made, you must notify DPS via email or phone call within 48 hours in advance of the event.
Reasonable Accommodation
If you're a faculty or staff member wondering how you can provide reasonable accommodations for a disabled student, you have many options. The following guide aims to explain students with various disabilities can be accommodated:

General
Provide students with a detailed course syllabus, prior to registration week.
Clearly spell out course expectations (e.g., grading, material to be covered, due dates).
Start each lecture with an outline of material to be covered that period. At the conclusion of class, briefly summarize key points.
Speak directly to students, and use gestures and natural expressions to convey further meaning.
Present new or technical vocabulary on the board or use a student handout. Terms should be used in context to convey greater meaning.
Give assignments in oral and written form to avoid confusion.
Announce reading assignments well in advance for students who are using taped materials. It takes an average of six weeks to get a book tape-recorded.
Allow students to tape lectures.
Provide study questions for exams that demonstrate the format, as well as the content, of the test. Explain what constitutes a good answer and why.
If necessary, allow learning-disabled students to demonstrate mastery of course material using alternative methods (e.g., extended time limits for testing, oral exams, taped exams or individually proctored exams in a separate room).
Permit use of simple calculators, scratch paper and spellers' dictionaries during exams.
Provide adequate opportunities for questions and answers, including review sessions.
If possible, select a textbook with an accompanying study guide for optional student use.
Encourage students to use campus support services (e.g., pre-registration, assistance in ordering taped textbooks, alternative testing arrangements, specialized study aids, peer support groups, diagnostic consultation, study skills, development training or academic tutorial assistance)

LEARNING DISABILITIES

A learning disability is a hidden disability. It is critical to remember that a student with a learning disability has average to above average intelligence. Also, this disability is not the result of some character defect (laziness, etc.) or lack of educational opportunities.

Dyslexia (reading difficulty)
When typing a multiple-choice test, capitalize the A, B, C and D, etc. choices.
Don't grade on spelling unless that is the point of the class.
Allow taping of lectures.
Allow extended time on tests.
Allow DPS personnel to read tests to students.
Dysgraphia (writing difficulty)
Allow taping of lectures.
Allow students to record essays. At least allow them to think on the recorder and then transfer what they have recorded to paper.
Allow DPS to provide note-takers or help the student recruit note-takers from among the other students in class.
Allow students to use computers for in-class essays.
Allow DPS personnel to actually write out the essay answers the student dictates.
Dyscalculia (math difficulty)
Allow calculator use in all math classes or classes such as economics that may have a major math component.
Allow extended time on any tests containing math (in classes such as economics, etc.)
Sensory Overload
Reduce unnecessary distractions-visual, auditory, etc. When selecting texts try to pick one that is less visually cluttered.
Allow extended time on tests.
Allow the student to take the tests in distraction-reduced settings such as the DPS Center.
PHYSICAL DISABILITIES

Acquired Brain Injury
Allow taping of lectures.
Allow extended time on tests.
Allow the student to take the tests in distraction-reduced settings such as the DPS Center.
Present information in a concrete and straightforward manner.
Use direct statements.
Be Specific.
Have the person repeat the information.
Use a list format instead of a paragraph format when giving written directions.
Provide directions in a consistent manner.
Have the students demonstrate their understanding of the directions.
Print information instead of using cursive.
Suggest academic skill remediation.
Give immediate feedback when learning new concepts (It is important that instructors do not wait to tell students whether or not they are doing a task correctly).
Epilepsy
Allow taping of lectures.
Allow extended time on tests.
Do not place the student in a situation where there are strobe lights or any other type of flashing lights. Many epileptics have seizures that are triggered by flashing lights (in this situation a reasonable accommodation would be to excuse the student from this activity).
Blind & Visually Impaired
Allow taping of lectures or a peer note taker.
Tests can be brailled, taped or dictated by DPS staff (please remember that not all visually impaired students know braille).
Explain in as much detail as possible remember s/he may not be able to see what is on the board. "Talk through" what you are writing on the board. Avoid using pronouns such as "this" and "that".
Use good diction.
Give full descriptions, mentioning colors, amounts and other specific details.
Use overhead and opaque projectors to enlarge lecture materials.
Allow those with limited vision to sit at the front of the classroom.
Allow DPS to provide note-takers or help the student recruit note-takers from among the other students in class.
Get handouts, tests, etc. to the DPS office ASAP and they will arrange for enlarging the type, recording, brailling, or whatever the particular student needs.
Don't rearrange the room. Once a blind student has the paths in mind it is very disconcerting to have everything move.
Deaf & Hearing Impaired
Do not face the board while lecturing.
Allow the student to sit in the front row.
If a sign language interpreter is being used, be sure to put the interpreter at the front.
Try to pace your lecture with the interpreter. Also, try to provide the interpreter and the student with a list of key technical terms in advance to help them both keep up.
Give students more time to respond to questions or participate in class discussions because there is an interval between the moment the instructor stops talking and the interpreter finishes signing.
Involve the student in classroom discussions, and address the student, not the interpreter.
Put as much as possible on the board or in handouts (a student who is lip reading tends to get only part of the information). When dealing with a deaf student, remember that English may be their second language (American Sign Language being the first), and these students often have ESL-Iike problems in writing.
Speak naturally - do not exaggerate the lip movements.
Avoid speaking with windows behind you this adds glare problems and may throw shadows on your face.
Speech Impaired
Be patient. If you cannot understand what the student is saying, ask them to please repeat it.
Most students understand your problem and they will try to help.
If a student's speech is impaired to the degree that oral communication is difficult, the instructor may want to make other arrangements for activities such as oral presentations.
Wheelchair Users
If speaking for an extended time with a person in a wheelchair, sit in a chair.
This will make it much easier for that person to see you.
Please be understanding if the student is sometimes late. It is very difficult to negotiate the Chaffey campus in a wheelchair. If the student is being transported by the DPS program it may be our fault that s/he is late.
Remember that labs may need modification for the use by students in wheelchairs - call the DPS program for assistance.
Field trips can be a special problem. The college must provide transportation if it is being provided for all students.
Classrooms and lab should be arranged to meet the needs of students in wheelchairs.
Cerebral Palsy
Allow the student to type tests and papers even multiple choice tests if s/he can.
Allow taping of lectures or peer note takers.
Please understand if the student is occasionally late. Even if the student is not in a wheelchair his/her progress across campus may be rather slow.
Some students with mobility or manual impairments may have an animal helper with them in class. These animals are specifically trained to perform tasks to assist the student.
Other physical disabilities
Students with many different types of disabilities may need to tape lectures, take tests with extended time limits, and/or require more than ten minutes to get between classes.
Examples of these disabilities might include heart conditions, digestive disorders, cancer, lupus, renal disease, asthma, sickle cell anemia, hemophilia, leukemia, diabetes and AIDS.
Students who have chronic or acute health problems may display a low tolerance for prolonged physical activity and may appear lethargic or hyperactive due to medication.
PSYCHOLOGICAL DISABILITIES

ADD and ADHD
Allow taping of lectures.
Reduce outside distractions as much as possible.
Remember the student will "check out" frequently it's not that s/he is not trying.
Allow extended time on tests.
Allow distraction reduced testing environment.
Other psychological disabilities
Avoid overly dramatic or very loud presentations. These can be seen as threatening.
Surprises can be very intimidating for these students.
On-Campus Transportation


Courtesy Tram Service

Are you looking for an easier way to get around campus? DPS offers courtesy tram service to all qualified students in the program. You have access to courtesy trams that accommodate a variety of student needs, including vehicles with ramps that can transport wheelchairs.
Note: The trams have a load capacity limit of 950 pounds and the wheelchair ramp has a load capacity of 500 pounds, so most electric wheelchairs cannot be accommodated.
Please come to CCE-100 on the main campus for more information or call 909-652-6392 to request on-campus tram services. This service is only available on the Rancho Cucamonga Campus. Chino and Fontana campuses do not have this courtesy tram service due to campus layout and accessible topographies.
Check out our tram route map.
Available DPS Trams
Club Car Transporter 6: This custom built wheelchair tram features comfortable seating and a number of safety features for its occupants.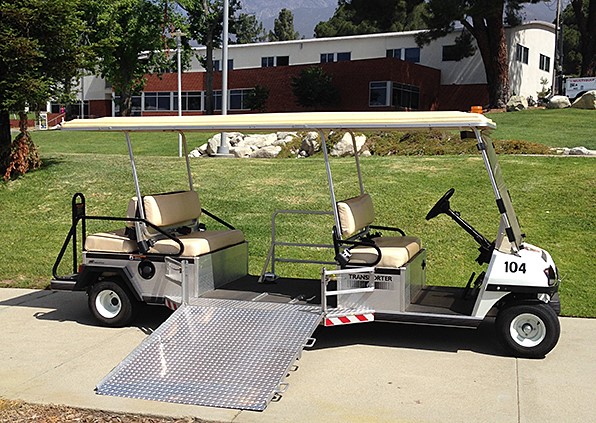 Club Car Mini: This tram features comfortable seating for 4 individuals and a number of safety features for its occupants.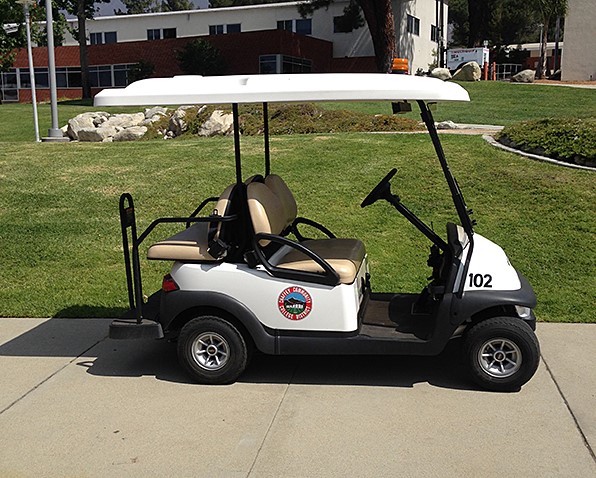 Learning Disabilities Testing Procedure
If you are experiencing difficulties in meeting the academic demands of the regular vocational and/or academic classes at Chaffey College, you may request a learning disabilities assessment to determine the source of your problems. We welcome you, whether you decided to come in on your own or you were referred by someone else within or outside of Chaffey College.
Please take the time to complete the application for services [NOTE: Include hyperlink to attached PDF "Application for Services"] and the learning disabilities referral form. It is important to answer each question in detail. Please fill out the form by hand and submit it to DPS in campus center east 100 (CCE 100). The learning disabilities specialist will collect the questionnaire and review it.
Providing this information is strictly voluntary. The information will be kept confidential and your answers will be used to help the learning disabilities specialist determine an appropriate course of action.
Learning Disabilities Testing Requirements and Procedures
It is important to note that you have to be a current Chaffey College student. In addition, you must be enrolled in at least one regular academic or vocational class (three units or more) at Chaffey College.
Testing will be suspended if:
You drop out of class/classes and are no longer enrolled as a Chaffey College student
You miss your first intake/testing appointment by not attending the appointment, being over 15 minutes late or calling on the day of the appointment (medical verification needed to be excused), then you will be moved to the bottom of the waiting list.
You miss two appointments/counted as "absent" if over 15 minutes late for appointment OR if you call the day of the appointment/medical verification needed for an absence to be excused
You may challenge the suspension of testing by meeting the Learning Disabilities Specialist in person to discuss the situation.
Learning Disabilities Testing Steps:
You need to complete and submit the Learning Disabilities Referral Form
A phone call will be made once your questionnaire has been reviewed to determine the next course of action.
An assessment screening may or may not be scheduled. If an assessment screening is scheduled and completed, the results will help determine if you will be placed on the testing wait list or it will be determined that you will not go through a learning disabilities assessment. It is up to the discretion of the learning disabilities specialist to skip screening to either move to a learning disabilities assessment or discontinue the testing process.
Once testing is completed, you will be invited to a final results appointment.
Links
Following are some links that can help you learn more about disability rights and policies:

ADA Home Page

California Community Colleges Chancellor's Office

California Department of Rehabilitation

Electronic and Information Technology Accessibility Standards
The World Wide Web Consortium

Web Content Accessibility Guidelines 1.0

www.Section508.gov
Video Captioning and Community Colleges
California community colleges have a legal responsibility to provide equal access to video and audio resources for students, faculty and staff who are deaf or hard of hearing. This is often most easily accomplished through captioning of video resources and audio descriptions.
Video Captioning Policy at Chaffey College
The alternate media specialist arranges for all Chaffey Community College District "legacy" video tapes to be captioned. Legacy video tapes are those videos the district has purchased for use in the classroom (as prescribed by the curriculum) that were not closed captioned and cannot currently be purchased in a closed captioned format from the distributor/copyright owner. All current videos purchased that support the mission of the district should be closed captioned prior to purchase and must be closed captioned prior to using for class instruction according to section 508 of the Rehabilitation Act of 1973 (amended 1998).
New purchases of videos material for class instruction will need to be closed caption or transcribed. Faculty and staff are responsible for ensuring the material is accessible. (For guidance on how to make sure your material is purchased in an accessible format please contact Jason Schneck (alternative media tech specialist) at jason.schneck@chaffey.edu.
Current videos being viewed as part of the curriculum need to be converted to a closed caption version if not already in an accessible format.
TTY Services
If you are hearing- or speech-impaired, DPS offers Text Telephone (TTY) services to help you communicate over the phone. The device is required on both ends of the conversation to enable communication.
To request a TTY device, contact Jason Schneck at jason.schneck@chaffey.edu.