High School Dual Enrollment
WANT TO EARN COLLEGE CREDIT WHILE IN HIGH SCHOOL?
Start your college journey now! ALL high school students, who are approved by their school districts to participate, are invited!
(For mobile friendly access to forms and information please click Mobile Friendly)
Summer/Fall 2023 Dual Enrollment Information Sessions
High School Partnership (HSP) and Non-HSP Students Welcome!
Interested in earning college credit while in high school? All are welcome to join us for an information session. (Click on flyer)
Information Session Dates: Students only need to attend one session.
Dates
Time
Location
English Sessions
2/2, 2/23, 3/2, 3/23, 4/6, 4/27, 5/4, 5/25
5:30pm - 6:30pm
REGISTER HERE
Español/Spanish Sessions
2/13, 3/13, 4/17, 5/8
5:30pm - 6:30pm
REGISTER HERE
---

Spring 2023 Welcome Webinar
For students registered to take a Spring 2023 course.
This workshop is open to all High School Dual Enrollment and Adult Education Partnership students. Topics include: Important dates, accessing your course on Canvas, ordering textbooks, connecting with a Success Coach and much more! Parents and guardians are also welcome to attend. Students only need to attend one session. (Click on flyer)
January 12 and January 18 from 5:30 - 7pm
Register Here
---
Why Dual Enrollment?
SAVE TIME & MONEY! Get a jumpstart on your college and career goals by taking college courses at no or low cost.

EARN COLLEGE CREDIT! There are many courses to choose from and the majority are transferable to UCs & CSUs.

EXPERIENCE COLLEGE! Want to find out what college is all about? Not sure if college is right for you? This is your chance to find out!

RESEARCH shows that students who participate in Dual Enrollment programs are more likely to graduate from high school and persist in college!
Eligibility and Restrictions
To be eligible for dual enrollment, students must be in the 9

th

through 12

th

grade

Dual Enrollment students (also known as "Special Part-time Admits") may enroll in up to 11 units for Fall and Spring and 7 units in Summer.

PLEASE NOTE: Students who register for 12 or more units must complete the appeals process and are responsible for the full cost of tuition, textbook(s), and college service fees.
Programs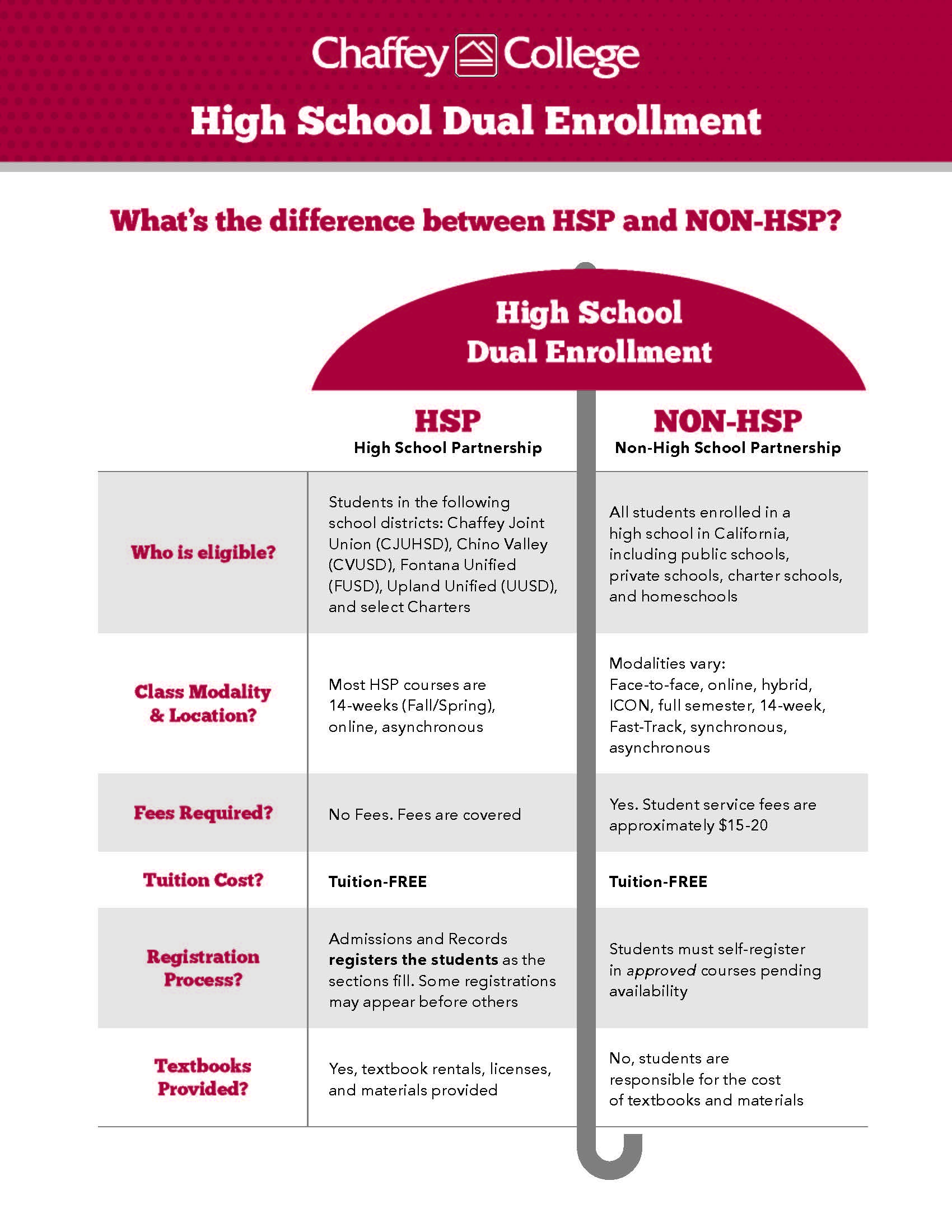 High School Partnership (HSP) and Non-High School Partnership (Non-HSP).
Learn the difference HERE!
Is your High School a Partnership School? View the list of partnership schools.
ENROLLMENT STEPS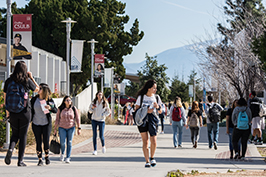 Interested?
Connect with a Dual Enrollment Success Coach
Our Success Coaches can help students:
Get started with application and onboarding support
Navigate the Chaffey Website and Student Portal
Link to college resources and services
Registered? Meet with a Dual Enrollment Counselor
Create an educational plan with a Dual Enrollment Counselor. Make an appointment in Cranium Cafe today!
Discuss upcoming course options
Create a multi-semester plan based on your goals
Explore major and career pathways
Contact
For questions about the enrollment process or if you are encountering challenges contact,
Candice Brock
Administrative Assistant II
Phone: (909) 652-6154
Email: dual.enrollment@chaffey.edu
To make an appointment with a counselor to make an educational plan and choose courses, please use the Cranium Card Dual Enrollment Counselor Scheduler