Student Health Services
Student Health Services is dedicated to assisting currently enrolled
students in achieving and maintaining optimum physical health. Student Health Services is open when the semester starts and is open throughout the semester for well student visits only at this time. In addition to the in-person services we currently provide at the Rancho Campus Health Clinic, we provide 24/7 telemedicine for medical and mental health. There is no office copay required for visits. lab tests are low cost when ordered by the Student Health clinicians. The clinic additionally offers low cost TB tests, immunizations, labs, stomach issues, referrals and health questions. As well as, physicals to Chaffey students entering the Rad. Tech., CNA, VN, ADN, Pharm. Tech., EMT, Dental Assisting, and Child Development programs. Please call for an appointment!
COVID-19 testing is currently NOT available. Learn more about our COVID-19 response at www.chaffey.edu/coronavirus
COVID-19 Testing Info: https://sbcovid19.com/testing/
COVID-19 Vaccination Info: https://myturn.ca.gov/
The FREE telemedicine with First Stop Health (FSH) is available 24/7. See the information below on how to start an account and access services....
Telemedicine and Virtual Counseling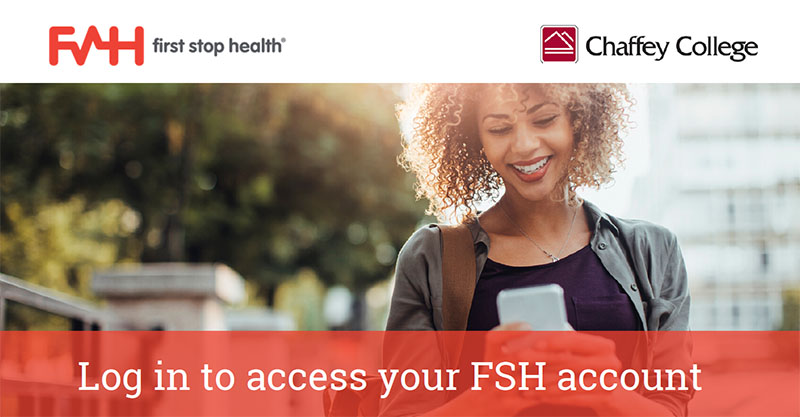 Chaffey College provides telemedicine and virtual counseling for FREE to all students. Get the app or log in online.
FSH Mobile App
Download the First Stop Health mobile app
Log into your account using the last 4 digits of your SSN OR with your student ID including the leading zeros


FSH Website
Go to fshealth.com
Click 'Log In' in the upper right
Log into your account using the last 4 digits of your SSN OR with your student ID including the leading zeros
Your mental, physical and emotional health play a critical role in your education and life. We're committed to helping you achieve and maintain optimum health in all of these areas, and at a reasonable cost. If you're enrolled full- or part time at Chaffey College, you may use our services at our Chino and Rancho Cucamonga campuses.
Contact
Rancho Cucamonga
Michael Alexander Campus Center, Room 202 (above the cafeteria)
Hours – 8 a.m. to 4 p.m. Monday through Friday
909-652-6331


Chino
CHMB-105
Hours – 8:30 a.m. to 1:30 p.m. Monday through Thursday
909-652-8190 CURRENTLY CLOSED
Staff
Disaster Distress Information
Disaster Distress Helpline
Stress, anxiety, and other depression-like symptoms are common reactions after any natural or human-caused disaster. Call 800-985-5990. Free and confidential providing year-round, 24/7 crisis counseling and support.
http://disasterdistress.samhsa.gov/

Are you experiencing signs of distress as a result of a disaster?
Signs of distress may include any of the following physical and emotional reactions:
Sleeping too much or too little
Stomachaches or headaches
Anger, feeling edgy or lashing out at others
Overwhelming sadness
Worrying a lot of the time; feeling guilty but not sure why
Feeling like you have to keep busy
Lack of energy or always feeling tired
Drinking alcohol, smoking or using tobacco more than usual; using illegal drugs
Eating too much or too little
Not connecting with others
Feeling like you won't ever be happy again
Rejecting of help
The Helpline is staffed by trained counselors from a network of crisis call centers located across the United States, all of whom provide:
Crisis counseling for those who are in emotional distress related to any natural or human-caused disaster
Information on how to recognize distress and its effects on individuals and families
Tips for healthy coping
Referrals to local crisis call centers or 2-1-1 call centers for additional follow-up care & support.