Student Health Services
The clinic is currently closed to face to face services due to COVID-19 but we offer free telemedicine medical and mental health appointments to currently enrolled students when the semester is on.
Telemedicine and Virtual Counseling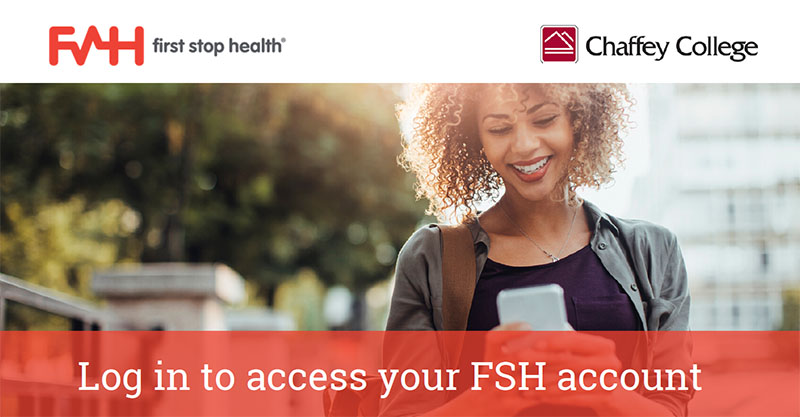 Chaffey College provides telemedicine and virtual counseling for FREE to all students. Get the app or log in online.
FSH Mobile App
Download the First Stop Health mobile app
Log into your account using the last 4 digits of your SSN OR with your student ID including the leading zeros


FSH Website
Go to fshealth.com
Click 'Log In' in the upper right
Log into your account using the last 4 digits of your SSN OR with your student ID including the leading zeros
Your mental, physical and emotional health play a critical role in your education and life. We're committed to helping you achieve and maintain optimum health in all of these areas, and at a reasonable cost. If you're enrolled full- or part time at Chaffey College, you may use our services at our Chino and Rancho Cucamonga campuses.
Contact
Rancho Cucamonga
Michael Alexander Campus Center, Room 202 (above the cafeteria)
Hours – 8 a.m. to 4 p.m. Monday through Friday
909-652-6331


Chino
CHMB-105
Hours – 8:30 a.m. to 1:30 p.m. Monday through Thursday
909-652-8190
Staff


Health Fee Information
Health Fee: Fall $21, Spring $21, Summer $18
Beginning summer 2011 CCP Grant (Board of Governor's Fee waiver) eligible students will be responsible for all or a portion of the student health fees. Please refer to the payment chart below.
Summer
Student Health fee- CCP Grant (A) $9
Student Health fee- CCP Grant (B) $18
Student Health fee- CCP Grant (C) $18
Fall
Student Health fee- CCP Grant (A) $10.50
Student Health fee- CCP Grant (B) $21
Student Health fee- CCP Grant (C) $21
Spring
Student Health fee- CCP Grant (A) $10.50
Student Health fee- CCP Grant (B) $21
Student Health fee- CCP Grant (C) $21
Pursuant to section 76355 of the Education Code, students who can provide documentation of active membership in a religious organization that relies exclusively on prayer for healing may request to have the Health Services Fee waived. Applications for waiver are available in the Student Health Services office.
Costs and Confidentiality
Health Fee Information
Health Fee: Fall $21, Spring $21, Summer $18
Beginning summer 2011 BOGW (Board of Governor's Fee waiver) eligible students will be responsible for all or a portion of the Student Health fees. Please refer to the payment chart below.
Summer
Student Health fee-BOGW (A) $ 9
Student Health fee-BOGW (B) $18
Student Health fee-BOGW (C) $18
Fall
Student Health fee-BOGW (A) $10.50
Student Health fee-BOGW (B) $21
Student Health fee-BOGW (C) $21
Spring
Student Health fee-BOGW (A) $10.50
Student Health fee-BOGW (B) $21
Student Health fee-BOGW (C) $21
Appointments
Appointments with a physician, counselor, or a nurse practitioner may be made in person or by telephone. Walk-ins are seen only if schedule permits. Certain times are scheduled each day for such cases.


Services
The Student health service team is made up of medical doctors, nurse practitioners, registered nurses, licensed vocational nurses, counselors, secretaries, student educators, and student workers who are trained to assist you with medical information and problems in a professional and confidential manner.


Medical Services
Evaluation and treatment of short-term illnesses and injuries
Consultation for health concerns
Emergency care for injuries on campus
PAP smears
X-ray referrals
Birth control counseling and prescriptions
Physical examinations
Nursing Services
First Aid and emergency care
Emergency on-campus transportation to health services
Medical resource information
Health Screening:
Vision/Hearing
Blood Pressure
Height/Weight
Tuberculin skin testing
Other Services
Laboratory Testing:
Pregnancy
Urine
Blood tests
Immunizations
Free over the counter medications
Community Referrals
Health literature and videos
Peer health education program
Counseling
A variety of counselors are available, both male and female, including:
LCSWs
Counseling interns
Psychologist
Psychological interns
MFTs and MFT interns
Students can receive counseling for issues such as:
Depression
Anxiety
Stress management
Drugs and alcohol
Self-esteem
Building skills in relationships and parenting
Confidentiality
Your medical records and all discussions with the student health services staff are completely confidential. Records are only released with written consent of the student, unless required by law or if there is a concern that you will harm yourself or someone else.


Accident Reporting and Insurance
The Chaffey insurance policy is for accidents that happen during class activities. This insurance is secondary to any privately held insurance policy. It is the student's responsibility to immediately report any accident to their instructor and student health services within 72 hours of incident.

Students interested in 24-hour coverage for non-college related accidents or medical expenses due to an illness may voluntarily enroll themselves and dependents in plans from various insurance companies. Brochures may be obtained in the student health services office on the Rancho Cucamonga campus or on the rotating medical literature racks at off campus sites.
Community Resources
Health Services

Rancho Cucamonga campus- MACC-202
909-652-6331
Monday-Thursday 8 a.m.- 4 p.m.,
Friday 8 a.m.-2:30 p.m.

Chino campus
Monday-Wednesday 8 a.m.-1 p.m.
909-652-8190

Services Referral

San Bernardino County United Way
(Veterans, food, clothing, shelter, counseling, crisis, health/dental, elder assistance, etc.)
2-1-1 or (888) 435-7565
www.211sb.org

Transitional Age (16-25) Services

Mental Health Systems Ontario
TAY Center
316 East E. St.
Ontario, CA 91764
909-983-4466

Resources
Suicide is Preventable
Suicide/Crisis

National Hopeline Network
800-SUICIDE (800-784-2433)
www.hopeline.com

Crisis Call Center

National Suicide Prevention Lifeline
800-273-TALK (1-800-273-8255)
www.suicidepreventionlifeline.org

Suicide Crisis or Hotline
800-784-2433 or 800-273-8255

Suicide is Preventable: Know the Signs
www.suicideispreventable.org
www.elsuicidioesprevenible.org

Crisis Chat
www.crisischat.org

IMAlive
www.imalive.org

The Trevor Project
www.thetrevorproject.org/pages/get-help-now#tc

Domestic Violence

National Domestic Violence Hotline
800-799-SAFE (800-799-7233)
www.thehotline.org

House of Ruth (domestic violence 24-hour hotline)
www.houseofruthinc.org
877-988-5559

National Dating Abuse Crisis Line
866-331-9474
www.loveisrespect.org

Reproductive Health
Sexual Assault

Project Sister (west San Bernardino County)
909-626-HELP
909-626-4357

National Sexual Assault Hotline
800-656-HOPE (800-656-4673)

Alcohol and Drugs

San Bernardino County Office of Alcohol & Drug Treatment

Substance Abuse Referral Service
888-743-1478 or 909-421-9465
www.addicted.org
800-304-2219

AIDS

AIDS Hotline
800-243-7275

Disaster

Disaster Distress Helpline
800-985-5990
San Bernardino County Department of Behavioral Health
East Valley:
(San Bernardino, Loma Linda, Highland, Grand Terrace, Redlands, Yucaipa, Mountain communities except Big Bear) Phoenix Community Counseling
820 East Gilbert St., San Bernardino, CA 92415
Walk-Ins: Monday-Friday 8 am-11 am
909-387-7200
Central Valley:
(Grand Terrace, Colton, West San Bernardino, Rialto)
Behavioral Health Resource Center
850 E. Foothill Blvd., Rialto CA 92376
Walk-Ins: Monday-Friday 8 a.m. -10 a.m.
909-421-9301
West Valley Region:
Cities Served:
Alta Loma, Chino, Montclair, Ontario,
Rancho Cucamonga
Mariposa Community Counseling
2940 Inland Empire Blvd.
Ontario, CA 91764
Fax (909) 579-8149
Walk-Ins: Monday-Friday 8 a.m.-10 a.m.
909-458-1350
Crisis Walk-In Clinics:
CWIC Rialto
850 E. Foothill Blvd., Rialto, CA 92376
Monday-Friday 8 a.m. -10 p.m., Saturday 8 a.m.-5 p.m.
909-421-9495
CWIC High Desert (24/7)
Telecare, Inc.
12240 Hesperia Road, Victorville, CA 92395
760-245-8837
Each Mind Matters: California's Mental Health Movement
Veteran's Services:
Chaffey College Veterans Resource Center
Administration Building AD-125
909-652-6235
Email: vrc.staff@chaffey.edu
Office Hours:
Monday: 7:30 a.m.-7:00 p.m.
Tuesday: 7:30 a.m.-4:30 p.m.
Wednesday: 7:30 a.m.-4:30 p.m.
Thursday: 7:30 a.m.-7:00 p.m.
Friday: 8:00 a.m. -4:00 p.m.
U.S. Dept. of Veterans Affairs
Extensive information on all VA related benefits and services such as health care, education, home loans, life insurance, location of facilities (includes street maps), legislation, FAQs, etc.
County Veterans Affairs
The office provides assistance with education, employment, property tax exemptions and assistance with applying for federal & state benefits.
San Bernardino County Veterans Affairs
8575 Haven Avenue, Suite 160
Rancho Cucamonga, CA 91730
909-948-6470
EDD Office Rancho Cucamonga
9650 9th Street, Suite A
Rancho Cucamonga, CA 91730
Local Veteran Employment Representative - 909-941-6500
Disabled American Veterans
Assistance with VA disability compensation and pension claims; transportation to VA hospitals and other services.
California Department of Labor
Iraq and Afghanistan Veterans of America (IAVA)
IAVA is dedicated to educating the public about the wars in Iraq and Afghanistan, advocating on behalf of those who have served, and fostering a community for troops, veterans, and their families. Membership is free.
The Wounded Warrior Project
WWP's mission is to honor and empower wounded warriors.
Military Mental Health Screening
Anonymous mental health screening that will tell you whether or not you have symptoms that would benefit from further evaluation and treatment.
National Center for PTSD
Advances the clinical care and social welfare of U.S. veterans through research, education and training on PTSD and stress-related disorders.
VA Office of Mental Health Services
Aims to insure that all veterans have access to needed mental health care. VA Mental Health advances the principle that mental health care is an essential component of overall health care.
Make the Connection
MakeTheConnection.net is an online resource designed to connect veterans, their family members and friends, and other supporters with information, resources and solutions to issues affecting their lives.
Treatment-Centers.net
Drug treatment centers provide rehabilitation services for drug addiction and alcoholism. They also treat co-occurring mental health and substance abuse disorders. Each facility offers a wide variety of options and amenities. So, finding the appropriate facility for an individual's specific needs can be overwhelming. Especially when navigating through the abundant information on the internet. But, there is a way to get reliable information about treatment for addiction.
Assault, Dating and Domestic Violence Information
Sexual Assault/Rape
Sexual assault occurs in all populations regardless of gender, ethnicity, sexual orientation, or age.
Community Resources

Domestic Violence 24-hour Crisis Line
800-799-SAFE

Project Sister (Rape Crisis Center)
626-966-HELP or 909-626-4357

Support Network
800-572-2782


Myth: Rape is just unwanted sex and isn't really a violent crime.

Fact: Rape is more than just unwanted sex. Rape is an act of violence because the rapist uses force as a motive for power and control. One in five women and one in 71 men will be raped at some point in their lives. (National Sexual Violence Resource Center, 2015).


Ways to Prevent Sexual Violence
Be aware of your surroundings.
There is a higher chance of avoiding sexual assault just by being aware of what and who is around you. Being cautious and alert can only be to your benefit.
Know your sexual desires and limits.
Believe in your right to set those limits. There is nothing wrong with not "hooking up."
Communicate your limits as clearly as possible.
If someone starts to offend you, tell the person early and firmly. Being polite is OK as long as you are firm and assertive. Say "no" when you mean "no" and be prepared to repeat it.
Dress comfortably.
Dress as you please. However, non-restrictive clothing could be an advantage, if you want to be able to run and fight back if needed. Therefore, tight clothing could be a disadvantage.
Avoid excessive use of alcohol and drugs.
Alcohol and drugs interfere with clear thinking and effective communication.
*If you are walking alone, try to have a whistle with you. If you find yourself in danger, blow the whistle to attract attention for help. Another item that may help you if in danger is Chemical Mace, to spray in attackers eyes, take a class on the proper use. Using items such as keys, pencils, pens, or books can also be used to defend yourself against an attacker.
Being turned down when you ask for sex is not a rejection of you personally.
People who say "no" to sex are not rejecting the person; they are expressing their desire to not participate in a single act. Your desires may be beyond your control but your actions are within your control.

Nine Ways to Avoid Rape
Rape is not just an act committed in a dark alley by an unknown assailant. The truth is that most rapes occur in the victim's home. About 60 percent of victims who report their rape know their assailants.

Thinking and talking about the different types of sexual assault, and what you might do if you ever find yourself in a bad situation, can increase your chances of avoiding rape.
Always walk briskly; look alert and confident, avoid carrying objects requiring use of both arms.
Stay away from isolated areas, day or night.
Never walk alone when it is dark.
If you are being followed, get away fast, change directions, and walk or run to a crowded area.
Lock all doors to your car and residence at all times.
Before you drive home, call your roommate, family or a friend so they will expect you and be aware if you are excessively late.
Encourage group activities in early stages of a relationship.
Take a self-defense class.
Be aware of legislation that concerns sexual assault and contact legislators to express your views. Stronger legislation often helps to assist victims with various services, punishes and identifies perpetrators, to hopefully reduce the risk of repeat offenders.

What to Do in a Risky Situation
Stay calm, consider your options and how safe it would be to resist.
Say "NO" strongly. Do not smile; do not act polite or friendly.
Say something like "Stop it. This is Rape!" This might shock the rapist into stopping.
If the rapist is unarmed, fight back physically, shout "NO!" and run away as soon as possible.
If the rapist is armed, try to talk the person out of continuing the assault, or try passive resistance (vomit, urinate, pretend to faint).
What to do in Case of a Rape
Get to a safe place.
Call a friend or family member to be with you.
Breathe deeply and remind yourself that you are of value, and that what has happened is wrong and in no way your fault.
Call the police. A crime has been committed.
Do not bathe, douche, use an enema or change clothes. You may be destroying legal evidence, regardless of whether you pursue legal action or not.
Go to a hospital emergency department for medical care. This can be done without police intervention, if that is your choice.
Write down as much as you can remember about the circumstance of the assault and the identity of your assailant.
Seek the counseling and legal assistance from a rape treatment center. The counselor there can help you deal with the consequences of an assault.
Reporting the assault is a way of regaining your sense of personal power and control. It enables you to actively protest the violent crime that has been committed against you.

Reporting and prosecuting the assailant are essential in establishing new norms that this behavior is not okay. Taking legal steps helps prevent rape and protect other potential victims.


How to Help a Friend
Believe your friend. A few people are going to act as if you friend has lied or done something wrong. She/he will need your support.
Listen carefully and do not laugh. People often laugh if they are embarrassed or nervous.
Help your friend to report the rape to someone who can help — a counselor, school nurse, parent, child protective service worker, teacher, or police officer.
Let your friend know it is not her/his fault. People who have been touched inappropriately often feel that they have done something wrong.
Be confidential and protect your friend's privacy. Talk to a trusted adult if this situation is bothering you.
Be verbal in letting your friend know that you care and that you support her/him.
Stress and Mental Health Information
Crisis Text Line – If you need assistance with a mental health issue, text "COURAGE" to 741741. This service, offered by the organization Each Mind Matters, is available 24/7 and is confidential.
Learn Psychology.org
Psychology is the scientific study of people, the mind and behavior. While some psychologists choose to focus on research, others choose to focus their careers on applied psychology and working directly with people and communities. Its near universal application -- from counseling and relationships to advertising and business -- makes psychology one of the most versatile and valuable majors in all of higher education. Explore degree programs, career paths, expert resources, and organizations across the country that actively hire today's students of the psyche.
This site also provides guidance in:
This is California's mental health movement, a community of individuals and organizations dedicated to a shared vision of mental wellness and equality.
Know the Signs
Know the Signs is a statewide suicide prevention social marketing campaign built on three key messages: Know the signs. Find the words. Reach out. This campaign is intended to educate Californians how to recognize the warning signs of suicide, how to find the words to have a direct conversation with someone in crisis and where to find professional help and resources. A Know the Signs website in Spanish is also available.

The Jed Foundation
An information site about suicide among college students.
Recovery.org

A resource for finding support for suicide and addiction recovery.

Alcohol Awareness Council
A site that provides support and information for alcoholism.

Drugwatch
A health guide for college students.

Half of Us
The Jed Foundation's Half of Us campaign with mtvU uses stories of students and high-profile artists to increase awareness about mental health problems and the importance of getting help. The Half of Us website includes video stories, learn more about emotional disorders, support others by becoming an advocate and download the "My Mood Ring" application for your Facebook page.

Lifeline Crisis Chat
Lifeline Crisis Chat is a service of the National Suicide Prevention Lifeline in partnersip with CONTACT USA. It is the first service of its kind where crisis centers across the United States have joined together to form one national chat network that can provide online emotional support, crisis intervention, and suicide prevention services. The chat specialists are here to listen and support you through whatever difficult times you may be facing.

IMAlive
IMAlive is a live online network that uses instant messaging to respond to people in crisis. People need a safe place to go during moments of crisis and intense emotional pain.

The Trevor Project
Founded in 1998 by the creators of the Academy Award®-winning short film TREVOR, The Trevor Project is the leading national organization providing crisis intervention and suicide prevention services to lesbian, gay, bisexual, transgender and questioning (LGBTQ) young people ages 13-24.

ULifeline
ULifeline is an anonymous online resource to learn more about your thoughts and feelings, and to reach out for help if necessary. Visit ULifeline.org to take a confidential screening, to research mental health conditions or to locate resources on your campus.
Affordable Colleges – Mental Health Guide
Affordable Colleges provides this information about mental illnesses on college campuses.

Addiction Center
Learn more about various addictions and disorders on the Addiction Center website.

Anxiety.org
Articles by doctors, therapists, scientists and more on anxiety. The site provides information about anxiety in college students.

DrugRehab.org
Information on substance abuse among veterans, link between PTSD and substance abuse among veterans, addiction and suicide among veterans, coping with PTSD, overcoming addiction and suicide.
This site provides information and resources for people seeking help with substance abuse and addiction. It includes an addiction hotline, a "find a meeting" app which allows users to find fellowship near them, pages of information on the effects of drugs and alcohol as well as information on the many forms of treatment and much more.
This organization was founded in 2014 to provide a community for those recovering from addiction and to help patients find the highest quality care for a successful recovery. Our goal is to provide resources to help patients and their loved ones so that they may stay on the road to recovery, and can successfully overcome addiction for life. We believe in our ability to help improve the lives of others, and belief is what motivates us to educate and support our readers every day.
If you or someone you know needs help immediately, please call 9-1-1
or dial The National Suicide Prevention Lifeline at 800-273-TALK or Chaffey student health services, 909-652-6331.
Disaster Distress Information

Disaster Distress Helpline

Stress, anxiety, and other depression-like symptoms are common reactions after any natural or human-caused disaster. Call 800-985-5990. Free and confidential providing year-round, 24/7 crisis counseling and support.

http://disasterdistress.samhsa.gov/

Are you experiencing signs of distress as a result of a disaster?

Signs of distress may include any of the following physical and emotional reactions:
Sleeping too much or too little
Stomachaches or headaches
Anger, feeling edgy or lashing out at others
Overwhelming sadness
Worrying a lot of the time; feeling guilty but not sure why
Feeling like you have to keep busy
Lack of energy or always feeling tired
Drinking alcohol, smoking or using tobacco more than usual; using illegal drugs
Eating too much or too little
Not connecting with others
Feeling like you won't ever be happy again
Rejecting of help
The Helpline is staffed by trained counselors from a network of crisis call centers located across the United States, all of whom provide:
Crisis counseling for those who are in emotional distress related to any natural or human-caused disaster
Information on how to recognize distress and its effects on individuals and families
Tips for healthy coping
Referrals to local crisis call centers or 2-1-1 call centers for additional follow-up care & support.
Affordable Care Act (ACA)
By Young Invincibles And Clasp

Under the Affordable Care Act (ACA) - commonly known as "Obamacare", individuals will have new insurance options starting January 1, 2014. The law will also make having health coverage a legal requirement. Currently, young adults ages 18 to 34 are twice as likely to be uninsured as older adults. When covered by new no and low-cost health insurance options, students will be less likely to grapple with large, unexpected medical costs, increasing their chances of academic success and college completion. As part of the Benefits Access for College Completion initiative, CLASP and Young Invincibles. Young Invincibles' Healthy Young America (http://younginvincibles.org/issues/health-care/) and Enroll America's Get Covered America (http://www.getcoveredamerica.org) websites also have useful information.


Websites with more information:

www.healthcare.gov
www.coveredca.com
www.ejsmith.com

What resources are available to students whose parents do not have health care insurance?

Even if a student is not able to get coverage as a dependent on her parent's health plan – because her parents are uninsured or her parent's plan does not cover dependents – there are other options for coverage that may be available to the student – and her parents, if they are also uninsured.
Individuals and families that do not have access to employer coverage will be able to buy coverage on the new Health Insurance Marketplace, regardless of age. If a person's income is less than about $46,000 for individuals or $94,000 for a family of four, he may be eligible for a monthly Premium Tax Credit to lower the cost of insurance purchased through the Marketplace:

Saving money on health insurance.
Individuals and families that have annual incomes below about $15,000 for an individual and $31,000 for a family of four may be able to get coverage through Medicaid, depending on the Medicaid eligibility rules in their state:

Medicaid & CHIP coverage.
Individuals who are either under age 30 or who cannot find "affordable coverage" may be able to buy a catastrophic plan:

Catastrophic health plans.
Is the annual salary limit based on net or gross income?

Eligibility for premium tax credits, cost-sharing subsidies, and Medicaid in all states will be based on by Modified Adjusted Gross Income (MAGI). MAGI is Adjusted Gross Income (AGI), plus certain items like tax exempt interest.

What is included in the different types of plans?

Under the Affordable Care Act (ACA), insurers will offer plans on the Marketplace that fit one of four levels of coverage: Bronze, Silver, Gold, and Platinum. Each plan level must cover the same "essential health benefits": https://www.healthcare.gov/.
What-does-marketplace-health-insurance-cover. Lower-tier Bronze and Silver plans will have lower monthly premiums, but higher levels of "cost sharing" – the amount one pays out-of-pocket in the form of deductibles, coinsurance and co-payment higher-tier Gold and Platinum plans will have higher monthly premiums, but and co-payment; higher-tier Gold and Platinum plans will have higher monthly premiums, but lower levels of cost sharing:

How to pick a health insurance plan.
The different plan levels are pegged to "actuarial values." All Bronze plans must have a 60% actuarial value (AV), Silver plans must have a 70% AV, Gold plans must have an 80% AV, and Platinum plans must have a 90% AV. What this means is that Bronze plans cover 60% of all health care costs for an average person, Silver plans would cover 70% of those costs, and so on. This does not mean that a Bronze plan would cover 60% of all costs for any individual consumer, it is only an average.

Where can we find the tax credit availability? Is there a chart to advise people?

Students can use this tool from the Kaiser Family Foundation: Health Insurance Marketplace Calculator. After they input their information, they can find if they may be eligible for Medicaid or a premium tax credit, and the amount of credit they could be eligible for. Starting October 1, 2013, students will be able to fill out an application on www.healthcare.gov and see what plans they're eligible for.

How does the system expect people to be able to afford these premiums until the tax credits come in a year later?

The premium tax credits that are available are actually a new kind of tax credit that can be applied immediately to lower the cost of your monthly premiums... you don't have to wait until tax time to get them! Advance payments of the credit can be applied to lower premiums each month, up to a maximum amount.
For example, say a 28-year-old community college student who works part-time and makes $16,000 a year wants to buy a plan on the new health insurance marketplace. Before tax credits, a mid-level plan might cost her $273 per month. However, based on her income, she could qualify for a premium tax credit of $229 per month. If she takes this tax credit in advance/upfront, she would only have to pay $44 per month for a midlevel plan on the marketplace. Her credit would then then be sent automatically to her insurer and she would only have to pay the reduced rate for her insurance.
If the amount of advance credit payments you use is less than the total you're due at the end of the year, you can have the difference refunded on your taxes. If your advance payments at the end of the year are actually more than your credit (perhaps because you underestimated what your income for the year would be), then you would owe money on your taxes.
What will be the monthly cost be for the catastrophic plans?

The monthly cost of catastrophic plans – available to consumers who are either under 30 or who can't find other affordable coverage – will vary. In general, these plans will have a lower monthly premium than even a Bronze plan. However, the out-of-pocket costs – in the form of deductibles, coinsurance, or co-payments – for these plans will be much higher. Aside from three primary care visits and certain preventive services, the coverage under these plans will not kick in until an individual spends around $6,000 on health care. Thus an individual is only better off purchasing one of these plans if they use very little health care (which is, of course, difficult to determine in advance).

In addition, the new premium tax credits – used to lower a consumer's monthly premium – cannot be used to buy catastrophic plans. This means that in some cases, it will cost a consumer less each month after tax credits to buy a Bronze or Silver plan on the Marketplace than a catastrophic plan.

How do students join?

There is no cost to apply. The federal government has set up an online portal at http://www.healthcare.gov to provide information to consumers about their new health insurance options. The website has an online chat function, available 24/7: https://www.healthcare.gov/chat. Consumers can find state-specific information through the federal website. In addition, a national 800 number is available for consumers to speak to customer service representatives, also available 24/7: 1-800-318-2596 (TTY: 1-855-889-4325). Assistance in languages other than English and Spanish is available through the call center.

Learn more about Young Invincibles' Healthy Young America and enroll in Get Covered America.