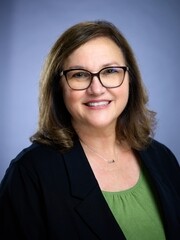 Lisa Bailey
Associate Superintendent of Business, Human Resources, Information Technology Services

Lisa Bailey has served as the associate superintendent, business services and economic development at Chaffey College since 2013. She provides oversight to business and budgeting services, human resources, economic development, career development and campus police. She previously served as the vice president of administrative affairs and the executive director of human resources. She has been a manager at Chaffey College for nearly 20 years.
Ms. Bailey is chiefly responsible for financial, human, safety and workforce priorities. The district's steady enrollment growth, along with an ambitious Guided Pathways agenda, demands a strong and student-focused infrastructure to support those endeavors.
Ms. Bailey earned her bachelor's degree in business administration from Loyola Marymount University, her MBA in management from California State University, Los Angeles and her certificate in affirmative action from Chapman University. Prior to her appointment at Chaffey College, she served as a manager at Citrus College for 10 years.
Misty Burruel
Interim Associate Superintendent of Instruction and Institutional Effectiveness

Misty Burruel began her tenure at Chaffey College in 2007 as a full-time professor of art. As a well-respected and dedicated faculty member, she served as an Educational Services Coordinator and the President of the Academic Senate.
She has served on and led several local and state-wide professional committees, including the Academic Senate for California Community Colleges Accreditation Committee, Career Education Advisory Committee, Outcomes & Assessment Committee, and Resource Allocation. Misty was also a key Guided Pathways Faculty Lead member responsible for designing workshops for the College community. She also served as a Creative Designer and Project Manager for the California Community Colleges Chancellor's Office, leading the development of Guided Pathways educational materials.
In 2019 Misty was selected to serve as the Dean of Visual and Performing Arts at Chaffey College. With her broad expertise, she was recently asked to step in as the Dean of Social and Behavioral Sciences. During her time in leadership, she has made many impactful employment, curriculum, and facilities contributions and is known for her genuine care of the College community.
Misty earned her bachelor's degree from California State University, San Bernardino and her Master of Fine Arts from Claremont Graduate University.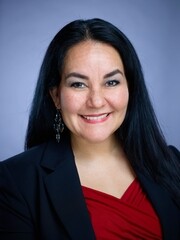 Alisha Rosas
Associate Superintendent, Student Services and Strategic Communications

Alisha Rosas has dedicated her career to putting her communities first – whether they are educational, nonprofit, or volunteer organizations. Born and raised in the Inland Empire, her passion for advancing equity has guided her approach in every role for which she has served.
She has directed strategic communication teams, served as a presidential adviser, and led the student services division at Chaffey College. Alisha has also served in strategic communication roles for the University of La Verne and the United Farm Workers. Her statewide experience includes supporting First 5 California and serving its 58 County Commissions as part of a public education campaign geared toward changing behavior among parents/caregivers with children up to age five.
An accomplished writer, she wrote the first book the UFW produced in more than two decades, California's Broken Promises. She also wrote a book with the internationally-celebrated author, Luis Rodriguez, From Trouble to Triumph: True Stories of Redemption from Drugs, Gangs, and Prison, which was published in August 2017.
Alisha's expertise stretches across multiple specialties – including strategic and crisis communications, community outreach and engagement, enrollment management, and student support services. In her role as chief student services officer, she supports connections that foster environments of innovation, empowerment, and belonging to facilitate student success, diversity, and equity.
The first in her family to attend college, Alisha earned her bachelor's degree in journalism from the University of La Verne and her master's degree in emergency services administration from California State University, Long Beach. She lives in Fontana with her husband and two children.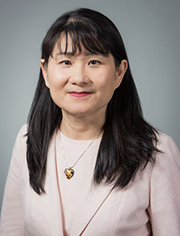 Sheneui Weber
Interim Associate Superintendent, Workforce Innovations and Entrepreneurial Development

Sheneui Weber has more than 25 years of experience in developing innovative economic and workforce development programs and partnerships. She is skilled in interfacing between education and private industry, with strengths in entrepreneurial development, leveraging public-private partnerships, and creating programs focused on workforce and job creation outcomes.
Ms. Weber joined Chaffey in 2022, initially serving as executive director/dean of economic development and partnerships before moving into her current role.
She came to Chaffey from the California Community Colleges Chancellor's Office, where she served as vice chancellor of workforce and economic development. There, Ms. Weber oversaw a $1 billion portfolio of workforce programs impacting 116 colleges. Prior to that, she spent 19 years at the Long Beach Community College District in various roles including chief operating officer for college advancement and economic development. In that role, she successfully launched and led a number of key initiatives including the Port of Long Beach Maritime Center of Excellence; Innovation Fund SoCal in partnership with the Ewing Marion Kauffman Foundation and Innovation Fund America; and established the college's first entrepreneur-in-residence program, and the Los Angeles Regional Small Business Development Center Network, among other work.

Ms. Weber earned her bachelor's degree in business administration from Pacific Union College, and her Master of Arts in Telecommunications and Film from San Diego State University.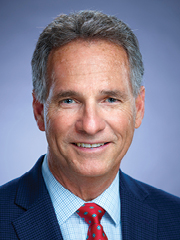 Troy Ament
Associate Superintendent, Administrative Services and Emergency Operations

.