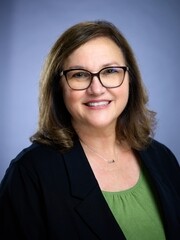 Lisa Bailey
Associate Superintendent of Business, Human Resources, Information Technology Services

Lisa Bailey has served as the associate superintendent, business services and economic development at Chaffey College since 2013. She provides oversight to business and budgeting services, human resources, economic development, career development and campus police. She previously served as the vice president of administrative affairs and the executive director of human resources. She has been a manager at Chaffey College for nearly 20 years.
Ms. Bailey is chiefly responsible for financial, human, safety and workforce priorities. The district's steady enrollment growth, along with an ambitious Guided Pathways agenda, demands a strong and student-focused infrastructure to support those endeavors.
Ms. Bailey earned her bachelor's degree in business administration from Loyola Marymount University, her MBA in management from California State University, Los Angeles and her certificate in affirmative action from Chapman University. Prior to her appointment at Chaffey College, she served as a manager at Citrus College for 10 years.
Laura Hope
Associate Superintendent of Instruction and Institutional Effectiveness

Dr. Laura Hope is a Chaffey College alumna and a longtime Chaffey employee, having served nearly 20 years as a faculty member. She assumed her role as acting associate superintendent of instruction and institutional effectiveness in 2019.
Dr. Hope helped create numerous programs including Turning Point in the California Institution for Women and California Institution for Men, as well as the Basic Skills Transformation, which led to the Success Center network.
As dean of instructional support, she led the Success Center network, and helped develop the Faculty Success Center and the Classified Success Network. Laura has also led and supported Chaffey's library and cybrary sites, including online services and support.
In August 2017, she began serving as executive vice chancellor for educational services at the California Community College's Chancellor's Office. She led major initiatives including Guided Pathways, the Student-Centered Funding Formula, the Student Equity and Achievement Program, among other efforts.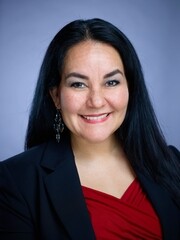 Alisha Rosas
Associate Superintendent, Student Services and Strategic Communications

Alisha Rosas has dedicated her career to putting her communities first – whether they are educational, nonprofit, or volunteer organizations. Born and raised in the Inland Empire, her passion for advancing equity has guided her approach in every role for which she has served.
She has directed strategic communication teams, served as a presidential adviser, and led the student services division at Chaffey College. Alisha has also served in strategic communication roles for the University of La Verne and the United Farm Workers. Her statewide experience includes supporting First 5 California and serving its 58 County Commissions as part of a public education campaign geared toward changing behavior among parents/caregivers with children up to age five.
An accomplished writer, she wrote the first book the UFW produced in more than two decades, California's Broken Promises. She also wrote a book with the internationally-celebrated author, Luis Rodriguez, From Trouble to Triumph: True Stories of Redemption from Drugs, Gangs, and Prison, which was published in August 2017.
Alisha's expertise stretches across multiple specialties – including strategic and crisis communications, community outreach and engagement, enrollment management, and student support services. In her role as chief student services officer, she supports connections that foster environments of innovation, empowerment, and belonging to facilitate student success, diversity, and equity.
The first in her family to attend college, Alisha earned her bachelor's degree in journalism from the University of La Verne and her master's degree in emergency services administration from California State University, Long Beach. She lives in Fontana with her husband and two children.