In order to more intentionally design our institution as a cohesive network and to create a coherent, holistic student experience, the fabric of the Academic and Career Community (ACC) structure is woven together by Success Teams.
These cross-functional teams blend professionals from different parts of the campus driven by shared college goals and values that are specialized to the unique pathways within each of the six ACCs. As a part of the early development phase of this community-based comprehensive support network, teams have gathered to consider the various roles, supports, and workflow needed to support their students explore and complete the various courses, programs and certificates within the different ACCs.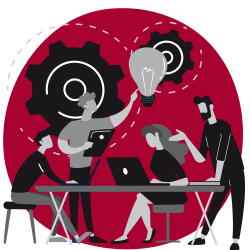 Success Teams will support students by "clarifying the path, getting them on the path, helping them stay on the path, and ensuring learning leads to academic/career advancement."
Meet the Success Teams!
Arts, Communication and Design Success Team
Business, Technology and Hospitality Success Team
Health, Wellness and Athletics Success Team
Manufacturing, Industrial Design and Transportation Success Team
Public Service, Culture and Society Success Team
Science, Technology, Engineering and Mathematics Success Team