Dual Enrollment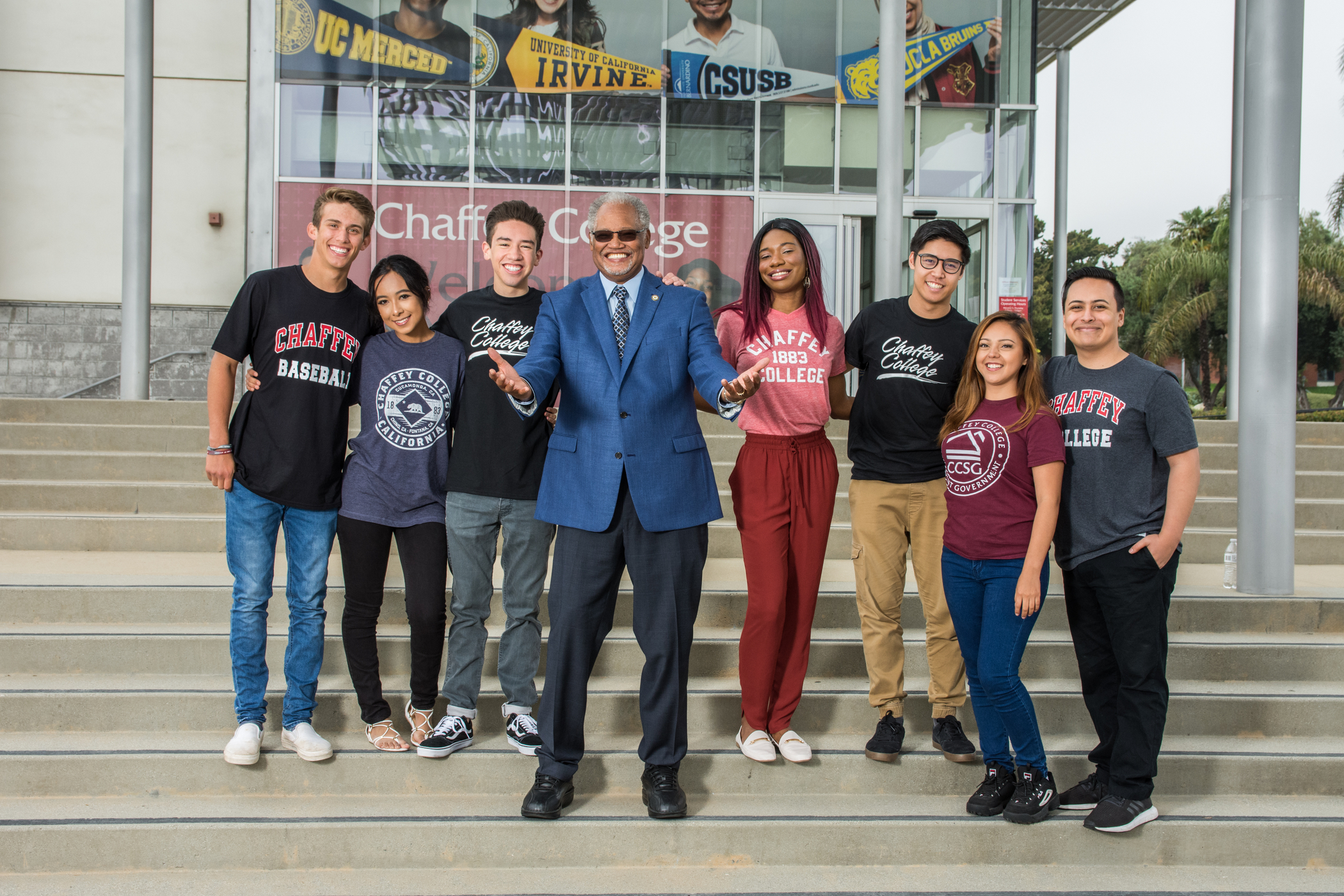 WANT TO EARN COLLEGE CREDIT WHILE IN HIGH SCHOOL?
Start your college journey now! ALL high school students, who are approved by their school districts to participate, are invited!
SUMMER/FALL 2022 DUAL ENROLLMENT Information Sessions
High School Partnership (HSP) and Non-HSP Students Welcome!
Are you interested in learning how to earn college credit while in high school? Please join us for one of our information sessions and learn how you can begin taking courses at Chaffey Summer/Fall 2022. (Click on flyer to view larger)
Information Session Dates: Students only need to attend one session.
MISSED THE INFORMATION SESSION?
VIEW THE Presentation Recording AND SLIDES by clicking on ENGLISH or SPANISH
---

Welcome Webinar
For students registered to take a summer class with us 2022
This workshop is open to all High School Dual Enrollment and Adult Education Partnership students. Topics include: Important dates, accessing your course on Canvas, ordering books, connecting with a Success Coach and much more! Parents and guardians are also welcome to attend. Students only need to attend one session. (Click on flyer to view larger)
May 24 and June 1 from 6:30 - 8pm
---
Why Dual Enrollment?
SAVE TIME & MONEY! Get a jumpstart on your college and career goals by taking college courses at no or low cost.

EARN COLLEGE CREDIT! There are many courses to choose from and the majority are transferable to UCs & CSUs.

EXPERIENCE COLLEGE! Want to find out what college is all about? Not sure if college is right for you? This is your chance to find out!

RESEARCH shows that students who participate in Dual Enrollment programs are more likely to graduate from high school and persist in college!
INTERESTED?
Our Dual Enrollment Success Coaches are available to answer questions & help you get started. Connect with them HERE today!
Eligibility and Restrictions
To be eligible for dual enrollment, students must be in the 9

th

through 12

th

grade

Dual Enrollment students (also known as "Special Part-time Admits") may enroll in up to 11 units for Fall and Spring and 7 units in Summer.

PLEASE NOTE: Students who register for 12 or more units must complete the appeals process and are responsible for the full cost of tuition, textbook(s), and college service fees.
High School Partnership (HSP) and non-High School Partnership (Non-HSP)
Watch this video to learn more about the difference between High School Partnership (HSP) and non-High School Partnership (Non-HSP)
Dual Enrollment Steps:
NOTICE:
The Summer 2022 HSP courses have filled & are closed. For SU22, please enroll through the NON-HSP process.
IMPORTANT:

Does the course you want to take have a PREREQUISITE? Prerequisite clearance is needed for courses with a prerequisite of a high school class. (Example: In order to take Span 2 at Chaffey College, submit validation of high school Spanish I)

Electronically send your high school transcripts using Parchment if applicable
Meet with a Dual Enrollment Success Coach
Make an appointment to meet with a Success Coach today! Our Success Coaches can help students:
Get started!
Navigate the Chaffey Website and Student Portal
Link to college resources and services
Meet with a Dual Enrollment Counselor
A key to college success is to have a plan! Make an appointment with a Dual Enrollment Counselor today.
Discuss course options
Create an educational plan
Explore major and career pathways
Important Information
Frequently Asked Questions
No. The UC and CSU admissions offices weigh California Community College courses that meet A-G requirements on a 5.0 scale and are contractually required to accept courses listed on www.assist.org for degree and general education requirements. The UC and CSU systems are not contractually required to accept AP and Honors courses for degree and general education requirements.
The UC Doorways website has a list of which Chaffey College courses meet A-G requirements. Because that list was last updated in 2014, you may find more current course options in the list of IGETC UC/CSU general education requirements at Assist.org.
Each K-12 district must make its own determination about which college courses they choose to allow to meet which graduation requirements. Meet with your counselor or assistant principal of instruction to learn more about which courses your K-12 district will accept for core graduation requirements.
The UC and CSU admission offices will weigh any community college courses taken that meet A-G requirements on a 5.0 scale. If your local high school has not provided a 5.0 scale for these courses, the UC and CSU admission offices will recalculate the GPA from your K-12 district transcript to reflect the 5.0 scale for A-G courses.
While every student's academic path is unique, we recommend Guidance 3: Career Exploration and Life Planning as a great starting point for your college career. You will have a full semester of contact with a college counselor in this class from whom you can ask questions about college pathways and who can help acclimate you to the college experience. This course also meets area G in A-G as well as a core CSU general education requirement in "Lifelong Learning and Self Development."
In rare cases, if the K-12 district and the college deem the student's case valid for admission, a middle school student may attend Chaffey College. Middle school students and their parents must complete the same agreement form paperwork as high school students in order to take college courses. This means that a middle school principal or designee (usually a counselor) must sign to endorse the participation of the student in college courses. Additionally, the student must complete an appeal, which will include a letter from the child's K-12 district advocating for the child's participation in college. A Chaffey College appeal committee will make the final determination regarding the child's participation in college.
Contact
For questions about the enrollment process or if you are encountering challenges contact,
Candice Brock
Administrative Assistant II
Phone: (909) 652-6154
Email: dual.enrollment@chaffey.edu
To make an appointment with a counselor to make an educational plan and choose courses, please use the Cranium Card Dual Enrollment Counselor Scheduler