Online Support Center
Navigating the Registration Process Workshops
The Workshop will assist you in navigating the self-service registration process with live hands-on support to register for your classes. Additional information will be on managing your waitlist, add authorization (previous known as add code), payment options, locating your class on the first day of school, and much more!
Please visit the Counseling page to pre-register for your spot in a workshop.
Have questions?
Get access to live services during business hours below or on-demand information to get your question answered now!
Join the virtual Student Service lines
Monday through Friday from 8:00 am to 4:30 pm.
Admissions and Records, Financial Aid, and Counseling/GPS staff are here to serve you online via Qless! QLess is Chaffey's way of you "getting in line," it allows for you to see what offices are open and how long you will wait to speak with someone directly.
How it works:
Select to join Chaffey's Student Services Virtual Line

Enter in your name, email address, and cell number

Select the office you would like to connect with and "type of services"

You'll receive a text to your mobile device with your status in the line and when a staff member can be with you

When your turn is up, a staff member will meet with you via chat, phone, and/or video conferencing. This is determined based on your access to specific devices.
Admissions and Records

The Admissions and Records Office is available for the following types of services:

Help registering for classes and paying fees

Enrollment verification and residency questions

High School/Dual Enrollment inquiries

Updating student information

Transcripts

Other services

Financial Aid

The Financial Aid Office is available for the following types of services:

Scheduling or checking-in for an appointment with an advisor

Attendance/expense verification

Questions about payment distribution, loans, and SAP appeals

Help submitting additional documents/forms

General financial aid questions

Counseling/GPS Staff Support

The Counseling/GPS Office is available for the following types of services:

Academic probation

Follow-up questions after meeting with a counselor

Information about counseling forms

New student information for orientation, placement testing, and transcript evaluation.
Meet with a Counselor
Schedule an appointment with a Counselor for in-depth counseling services such as educational planning, graduation checks, academic renewal, and more.
Access Chaffey On-Demand Resources and Support
Equip Yourself For Success!
Access to the right equipment and technology makes all the difference. Feel prepared knowing what type of hardware and software you need and know that Chaffey is here to help you!
Hardware and Software Technology You Need

Frequent and extended access to either a desktop or laptop computer, or a tablet that is equipped to support varied usage of software is ideal.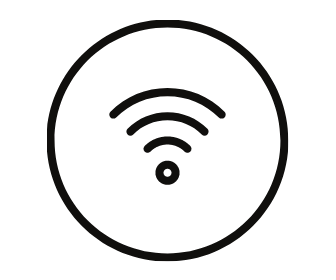 Reliable Internet and Compatible Browser. Reliable and extended access to the Internet is necessary to complete course work. The latest versions of Google chrome, Mozilla Firefox, and Safari are all recommended browsers.
Feel like you don't have access to the right technology? We are here to help!
To support the academic needs of our students, Chaffey College will be loaning chromebooks and WIFI Hotspots to students on a first-come, first-served basis.
Need to get connected with a loaner Chromebook? Complete the Chromebook/WIFI Hotspot Loan Program Reservation Form to begin your request!

Chaffey is committed to your access to software you may need while completing course work. We have set up open virtual labs for students to access software such as Microsoft Office, Adobe, and more! Learn how to login to a virtual lab.
Login and Access Your Chaffey Network!
At Chaffey we use specific systems to provide you with access to registration processes, online classes, and academic support. The following systems are those you have a username and password.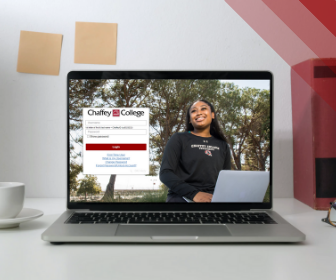 MyChaffey Portal
The MyChaffey Portal is the central place for students to access all systems at Chaffey. This is where Student Self-Service is located, which is where you register for classes, check your class schedule, grades, etc. Students have a dedicated LaunchPad to access student email, Canvas, and other academic services.
Portal FAQ's for more information and access to direct support.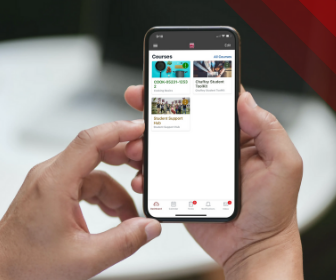 Canvas
We use Canvas as our learning management platform, which connects you to your online course(s), instructor(s), and fellow classmates! From within Canvas you will be able to access and complete coursework, engage in discussion forums, participate in real-time meetings, and so much more! Once you login to the MyChaffey portal you will see the Canvas icon on your LaunchPad.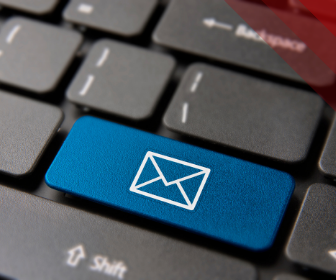 Student Email
Any student registered in a credit class will be assigned a Chaffey email account. Once the account is created, the student will have access to that account via the MyChaffey Portal. Student emails are composed with your first name initial, last name, and last for digits of your student ID number. For example, jsmith1234@panther.chaffey.edu. Additionally, your student email uses the Google email interface for easy-to-use navigation.
isrepairs@chaffey.edu
Need additional support for the technology you need and systems we use at Chaffey? Here are some quick self-help guides and information on live support.
Registered students are eligible for Office 365 Education for free, including Word, Excel, PowerPoint, OneNote, and now Microsoft Teams. Use your school (panther) email address to download. This service is available exclusively through the Microsoft website,

learn how to get started with Office 365 for free!

Access Horizon for extended access to Chaffey's software programs via are student virtual labs. Learn how to use Horizon by following the guide, Access Chaffey's Virtual Lab via Horizon.
Canvas Student Guides and Support
Access to Essential Student Services
Finding Registration and Payment Information
Receiving Your Financial Aid
Connecting with a Counselor