LGBTQIA+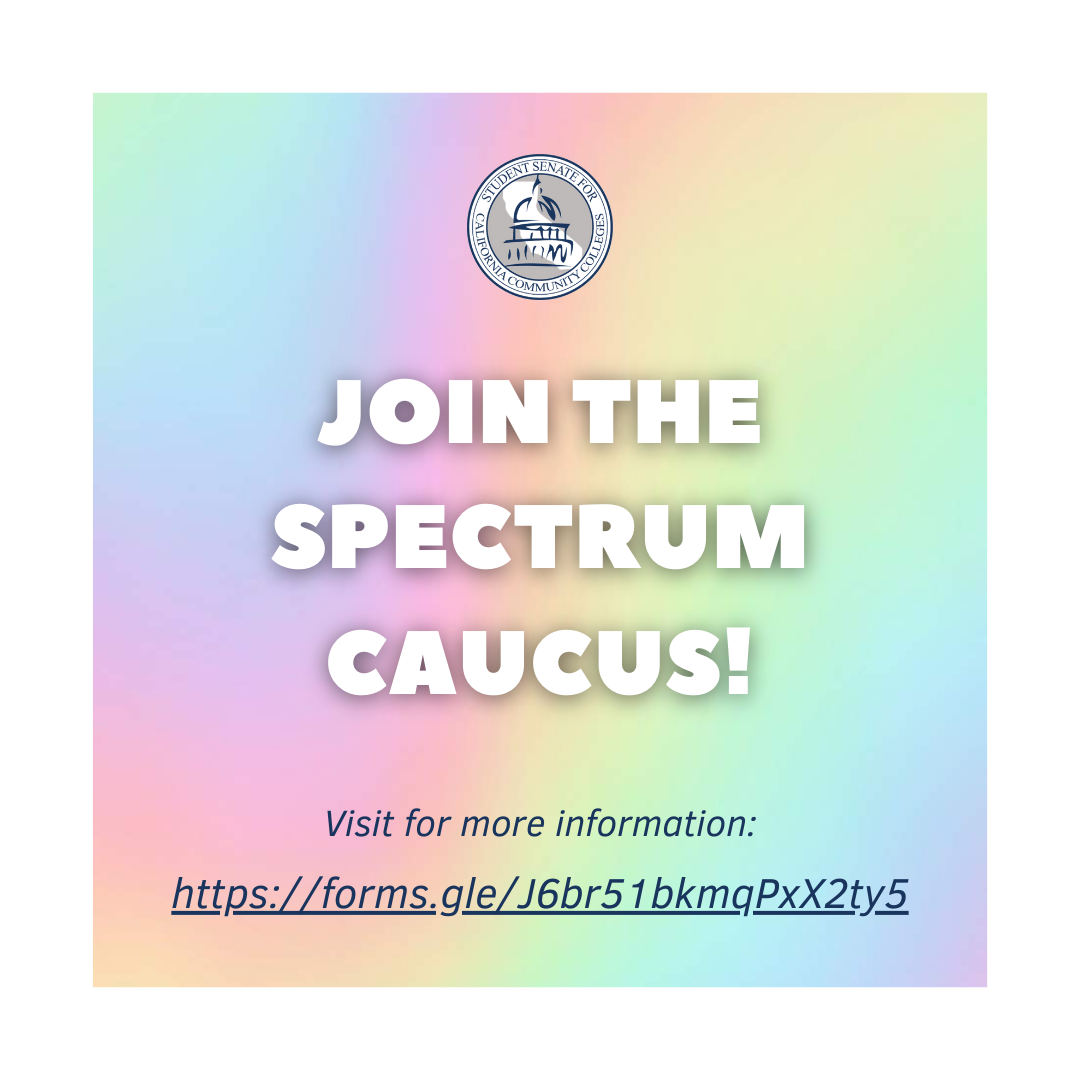 Spectrum Caucus is looking for California Community College students to join and begin the reactivation progress!
The Spectrum Caucus will be the official caucus representing California Community College students in the LGBTQIA+ community of all gender identities and sexual orientations.
As part of the reactivation process, we are gathering the names of students who would like to join the caucus. The only requirement to join the caucus is that you must be taking at least one class at a California Community College -- that's it!
The caucus will most likely meet once a month, and once formed, the mission and goals of the caucus will be decided upon. We hope to serve as a statewide connection for student clubs/organizations/unions/alliances that center LGBTQIA+ students and also help students start such programs at their colleges if they do not already exist. This is also a great statewide leadership opportunity, way to connect with community college students all across California, and channel for statewide advocacy regarding LGBTQIA+ issues.
Please fill out this Spectrum Caucus Interest Form if you are interested in joining!
Any questions? Contact asfc.priyav@gmail.com, radregionvi@studentsenateccc.org, or s.ziemann32@gmail.com for more information.
Student Resources
Financial Aid/Scholarships

Financial support can be found through financial aid, on-campus and off-campus scholarships.
Financial Aid. The Chaffey College Financial Aid Office helps all students fund their education. The office is located in the Student Services Administration (SSA) building. 
On-Campus Scholarships
Chaffey College Student Life and Student Government: Student government offers more than 250 scholarship to students, including 220 scholarships that have no requirement except being enrolled at Chaffey.
Off-Campus Scholarships
List of scholarships complied by HRC

California Teachers Association (CTA)

Supportive Organizations
University Pride Centers
Contacts
Kimberly George, Lavender Coalition Faculty Adviser and LGBTQ+ Advocates Tri-Chair kimberly.george@chaffey.edu, 909/652-2969
Hector Solorzano, LGBTQ+ Advocates Tri-Chair, hector.solorzano@chaffey.edu
Rebecca Trawick, LGBTQ+ Advocates Tri-Chair, rebecca.trawick@chaffey.edu, 909/652-6493
Lavender Coalition (Student Club)
The goal of the Lavender Coalition is to enhance and strengthen the LGBTQIA+ community and our allies by (GSA). Advocating for human and civil rights; educating and brining awareness to the community; fortify growth and collaboration in support for social equality; providing a safe place for all students; participating in virtual events. cc.lavendercoalition@gmail.com
Meetings
Spring 2021, Lavender Coalition meets the 2nd & 4th Friday, 1:00-2:00pm via Zoom. Text 81010 "@lccchaffey" for link, or please  email: cc.lavendarcoalition@gmail.com for the meeting link.
Fall 2020, LGBTQ+ Advocates Committee meets every 3rd Thursday, 1230-2pm via Zoom. Email the tri-chairs for the link.
Educator Resources
LGBTQ+ @ CALIFORNIA'S COMMUNITY COLLEGES
Supportive Statements
Chaffey College Classified Senate: The California Community Colleges Classified Senate (4CS) support of the LGBTQ+ community, Unanimously Approved June 11, 2020
RESOLUTION WHEREAS, the California Community Colleges system employs and serves members of the LGBTQ+ community;
and WHEREAS, institutional data lacks awareness and opportunity for dynamic expression of student and colleague gender identities;
and WHEREAS, there is often a conflation of sexuality and/or romantic orientation and gender identity due to lack of understanding of these aggregate and intersectional identities;
and WHEREAS, there are limited physical spaces, such as all-gender restrooms, private showering and changing spaces, physical LGBTQ+ resources and social centers, and other safe spaces, at the California Community Colleges;
and WHEREAS, there is limited dedicated funding and resources for the LGBTQ+ programs at the California Community Colleges;
and WHEREAS, the LGBTQ+ student population has been identified as a disproportionately impacted student equity group at the California Community Colleges;
THEREFORE, BE IT RESOLVED, THAT the California Community Colleges Classified Senate will give the classified professionals the opportunity for professional development and personal growth at the annual Classified Leadership Institute that will be centered on the LGBTQ+ community to improve campus culture and improve the understanding of LGBTQ+ identities;
and BE IT FURTHER RESOLVED, THAT the California Community Colleges Classified Senate will advocate for funding at the State level to support California Community Colleges programs that support the LGBTQ+ community directly, which can be used to improve and create dedicated spaces and resources; and BE IT FINALLY RESOLVED, THAT the California Community Colleges Classified Senate will, using a human rights lens, support LGBTQ+ students and colleagues in their individual choice to safely self-determine their identity.
Faculty Senate Equity and Inclusion Efforts
At the November 3 and 10, 2020 meetings, Faculty Senate voted to adopt the following ASCCC resolutions:
Support for Gay, Lesbian, Bisexual and Transsexual/Transgender (GLBT) Students and Staff
In Support of All-Gender Restrooms on California Community College Campuses
LGBTQIA+ Advocates Committee
Purpose: The LGBTQIA+ Advocates Committee will develop and maintain a college-wide, coherent, and effective strategy for supporting LGBTQIA+ students, as well as fostering a climate of inclusion for members of the LGBTQIA+ faculty, staff, and administrators.
Scope: This committee is open to all faculty, staff, and administrators, as well as select students. The committee will: