Black and Brown Minds & Mattering Conference
The Black and Brown Minds & Mattering Conference brings together Chaffey College and the community for a day of celebrating and lifting up Black and Brown students, faculty, staff and communities of the Inland Empire. Through keynote speakers, faculty presentations and cultural displays, the conference strives to shine a light on the systemic issues facing these communities and seek ways that educators and community members can work together to help them succeed.
The annual event falls on Dia de los Muertos, or Day of the Dead, providing both Black and Latino communities the opportunity to celebrate their heritage through ancestral altars and other presentations. The conference is a key component of Chaffey College's 10-Point Plan, a set of initiatives that are intended to improve equity for students, faculty and staff in and outside of the classroom.
2022 Event Rewind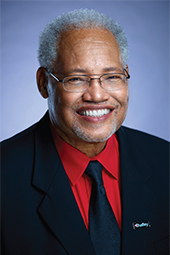 Dr. Henry D. Shannon
Superintendent/President
Henry D. Shannon has served Chaffey College since 2007, bringing more than four decades of higher education leadership experience to the college. Through his direction, he has helped enhance and transform Chaffey into the nationally-recognized center of learning it is today. Read more...
Dr. Francisco C. Rodriguez
Chancellor, Los Angeles Community College District
Francisco C. Rodriguez serves as chancellor for the largest community college district in the nation with nine accredited colleges, more than 200,000 student enrollments and an annual budget of $5.8 billion. The district stretches across nearly 900 square miles of Los Angeles County. Read more...
Felicia Montes
Xicana Indigenous artist, activist, organizer, educator, designer, performer, professor and holistic wellness practitioner from East Los Angeles. Her research, creative work, and praxis focus on art, social justice, spirituality, women of color feminisms, indigenous cultures and community wellness. She is published on these topics in various anthologies. Read more...
Interested in sponsorship opportunities? Contact Heather Parsons at heather.parsons@chaffey.edu
For questions, please email Director of Student Equity and Engagement, Albert Rodriguez at albert.rodriguez@chaffey.edu.