Center for Culture and Social Justice
This is your safe haven. It's a place where you can meet with a faculty member or have a club meeting. It's a place where students who were previously in the foster care system or incarcerated, as well as veterans, can get specialized support. The Center for Culture and Social Justice helps the hungry, homeless and Dreamers, along with many other groups.
Events
Summer Reading Circles
Please join our campus community in our first Center for Culture and Social Justice's Summer Reading Circles! Led by campus leaders, these reading circles are open to students, faculty and staff. Over the course of three weeks, reading circle participants will discuss the books and The Center for Culture and Social Justice will provide the books to anyone not able to purchase one who wishes to participate. Contact Rachel Galindo (rachel.galindo@chaffey.edu) to learn more.


I am Not Your Perfect Mexican Daughter by Erika L. Sánchez
Reading Circle Leader: Dr. Janeth Rodriguez, Director, Alumni & Community Relations
Dates: July 7, 14, 21 from NOON to 1 p.m.
Zoom Info: https://cccconfer.zoom.us/j/99295171978
Symptoms of Being Human by Jeff Garvin
Reading Circle Leader: Rebecca Trawick, Director/Curator, Wignall Museum of Contemporary Art
Dates: July 23, 30 and August 6 from NOON to 1 p.m.
Zoom Info: https://cccconfer.zoom.us/j/99045745746
---
Black Minds Matter
To register please click the photo:
Black Minds Matter addresses the experiences and realities of Black students in education. Black Minds Matter is a national movement that draws parallels between the policing of Black lives and schooling of Black minds. The course will balance a discussion of issues facing Black students as well as offer research-based strategies for improving their success.
Please join in this five part series - July 16, 23, 30 and August 6 & 13.
---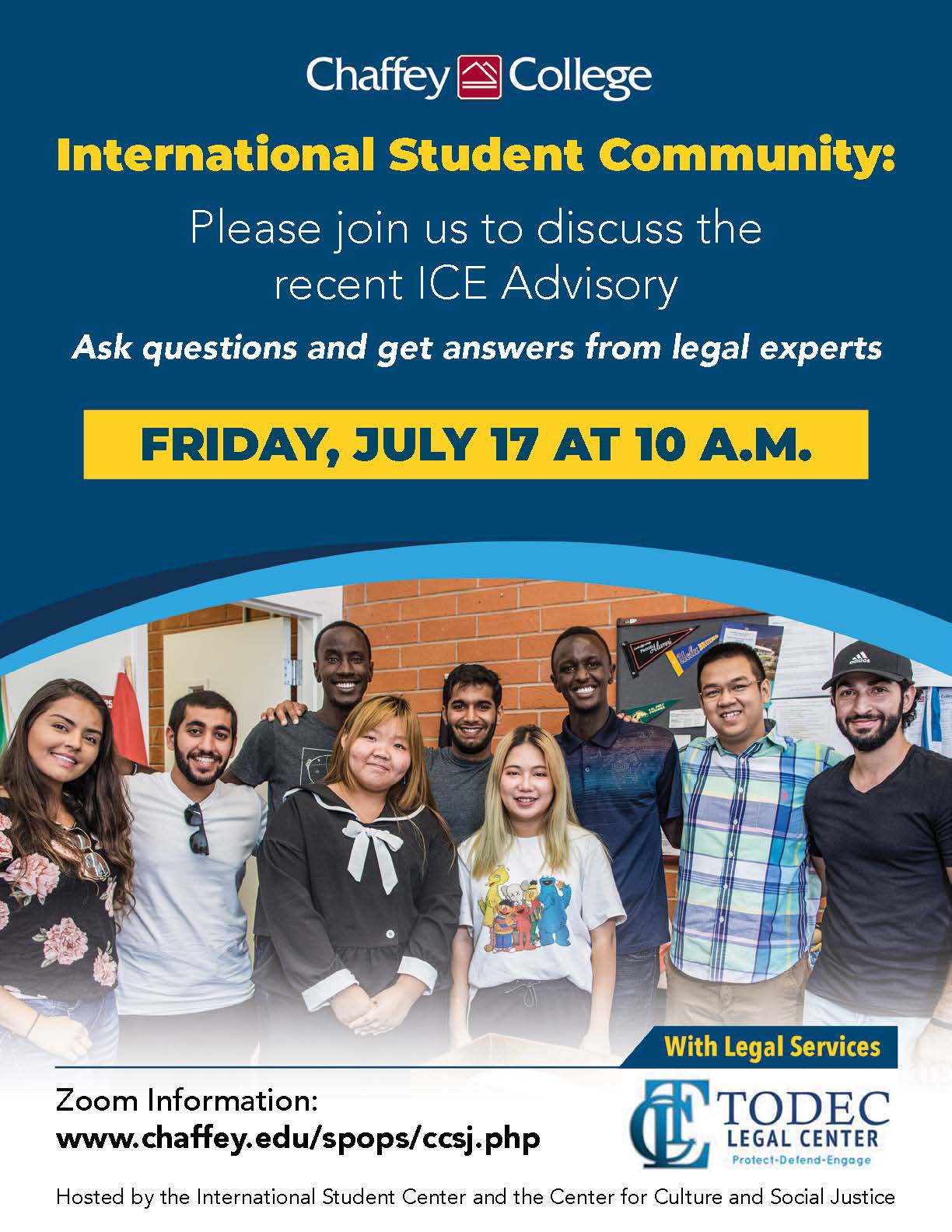 Current Reality of the Student and Exchange Visitor Program (SEVP)
Jul 17, 2020 10:00 AM Pacific Time (US and Canada)

Register in advance for this webinar:
https://zoom.us/webinar/register/WN_jcY0KGmDTvCv8v8hTvQ1Jg

After registering, you will receive a confirmation email containing information about joining the webinar.
---
"Selma"
"Selma" is based on the 1965 Selma to Montgomery voting rights marches initiated and directed by James Bevel and led by Martin Luther King Jr., Hosea Williams, and John Lewis.
Discussion Facilitator – Dr. Tayari Kuanda
Register in advance for the July 17th Discussion, 1-2pm:
https://cccconfer.zoom.us/meeting/register/tJMtfu-qrzMvEtYPC44tNfz0cWa4PMCDAUZx
---
National Book Award winner and New York Times bestselling author
Ibram X. Kendi discusses "How to Be an Antiracist."
To register please click the photo:
---
ACCCA and The Foundation are pleased to announce our latest webinar training:
"How to Have Difficult Conversations About Race in the Workplace"
July 16th 1:30 p.m. to 3 p.m.
This webinar will be a unique opportunity with training followed by a Q&A with our presenter.
Everyone around the country is talking about race. The problem is that few are talking about how to talk about race. These conversations are challenging because they are deeply emotional and trigger strongly held beliefs about identity and fairness. The risks of failing to have these conversations in a respectful way can have profound consequences throughout the workplace, leading to issues with morale, group cohesion, and, in serious cases, employee retention. How can we talk about this sensitive topic without hostility and offense? How can we turn our passion into persuasion and make positive changes in our workplace?
---

Dr. Johnny Carlos Ramirez
A Transformational Resistance framework for Student Leadership, Empowerment and Activism
Wednesday, July 29, 2020
11:30am - 1:00pm
Zoom link https://cccconfer.zoom.us/s/93683943022
---
Special Populations and Equity Programs
Rancho Cucamonga campus, AD-109
909-652-6504
equity.support@chaffey.edu
Hours: 8 a.m. to 5 p.m. Monday through Friday
Mission
The Center for Culture and Social Justice (CCSJ) is a culturally conscious safe-haven dedicated to cultivating socially responsive leaders. Unwaveringly committed to fostering solidarity and amplifying the student voice, the CCSJ will evolve with the needs of our student population, always seeking to empower, inspire and encircle the Panther community.
Services
In addition to meeting spaces, students have free access to computers and printing at the center. The following student services are also available:
1 to 4 p.m., Mondays - financial aid
8 a.m. to noon, Tuesdays - counseling
8 a.m. to noon, Wednesdays - admission and records