Associate Degree in Nursing
UPDATE - Dec. 18, 2020
Great news! Chaffey College will begin accepting provisional applications for the Associate Degree in Nursing program from March 1-31. We recommend you attend one of our application workshops taking place in January, February and March. Please see the schedule below, along with the links to register. We look forward to welcoming you to Chaffey College.
We encourage you to meet with a Chaffey College counselor to help you plan your best options during this time.
Please keep an eye on our ADN and LVN web pages for updates. We look forward to welcoming new students to Chaffey's nursing programs very soon!
Information Sessions
ADN Information Session PowerPoint
Reminders:
Arrive on time. Zoom meetings will close 10 minutes after starting time
Times and dates are subject to change
You do not have to be enrolled at Chaffey College to attend
Transcript specific questions cannot be answered at the information sessions. Individual questions, such as equivalency of courses, units, etc. can be answered best in an individual appointment with one of our counselors.
Questions about the ADN information session can be directed to adn.staff@chaffey.edu
Spring 2021 ADN Application Workshops
The following workshops will be held virtually through Zoom in spring 2021. To attend a workshop, please click on the Register here link for the date and time you would like to attend.
The workshops will provide information on the prerequisites, selection process, and application instructions for spring 2021 applicants.
| Dates | Time | Location |
| --- | --- | --- |
| TBD | TBD | TBD |
Reminders:
Arrive on time. Zoom meetings will close 10 minutes after starting time
Times and dates are subject to change
It is recommended to use a computer or device that you can download materials on
You do not have to be enrolled at Chaffey College to attend
Plan accordingly. Workshops will be 2 hours in duration
There will be no individual counseling as part of this workshop
Application Materials
Prerequisites & Selection Process
ADN Application Form

Due to limited staffing, we cannot provide status inquiries during the application period. Applicants will be notified of their application status via email by April 22, 2021. If you do not receive information about your application status by April 22, 2021, you may contact the ADN program for a status inquiry.
Your ADN Multi Criteria Evaluation Request Form will only be processed during the following evaluation periods: February 1st through March 24th for Spring 2021 applications for students applying for the tentative Fall 2021 program start.
Program Information
The Associate of Science in Nursing program supports the students' educational and professional goals. The following information is provided as a resource to assist in understanding the policies of the program.

The Associate of Science in Nursing program adheres to the same rules, regulations, and philosophy as described in the college catalog, student handbook and schedule of classes. Additional policies are necessary, as this program must also meet both the standards established by the California Board of Registered Nursing and the clinical facilities in the community.
History of the ADN Program at Chaffey College
Chaffey College Associate Degree in Nursing Program was founded in 1957. It was one of the five original Associate Degree in Nursing programs established in the State of California. At the end of five years it was proven that nursing education could be provided in the community college setting. Chaffey College, as well as the other four colleges, received accreditation from the state. Twenty students were admitted into the first class and eleven graduated in 1959 with an Associate Degree in Nursing.

The first classes were held at Upland High School. In 1960, the college moved to the present Alta Loma location. Since 1957, approximately 2,165 students have been graduated from the program. The program approved by the California Board of Registered Nursing and accredited by the Accreditation Commission for Education in Nursing, Inc. (3343 Peachtree Road NE, Suite 850, Atlanta, GA 30326.
Philosophy Of The Associate Degree Nursing Program
The faculty of this Associate Degree Nursing Program reaffirms the College's mission statement. The faculty strives to maintain a mutually beneficial relationship that values critical thinking and encourages flexibility for both the faculty and students in meeting the needs of the community.

The faculty believes that each person is a unique individual influenced by his/her culture, ethnicity, sexual identity, socioeconomic status, and the environment in which he/she lives. One's behavior is motivated by basic needs that are common to all people. Wellness results when these needs are satisfied. Illness results when threats to one or more of the basic needs produce consequences that are beyond the individual's capacity to cope.

Nursing is the establishment of a therapeutic interpersonal process that assists the individual's basic needs. It is a profession that requires creativity, inquisitiveness, and knowledge in utilizing the nursing process to assess, analyze, plan, implement and evaluate care that will assist clients to meet their basic needs and attain their potential.

The nursing curriculum at Chaffey College prepares the student to become an Associate Degree Nurse. Courses in natural, behavioral, and social sciences, as well as courses in communication skills provide a foundation for the nursing curriculum. The nursing courses are based on the major concepts of Maslow's Hierarchy of Basic Needs, the Nursing Process, Erik Erikson's theories of development, and therapeutic communication.

The faculty is committed to incorporating into their teaching methodology an awareness of individual differences of students including their cultural and ethnic backgrounds, learning styles, goals, and support systems. The faculty believes that learning is facilitated when students are actively involved in the learning process and assume responsibility for their own learning. The teacher provides an environment conducive to learning, seeks out learning experiences appropriate for the student, and acts as a resource person.

Graduates holding the Associate Degree are prepared as accountable nurse care providers described within the Nurse Practice Act. The scope of their practice centers on direct client care and encompasses the role of the nurse as care provider, client teacher, communicator, manager of client care and a member within the profession of nursing. The Associate Degree Nurse is capable of entry level management and decision-making, with guidance, regarding client-centered care in a variety of health care setting throughout the community.
Program Objectives
On completion of this program the graduate will: (to meet the minimal standards for competency set forth in section 1443.5 of the California Nurse Practice Act):
Utilize the nursing process to provide care for the client and his family that recognizes threats to normal physiological, psychological, developmental, spiritual and sociocultural needs.
Collaborate with health care workers in the development of individualized teaching plans.
Communicate with health care team, and client/family to cope with or resolve problems.
Coordinate, delegate, and prioritize the delivery of care aimed at meeting the needs of clients/groups of clients and their families.
Serve as the client's advocate.
Practice within the ethical and legal framework of nursing demonstrating personal accountability for own actions and professional growth.
Curriculum Design
The content of the curriculum is reflected in the program and course objectives. These objectives are based on the standards of nursing practice as defined in the Nursing Practice Act, the concepts from the humanistic philosophy of Abraham Maslow, and the psychological theory of growth and development by Erik Erikson. The course descriptions and program of learning listed in the college catalogue reflect these content areas. The course objectives further reflect the integration of the basic thread concepts such as nutrition, pharmacology, cultural diversity, and growth and development.

The curriculum is developed using a simple to complex format. Each course builds upon another by discussing simple threats to basic human needs and then adding more complex threats in the final courses. For example, a basic need for air, as identified by Maslow, has become the modular concept for oxygenation. Modules of increasing complexity have been developed in successive courses from review of oxygen as a basic need to later addressing more complex oxygenation concepts.

The basic needs' concepts from the humanistic philosophy of Abraham Maslow, and the psychological theory of growth and development by Erik Erikson, are integrated into the nursing care plan to provide students the opportunity to determine the relationship of their client's developmental stage to his/her need for nursing care. Nursing care plans reflect the growth of critical thinking skills throughout the program. As the threats to a client's well being increase and become more complex, the student is required to use critical thinking and creativity to assist the client.

Leadership, management, and critical thinking skills are incorporated into the curriculum and follow basic program threads of simple theory to complex application. Change, challenge and opportunity are the key words for today's nurse. Clinical experiences address the challenges and responsibilities confronting the graduate nurse.
Program Outcomes
Systematic evaluation of the Associate Degree Nursing program is utilized for the development, maintenance, and revision of the program and program outcomes. Program outcomes that measure the effectiveness and quality of the program are focused on the benefits to the student, employer, and community. The following outcomes have been identified.
Provide educational opportunities, and enhance educational access and participation for a diversified student population.
Provide for a retention rate of 80 percent or above.
Provide a course of study that promotes a 90 percent overall successful completion rate on the NCLEX examination.
Enable 90 percent of graduates to obtain employment in nursing within six months of graduation.
Develop and maintain a collaborative relationship with community agencies.
Provide an opportunity for nursing students to evaluate the effectiveness of their education, instructors, and the clinical agencies.
This program, leading to an Associate in Science Degree with a major in nursing, is approved by the California Board of Registered Nursing and accredited by the Accreditation Commission for Education in Nursing, Inc. (3343 Peachtree Road NE, Suite 850, Atlanta, GA 30326,phone: 404/975-5000, fax: 404/975-5020, web: www.acenursing.org)

The graduate is eligible to take the National Council for Licensure Examination (NCLEX) and, upon successful completion, become licensed as a Registered Nurse in the state of California. Completion of the program is not a guarantee of licensure. There are fees for obtaining licensure by examination or endorsement, interim permit, and biennial renewal. California law allows for the denial of registered nursing licensure on the basis of any prior convictions. Information is available on the License Discipline and Convictions web page.

Information sessions are offered to all new and advanced placement students.
Contact
Associate Degree in Nursing Program
909-652-6671
Nursing Faculty
Nursing Staff
ADN STUDENT ACHIEVEMENT DATA
NCLEX-RN pass rates: 90% overall pass rate on NCLEX-RN exam
| Year | National Average | Chaffey College |
| --- | --- | --- |
| 2014/2015 | 84.53% | 84.62% |
| 2015/2016 | 84.57% | 97.26% |
| 2016/2017 | 84.24% | 92.50% |
| 2017/2018 | 85.11% | 98.15% |
Program completion rate (% of students completing within 150% of program Length)
| Year | % of Students |
| --- | --- |
| 2014/2015 | 90% |
| 2015/2016 | 86% |
| 2016/2017 | 92 |
| 2017/2018 | 82 |
GRADUATE EMPLOYMENT RATE (6 months after graduating)
| Year | % Employed | Response Rate |
| --- | --- | --- |
| 2015-2016 | 100% | 54% |
| 2016-2017 | 92% | 50% |
| 2017-2018 | 100% | 35% |
Program Costs
Listed below are the estimated costs of participation in the Chaffey College Associate Degree Nursing Program, by semester.
Items with approximate costs per semester
NURADN 6/14
NURADN 27/26
NURADN 34/38
NURADN 45/50/4
Books: (Required + accessory clinical companions)
$1,200.00
$250.00
$200.00
$140.00
Registration
$500.00
$500.00
$500.00
$500.00
Material Fees
$12.00
$11.00
$11.00
$11.00
Fees
CPR
Approx.$45.00
Background Check
$59.00
Class graduation fund
$25.00
$25.00
$25.00
$25.00
Livescan Fingerprinting
$75.00
Health examination/immunizations/drug test
$250.00
Application for license (www.rn.ca.gov)
$300.00

Parking Fees (on campus)

$50.00
$50.00
$50.00
$50.00
Uniform:
Cherokee Collared Top (#2879 & 2878) /ea
$20.00
Cherokee pants (#2001) /ea
$15.00
Cherokee men's zip top (#4300) (optional)/ea
$20.00
Cherokee Dress (#4508) /ea
$30.00
Cherokee V-neck jacket (#4301) /ea
$15.00
Shoes /ea
$65.00
Uniform Patch /ea
$4.00
Badge holder pin with caduceus
$4.00
Watch – Stainless steel stretch band
$30.00
Supplies:
Skills Kits
$65.00
$75.00
Stethoscope/BP Cuff (price can vary)
$113.00
Backpacks, folders, pens, computer programs, Kappa Sigma Nu, etc.
$150.00
$150.00
$150.00
$150.00
Assessment Testing/Learning Systems
$135.00
$135.00
$135.00
$135.00
Estimated cost per semester
$2,807.00
$1,121.00
$1,146.00
$1,386.00
Prices subject to change without notification.
Clinical Education Locations
Arrowhead Regional Medical Center
400 N. Pepper Ave.
Colton, CA 92324-1819

Kaiser Permanente Medical Center
9961 Sierra Avenue
Fontana, CA 92335
909/427-3914

Pomona Valley Hospital Medical Center
1798 North Garey Avenue
Pomona, CA 91767
909/865-9580

San Antonio Regional Hospital
999 San Bernardino Road
Upland, CA 91786
909/920-4710

Visiting Nurse Association and Hospice of Southern California, Inc.
150 W. First Street, Suite 270
Claremont, CA 91711
909/624-3574
Resources
Clubs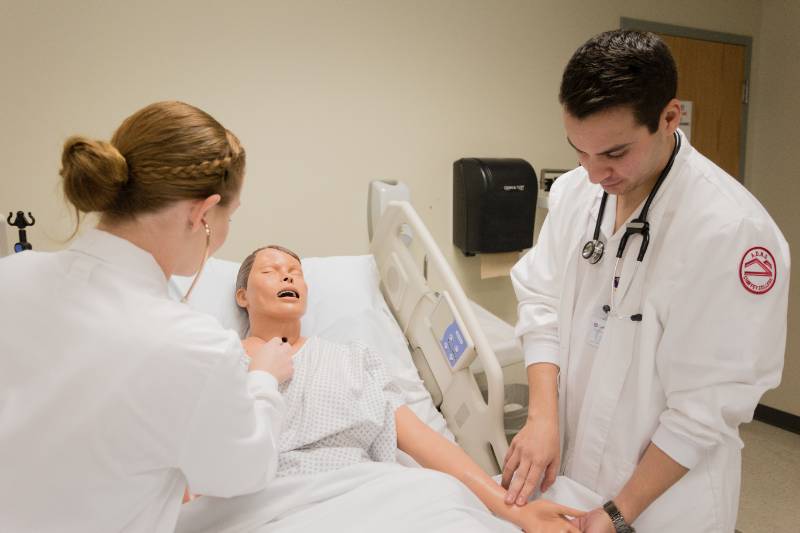 Kappa Sigma Nu
Kappa Sigma Nu is the Chaffey College branch of the National Student Nurse Association (NSNA). It provides opportunities for networking with other students in nursing at Chaffey, in the Inland Empire, statewide, nationally and internationally. This organization encourages student involvement in professional nursing issues. Kappa Sigma Nu is active in campus and community projects. This is an excellent organization that prepares the student nurse to transition to other professional organizations in Nursing upon graduation.

There is a cost for membership. With your membership you receive "IMPRINT", a magazine published four times a year to update members on events and issues in nursing, job opportunities, and more. Meetings are held once a month. Date and time are announced at orientation and during the first week of school. To join, visit: www.nsna.org. Information: Lisa Doget, faculty advisor — lisa.doget@chaffey.edu
Men in Nursing
The Men in Nursing club works to encourage more men to pursue careers in the nursing field. The club provides support to help members successfully complete the associate degree in nursing and licensed vocational nurse programs. Club President: Elitt Golnik. Information: Marlene Cianchetti, faculty advisor – marlene.cianchetti@chaffey.edu. Or learn about the American Assembly for Men in Nursing.
Scholarship Opportunities
Scholarships are a form of gift aid that does not have to be repaid. They can be based upon financial need, academic merit or academic program. There are many scholarships that target students that are studying in a certain field (i.e. nursing) or for students that are involved in their community. Please check this site often for available scholarships for the ADN student. Hard copies of these scholarships are also posted in the nursing skills lab. See Sandie Freeman (HS 159) with any questions.


Deloras Jones RN Scholarship
County of San Bernardino - Financial assistance for students in the field of healthcare. Visit the Chaffey College Foundation page to learn more.
Price Foundation, Inc.
Southern California Organization of Associate Degree Nursing Deans and Directors
Forsythe-Roberts Memorial Nursing Scholarship - For nursing students currently enrolled in a U.S. accredited registered nursing program
Bachelor of Science in Nursing Articulation
Would you like to get a head start on your Bachelor of Science in Nursing? Cal State Fullerton's School of Nursing now offers you the opportunity to take BSN courses while enrolled in an ADN program at one of our eight partner community colleges. During summer semesters, we will offer select RN-BSN courses specifically for ADN students wanting to get started on a BSN. Learn more through Cal State Fullerton's articulation agreement page.