If you're a creative person with an eye for detail, a passion for space planning and excitement for architecture, then interior design could be the program for you. Interior design is a rapidly growing profession that requires both creativity and technical knowledge to solve problems relating to the design of interior spaces.
At Chaffey College, the curriculum concentrates on four areas of preparation to enter the field of Interior Design.
Knowledge of design materials, building systems, codes and business procedures
Skills in drafting, sketching, rendering and presentation boards (by hand and on the computer)
Creative and conceptual awareness through the fundamentals of design, design process, space planning and furniture layouts
Historical perspective through the study of past periods of interior design, architecture, furniture, painting, and sculpture
The Chaffey College interior design program will prepare students to enter the profession of interior design upon graduation or to transfer to a four-year college or university. The department offers three options:
Associate of Science in Interior Design
Certificate in Interior Design - recommended for students already possessing an associate of arts, an associate of science or a bachelor of science in another discipline
Visual Communication for Interior Design Certificate (recommended for students interested in a technical design support position)
Career Opportunities
Residential designer
Commercial designer
Kitchen and bath designer
Lighting designer
Color consultant
Facilities planner
Store planner
Staff designer for large firms and retail operations
Interior renderer
Manufacturer's representative
Antique specialist
Showroom manager
Display artist
Design business manager
Specialty designer
(such as hotel /restaurant, medical facilities, model homes, etc.)
Set designer
Skills Developed Through the Program
Emphasis in Residential and Commercial Design
Design fundamentals
Color Theory
Material selection
Building systems and codes
Floor plans with furniture layouts
Space plans
Electrical plans
Reflected ceiling plans
Schedules
Elevations
Computer aided drafting and design
Free-hand sketching
Rendering
Blueprint reading
Presentation of boards for design projects
Additional Activities
Courses offer field trips to appropriate major decorative arts collections and architectural monuments, as well as design resource centers in the local area. Guest lecturers from related design disciplines keep students updated on current developments in the profession. Activities of the major professional design organizations are publicized to allow students additional career development.
Frequently Asked Questions
You are creative
You are a people person
You enjoy listening to others
You love solving puzzles
You like to design and select interior accessories and furnishings
You like to work with diverse groups of people
You appreciate visual arts and architecture
You like to draw and plan out furniture arrangements
You like to work on computers and trying new technology
You like to have a variety of work environments and locations
You enjoy planning, especially budgeting and schedules
You are detail oriented but still can focus on the big picture
Residential Interior Designer
Commercial Interior Designer
Design Coordinator
Interior Design Consultant
Set Designer
Gallery Exhibit Designer
Kitchen and Bath Designer
Home Stager
Furniture Designer
Space Planner
CADD Operator
Interior Design Resource Salesperson
Industrial Designer
Transportation Designer
This pathway provides you with a choice of various work environments including:
Interior Design Firms
Architecture Firms
Window Covering Companies
Construction Companies
Theater Companies
Movie Companies
Furniture Stores
Landscape Architects
Department Stores
Furniture Manufacturing
Residential and Commercial Developers
This associate degree may lead to a position as an Interior Designer, which according to the EDD/LMID Occupational Employment Statistics Survey, 2017 the median wage in California was $27.86 per hour or $57,943 annually. For more information, visit
www.labormarketinfo.edd.ca.gov/OccGuides.
The job and wage outlook will vary based on the position selected within this major. To review current salary information and job outlook for other occupational titles, visit
www.onetonline.org.
The positions below require at least a bachelor's degree Interior Design, Architecture or a similar field. According to O*NetOnline, the median salary in 2016 for an Art Director in California was $116,450.
Interior Design Director
Art Director
Industrial Designer
Design Manager
Production Manager
Architect
Showroom Director
Production Designer
For additional information about career pathways and to find out if this major is a good fit for you visit the Career Center located in MACC 203.
For additional information about career pathways and to find out if this major is a good fit for you visit the Career Center located in MACC 203.
Faculty and Staff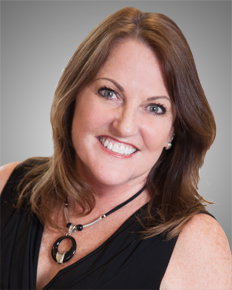 Kathleen Galipeau has taught interior design at the college level since 2004. She emphasizes the integration of innovative design, space planning, color psychology and creative presentation techniques. She integrates design theory and hands-on experience with sustainable design strategies, including understanding Leadership in Energy and Environmental Design (LEED) certification. She encourages her students to be innovative and research the most recent industry developments. She promotes sustainable practices in the classroom to help solve future environmental needs. She also has extensive research and practical project experience in adaptive reuse and historic preservation.
Kathleen is a certified interior designer, one of a select group of designers in Southern California trained in business management, art, architecture and interior design. As principal designer and owner of Catalyst Designs LLC for 10 years, she brings an insider's knowledge of retail, hospitality, multi-unit residential and restaurant industries to her students and clients. Her clients – from large commercial organizations to smaller corporations – have sought her expertise for projects ranging from private homes to historic rehabilitation projects.
Kathleen received her Bachelor's Degree in Business Administration from the University of San Diego and a Master of Architecture from California Polytechnic University, Pomona. She has also studied fine art at California State University Fullerton and at the Art Center College of Design in Pasadena.
Patty Allen has taught interior design for 10 years at Chaffey College and has 32 years of experience in the industry. Her courses have included introduction to interior design, history of architecture and furnishings, materials of interior design, space planning and the business of interior design.
She strives to find balance between the past and present in her history classes – bringing historical design alive while also showing students the impact of current styles.
For more than three decades, she has worked as an interior designer for residential and light commercial projects. Patty serves as principal designer and owner of Patty Allen Interior Designs, Inc. The business emphasizes kitchen and bath remodeling, as well as restructuring homes to fit the needs of their owners. She is a color consulting specialist.
Patty graduated from the Eiselman Center of Color Training in Seattle, Wash.
Lisa Monk brings more than a decade of practical experience to the classroom as an adjunct faculty member in interior design. She graduated from Chaffey College in 2005 with a Certificate in Interior Design and an Associate of Science Degree in Interior Design. During her time as a student, she worked as the student assistant for interior design and assistant to the coordinator of Consumer Science, interior design and fashion.
Prior to graduating, she opened her own design firm and worked as the sole designer for more than 10 years. She specialized in commercial work, with one of her largest clients being a Southern California leasing conglomerate. She credits her background in fashion merchandising and marketing with helping her succeed as an entrepreneur. Lisa likes to give back in the classroom, but also serves as a volunteer for several nonprofit organizations in the region.
Testimonials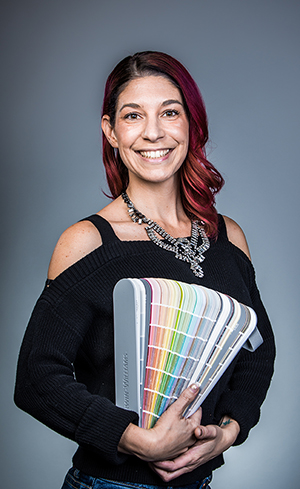 Diana Baker '10
Founder/Senior Designer
Baker Interior Design Group
Diana Baker felt right at home among shiny countertops, stylish furniture and the smell of new carpet.
While other 16-year-old girls begged for new cars, Baker begged her mother to take her to look at model homes or watch construction workers building houses.
"It would just really fascinate me and I would watch what was happening," she said. "HGTV would come on and I would watch it with my mom and say 'God, this is totally something I could do.'"
She soon found herself sketching rooms and going to interior design trade shows.
Eventually, she gave in to instinct and enrolled in Chaffey College's interior design program.
"I loved my classes. I loved my teachers. I passed all of my classes with flying colors. I knew once I started at Chaffey that this is where I was supposed to be," she said.
Baker hasn't looked back since.
The Rancho Cucamonga resident, founder and senior designer of Baker Interior Design Group, teamed up with fellow Chaffey interior design graduates Christina Melendrez and Christina Previti to launch her business. Their first job – designing three model homes for a development in Moreno Valley – was successful.
"I was able to get that on our portfolio and from there it just kind of took off," she said. "The next home we landed was a 7,000-square-foot home in Brentwood. We were pretty much solid after that."
Baker's company handles a variety of services from room remodeling to designs for multimillion-dollar estates.
Along the way, her professors continued to give her advice and guidance. And they reached out to her to get her feedback on how the program has helped in her professional life.
"I knew they've taken steps to keep up with the changing times and I really appreciate that, for the new generation of students," she said.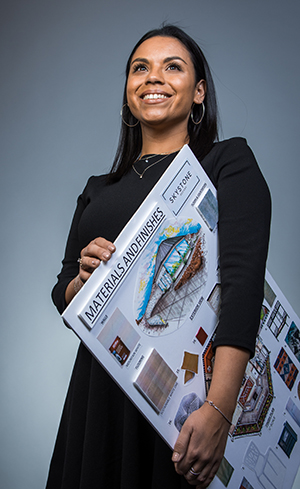 Jeannette Jurado
Jeannette Jurado comes from a family of creative people. She remembers watching her grandfather build furniture when she was a child. And relatives on both sides of her family are artists and musicians.
So when she was young, Jurado found inspiration in sketching what she called her "dream room" – a tree house with a slide. She stashed that sketchbook away and moved on to other things, but dug it out years later when she decided to pursue interior design at Chaffey College. She realized she had found her calling early in life.
"This is totally what I was meant to do," she said.
Jurado, a 2006 graduate of International Polytechnic High School in Pomona, worked as a teacher's aide for several years and considered following her mother's career path of being a school teacher, but she knew it wasn't her passion.
A close friend reminded her of her interest in sketching rooms, so she did some research and discovered Chaffey College had an interior design program. For the single mother, pursuing a low-cost program that was local made sense.
Jurado realized she was in the right place when she began her history of interior design class. Upon obtaining her certificate, she'd like to start applying her classroom knowledge in the field.
"I plan to work for a design firm to learn the rules of the trade, but ultimately my goal is to have my own business," she said.
Meanwhile, Jurado paints water color portraits of homes for real estate agents to get some experience before branching out on her own.
"When I walk into a space, I can feel the energy of the room and it's just natural for me to look around and think, 'How can I make this more beautiful? I feel like that's my purpose, to turn something that's not so great into a work of art – something that anybody can benefit from and enjoy," she said.
Gainful Employment Disclosure
To learn more about program costs, outcomes and earning potential, visit Chaffey College's gainful employment page for interior design.