Meet the Keynote Speakers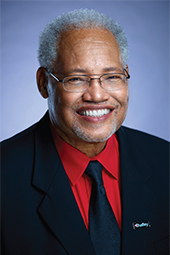 Dr. Henry D. Shannon
Superintendent/President
Henry D. Shannon has served Chaffey College since 2007, bringing more than four decades of higher education leadership experience to the college. Through his direction, he has helped enhance and transform Chaffey into the nationally-recognized center of learning it is today.
Dr. Shannon has delivered mindful and strategic leadership that has generated a stronger sense of community, as well as clear goals and objectives that have helped students thrive. Since 2012, graduating classes have experienced an upward trajectory thanks to his focus on retention and completion rates.
He serves as a member of the Community College Research Center Advisory Board, the Alliance for Education of San Bernardino County and the San Bernardino County Workforce Development Board, among others.
His growing list of local, regional and national accolades include the Marie Y. Martin Chief Executive Officer Award from the Association of Community College Trustees, the San Bernardino County Superintendent of Schools "Distinguished Service Award" and the "Distinguished Citizen Award" from the Boy Scouts of America.
Dr. Francisco C. Rodriguez
Chancellor, Los Angeles Community College District
Francisco C. Rodriguez serves as chancellor for the largest community college district in the nation with nine accredited colleges, more than 200,000 student enrollments and an annual budget of $5.8 billion. The district stretches across nearly 900 square miles of Los Angeles County.
Dr. Rodriguez has 30-plus years of experience as an educator, faculty member and administrator within California public higher education. He has dedicated his career to high-quality public education and championing equity and inclusion, diversity, and outreach to under-resourced communities.
He serves national and state organizations including the STEM Education Advisory Panel for the National Science Foundation (NSF) as well as chair of the UNITE-LA Board of Directors, and a member of the California Community College Chancellor's Office Economic and Workforce Development Advisory Committee.
Dr. Rodriguez has earned the Ohtli Award for Service and Leadership from the Government of Mexico, the Cal Aggie Alumni Association Jerry W. Fielder Memorial Service Award and many more.
Felicia Montes is a Xicana Indigenous artist, activist, organizer, educator, designer, performer, professor and holistic wellness practitioner from East Los Angeles. Her research, creative work, and praxis focus on art, social justice, spirituality, women of color feminisms, indigenous cultures and community wellness. She is published on these topics in various anthologies.
Montes is the founder of cultural activist projects In Lak Ech, El MERCADO y Mas, Botanica del Barrio and is the director of Mujeres de Maiz. For over 25 years, she has worked with dozens of organizations including the Zapatistas, Peace & Dignity Journeys, Self Help Graphics & many more. Montes graduated with a B.A. from UCLA in World Arts & Cultures with a minor in Chicana/o/x Studies, M.A in Chicana/o/x Studies from CSUN, and M.F.A from Otis College of Art & Design in Public Practice Art. Check her out at feliciamontes.com.