Chaffey Holds Inaugural Black and Brown Minds & Mattering Conference
November 30, 2022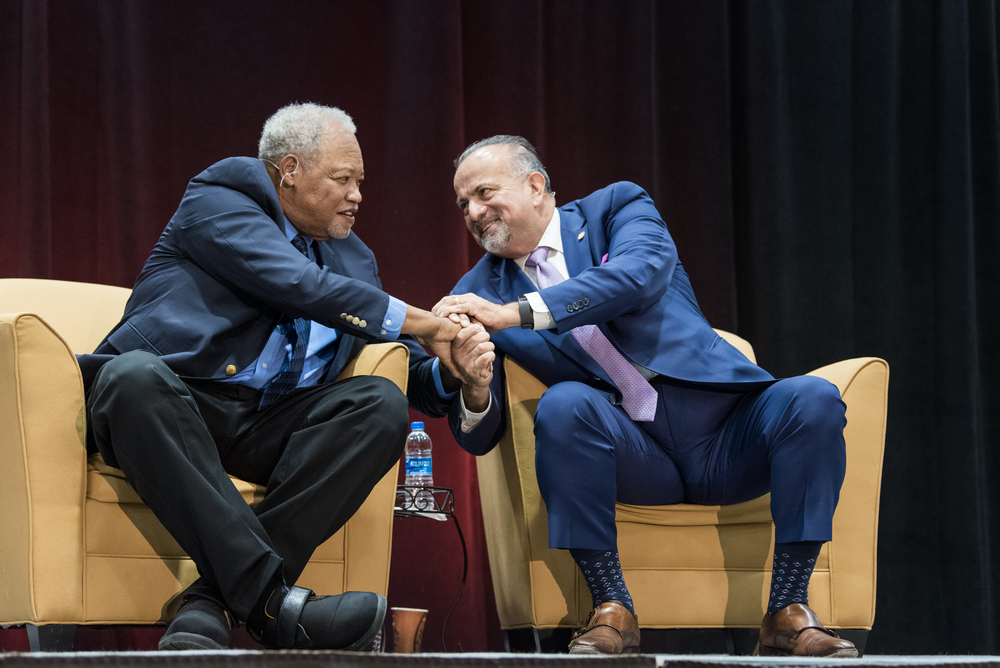 Around 400 students and educators gathered Nov. 1 to celebrate and lift up communities of color at the inaugural Chaffey College "Black and Brown Minds & Mattering Conference."
The event - through workshops, cultural displays and discussions - seeks to shine a light on the systemic issues facing Black and brown communities and find solutions to better serve them.
"Colleges across the nation saw dramatic decreases in enrollment among students of color during the pandemic," said Chaffey College Superintendent/President Henry Shannon. "And while the pandemic is over, we are still seeing its effects on our Black and Brown populations. We need to find ways to better support these communities to help them succeed."
Shannon and Francisco C. Rodriguez, chancellor for the Los Angeles Community College District, served as morning keynote speakers for the conference. Felicia "Fe" Montes, a multimedia artist, poet, performer, educator and more, closed the conference with a presentation on embracing one's heritage.
Shannon and Rodriguez addressed a variety of issues including equity, starting with their own roots in segregated schools and neighborhoods as well as issues they've faced as leaders.
Despite the hurdles they have faced, Shannon and Rodriguez said they persisted with the mission of supporting the generations to follow them.
"This disease called racism and bias prevails and we are the agents to combat that - all of us in this room," Rodriguez said.
Faculty, students and community members led workshops throughout the day focused on various issues facing undocumented students, the importance of ethnic studies and the value of dialogue to bring different communities together, among other topics.
Karla Alfaro, president of the Chaffey student club UNIDOS (United Network of Immigrants and Dreamers Organizing for Students), addressed the fear of deportation due to the legal battle over Deferred Action for Childhood Arrivals, or DACA.
"We're making this life for ourselves, but we don't know if we can stay. We don't know if they are going to revoke DACA," she said.
Carmen Stephens, a counselor at Pasadena City College, praised Chaffey for hosting the event.
"I think it's great, it's timely and it's needed right now," Stephens said. "I think more colleges should join in."
Chaffey theater student Rene Sarver said the conference has sparked her interest in taking classes related to ethnic studies, journalism and other subjects.
"I'm just very impressed with the conference, the talks, the stories, and the goals for greater equity, greater inclusion and how to reach those who are forgotten," she said.