Community Leaders Gather for Report to the Community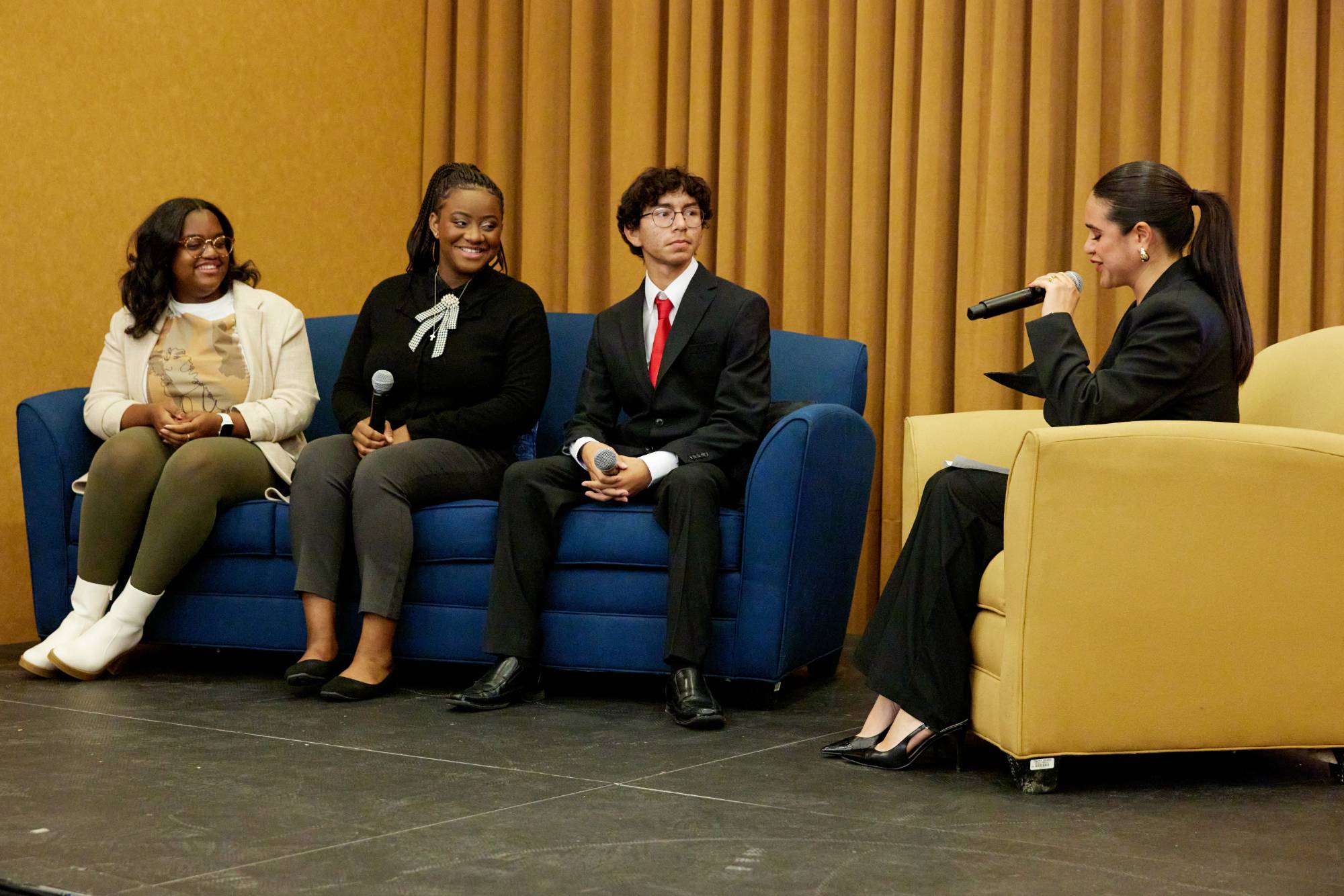 Nearly 300 educators and community members gathered to hear about dual enrollment, virtual reality nursing and mental wellbeing at Chaffey College's annual Report to the Community at the Goldy S. Lewis Community Center on Nov. 9.
The event drew area superintendents, principals, faculty, as well as city leaders for a video presentation of Chaffey's points of pride, and a discussion panel surrounding dual enrollment.
"This year's event was a hot-ticket item, as indicated by how cozy all of us are in this room right now, but you know it's a beautiful indication of how supportive this community is, so thank you again," said Mark Vidal, director of strategic communications.
The event included a video presentation that encompassed the use of virtual reality equipment in Chaffey's vocational nursing program, as well as the mental health and student wellness program, supporting students as part of the 10-Point Plan.
The video also highlighted Chaffey's dual enrollment program, featuring three dual enrollment students and Upland High School Counselor Jessica Ahumada.
University of California, Riverside psychology major Ma'Kayla Harrison, who took numerous Chaffey College classes while going to Upland High School, credited her family as her source of motivation to pursue dual enrollment coursework.
"What motivates me to get ahead is my grandma Linda, who passed due to COVID back in 2021," Harrison said. "She never got the opportunity to fully receive the education she wanted but paved the way for me to do this. My dad has also been my number one supporter cheering me on the entire way."
Jurnee Campbell, an Upland High School student who also plans to pursue psychology, credited her family as well. She said she wants to dedicate her career path toward helping high school students improve their mental health. She also hopes that her eventual career success will allow her mother to retire so she can support her.
"When I become successful, that means she will also be successful," she said. "I can take care of her. I want to retire my mom – she won't have to work another day in her life."
Joaquin Gonzalez-Salgado, a senior at Los Osos High School, has earned four associate's degrees from Chaffey College and continues to take dual enrollment courses. He described navigating a full schedule of high school and college classes, as well as numerous high school clubs. Chaffey faculty and staff, as well as his family, helped him stay on track.
"The one model I always stand by is your future self is talking to you right now. What do you want him to say? That's the way I view the world and how I want to view my progression is that your future self is always looking back at what you have done and I want that future self to be proud of everything that I've made strides for."