Chaffey College Breaks Ground on $75 Million Library Learning Commons
September 27, 2023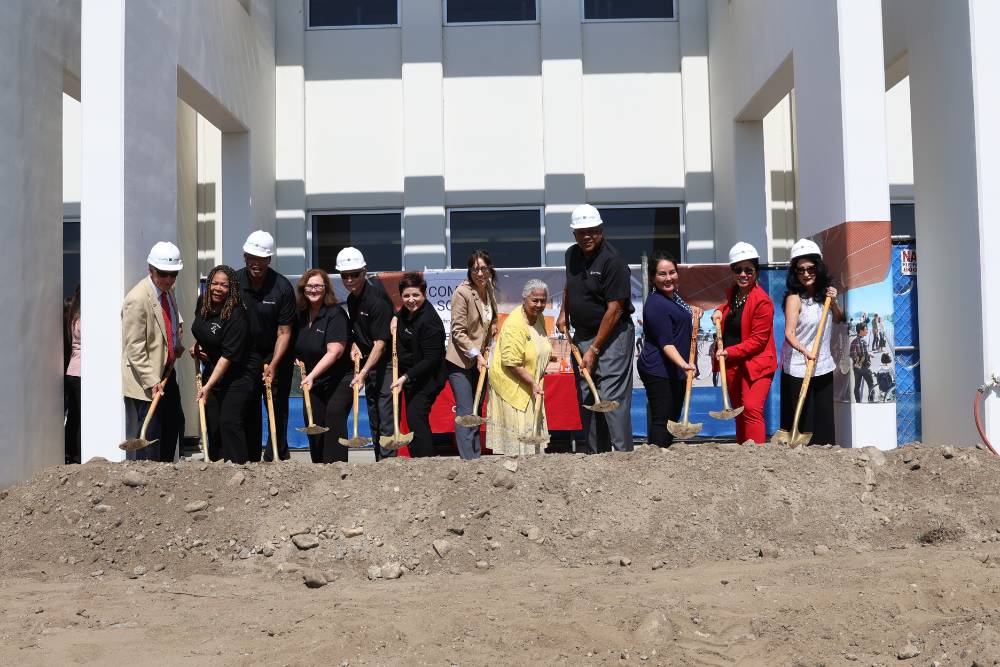 With shovels in hand and smiles on their faces, campus and community leaders broke ground on the $75 million Chaffey College Library Learning Commons on Sept. 26. About 200 people – including local and state lawmakers – gathered for the event on Chaffey's Rancho Cucamonga campus.
"I want to thank the leadership team, our governing board, faculty and staff and, of course, the taxpayers for their vote of confidence to make this happen," said Chaffey College Superintendent/President Henry D. Shannon.
The three-story 76,000-square-foot building, which will include a library, classrooms and study spaces, is one of six active construction projects happening at Chaffey's campuses. It is one of Chaffey's first structures to be built with funds from the $700 Measure P bond, passed by voters in Chaffey's seven-city district in 2018.
Chaffey College Student Government President and Trustee Tamia Newman said the project and others show students that the community cares about them and wants to see them succeed.
"This new building I'm sure will internalize the message that Chaffey College students deserve the best facilities, deserve the best opportunities and the best overall academic experience," she said.
Chaffey's original library was one of the first 12 buildings constructed on the campus starting in 1959. The two-story 39,000-square-foot structure received minor upgrades a decade later and an 11,000-square-foot addition in 1994. Like the new library, the existing structure was funded through a $5 million bond measure approved by voters in 1957.
Chaffey College Governing Board Vice President Deana Olivares-Lambert thanked Inland Empire residents for their support through Measure P to make the library project possible.
"We appreciate and value the partnerships we have because we couldn't do this without you, and it's important for our community to bring our region forward," she said.
Chaffey College Foundation Board President Liliana Andriani, a Chaffey alumna, recalled her own positive experiences learning at Chaffey and expressed hope for current and future students to have an even better experience.
"That's why I continue to serve my alma mater – I want our current and future Panthers to succeed, and a key ingredient in success is having modern, welcoming places to collaborate, discover and learn," she said.
Rancho Cucamonga Mayor Pro Tem Lynne B. Kennedy called the library an example of why Rancho Cucamonga has been recognized as an All-America City by the National Civic League.
"This is fantastic for us, fantastic for the students and fantastic for our future," she said.
Chaffey's Library Learning Commons is slated for completion in summer 2025.