Dr. Henry Shannon's Biography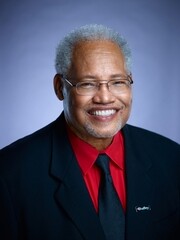 Henry D. Shannon, Ph.D.
Superintendent/President

Henry Shannon brings more than four decades of experience as a higher education leader to Chaffey College – a place he has enhanced and transformed into the nationally-recognized center of learning it is today.
Dr. Shannon came to Chaffey College in 2007, delivering mindful and strategic leadership that has generated a stronger sense of community, as well as clear goals and objectives that have helped students thrive.
Since 2012, graduating classes have experienced an upward trajectory thanks to his focus on retention and completion rates. But he didn't get there alone. Campus stakeholders received encouragement and empowerment from Dr. Shannon to seek opportunities for increasing student support. Faculty and staff applied for and obtained millions of dollars in grant funding, implemented accelerated learning opportunities and introduced new student support programs to further help students turn their academic dreams into reality.
Dr. Shannon's dedication to ensuring all students have access to a quality higher education shows in his service on and off campus. He shares his expertise as a board member with the Community College Research Center Advisory Board, the Alliance for Education of San Bernardino County, the San Bernardino County Workforce Development Board, Growing Inland Achievement, California Community Colleges Region 9 CEOs and more. He holds numerous memberships with national organizations such as the American Association of Community Colleges and the American Council on Education.
The Association of Community College Trustees honored Dr. Shannon in 2018 with a regional and national Marie Y. Martin Chief Executive Officer Award for his significant impact on two-year colleges.
Prior to joining Chaffey College, Dr. Shannon served as Chancellor of St. Louis Community College. During his years of service in St. Louis, he was a campus president and the chief student affairs officer. Additionally, Dr. Shannon was a faculty member and administrator at both Harris-Stowe State University and St. Louis University.
Dr. Shannon earned his bachelor's degree at Harris-Stowe State University. He earned both his master's and doctorate degrees from Washington University in St. Louis and a management certificate from Harvard University.
He currently resides in the Chaffey College district with his wife, Gwendolyn. They have four adult children and 10 grandchildren.