How to Apply
Chaffey College wants to make the financial aid application process easier for you, so please use this information to help you get the support you need.
Start by: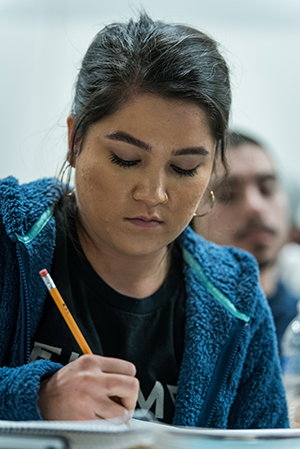 Completing the FAFSA at www.fafsa.gov
You will receive an e-mail from Chaffey College, financial aid office indicating if
awards are available of if additional documentation is needed.
To view your financial aid status or if documentation is needed:

Go to MyChaffey portal, on MyChaffeyview click on financial aid.
Use the "My Documents" section to view if further information is needed.
Submit your required documents to complete our file.

View financial aid award letter:

Go to MyChaffey Portal, click on financial aid.
To view your awards, select financial aid award letter.
Enroll in units, begin your classes and receive your disbursement.
Eligible Chaffey College students will receive their financial aid disbursements via BankMobile (formerly Higher One) disbursement services. All students have choices for receiving their financial aid refunds: electronic deposit to another account or electronic deposit to a BankMobile account. Students must make a selection in order to avoid a delay in their disbursement. Once eligibility is confirmed, students will receive their financial aid funds based on the method they choose to receive their funds. For more information visit www.refundselection.com
About the FAFSA
The Free Application for Federal Student Aid (FAFSA) is open to all prospective and current college students who are pursuing undergraduate and graduate studies. You may fill out a FAFSA starting in October for consideration of financial aid for coursework you plan to take the following academic year.
Tips for Applying for FAFSA
Be sure to add Chaffey College federal school code 001163 in step six of the FAFSA or renewal FAFSA.
Make sure you include your Social Security number on your Chaffey College admissions application and your FAFSA.
IRS data retrieval: The IRS data retrieval process is a way to get your tax information directly from the IRS without having to have a copy of your taxes with you when completing the FAFSA.
The financial aid office encourages you to select the IRS data retrieval, if applicable, on your FAFSA application in order to expedite the processing of your financial aid file.
Eligibility
You qualify for financial aid if you:
Are a U.S. citizen, or an eligible non-citizen such as a permanent resident
Have a valid Social Security number
Are enrolled as a regular student working toward a degree, certificate or transfer program
Are not in default on any federal student loan or owe a refund on any federal grant
Are a male student and have registered with the Selective Service
Have filed a FAFSA application providing all income criteria at www.fafsa.gov; demonstrate "financial need" as determined in part by submitting the FAFSA and submitting all requested documents to complete your financial aid file.
Use financial aid funding for educational purposes only
Meet Satisfactory Academic Progress (SAP) policy requirements to remain eligible as defined by the Chaffey College financial aid office. Review the satisfactory academic progress policy.
Haven't had convictions for the sale or possession of illegal drugs while receiving federal student aid, though this depends on when the conviction occurred and eligibility can be reinstated. Information: 800-433-3243 or review our 'Question 23' eligibility worksheet
Have a high school diploma, GED, pass a high school proficiency exam,
Note: Students who enroll in a program of study and do not have a high school diploma must have completed either a GED or passed the high school proficiency exam in order to meet the high school requirement criteria. The ability to benefit (ATB) test or six units of college coursework will no longer comply with this requirement.
Are not seeking Pell grants if you'd enrolled in more than 12 full-time semesters. Pell payments are added together for all colleges attended anywhere and regardless of when they received their first Pell grant. The number of years receiving Pell will be tracked as a percentage with a maximum lifetime eligibility used (LEU) of 600 percent.

To be eligible for California grants or aid, you must:
Be a resident of California
Have "financial need" based on the criteria for the Board of Governor's enrollment fee waiver or Cal Grant program. Learn more about the Cal Grant program and requirements at the California Student Aid Commission page.
Determining Need
When completing a FAFSA you will receive your expected family contribution (EFC). The EFC is the formula to determine ability to contribute toward the cost of education is legislated by Congress. The expected family contribution (EFC) is the result of the Free Application for Federal Student Aid (FAFSA). Your need is the difference between the total cost of your attendance and your EFC; Based on the information you provide need is the amount that Financial aid will try to cover with resources.
Most aid that we award is need-based, which means that a student must have an adequate amount of need in order to accommodate the aid awarded. For instance, if a student's need equals $12,000, they may receive no more than $12,000 in need-based aid.
Cost of Attendance
Example:
Cost of Attendance: $17,000
Expected family contribution: $5,000
Need = $12,000
Need-based aid include (but are not limited to):
Fee waivers
Federal Pell Grant
Federal Supplemental Educational Opportunity Grant (SEOG)
Federal Work-Study
State Grants
Most Scholarships
NOTE: While scholarships are typically not awarded based upon a student's EFC or need, they are nonetheless included when totaling the amount of aid counted towards covering a student's need.
Regardless of the type of aid package a student receives, their total awards may not exceed their cost of attendance.
Required Forms
You must submit all required documents and forms to complete your financial aid file.
Check MyChaffey portal for a list of required forms. Please note that not every form listed below is required for every student. Be sure that you are printing the correct year when submitting your required forms.