Success Centers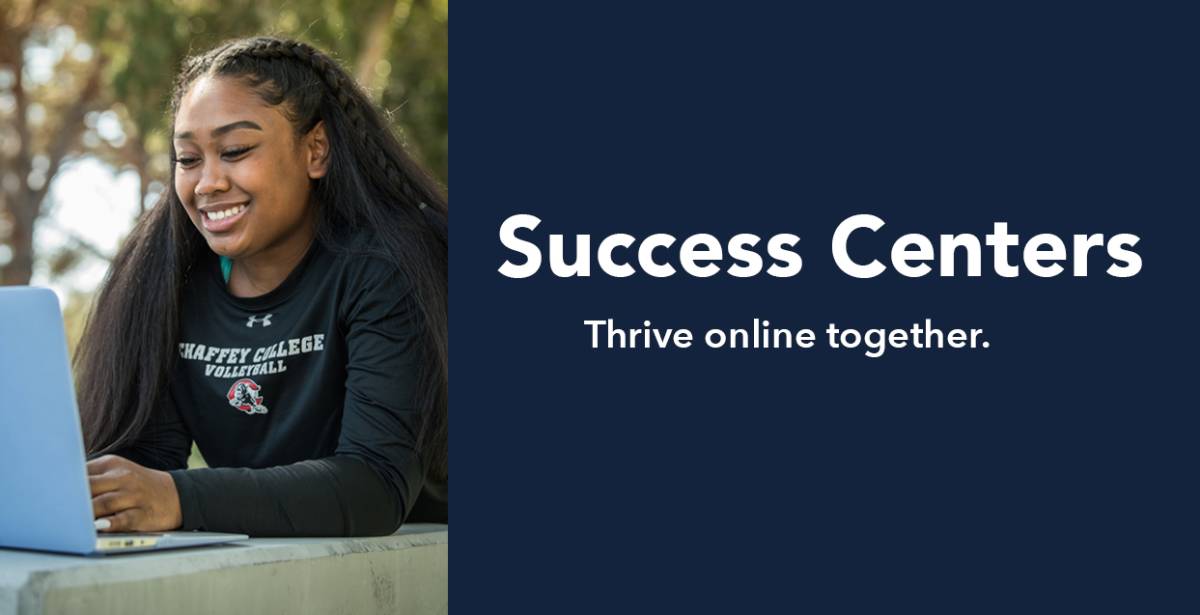 The Chaffey College Success Center network of services can provide you with the tools to succeed in college, careers, and life.
Watch this short orientation video to learn about the Success Center services available on Canvas.
Hours of Operation Fall 2022
Locations:
909-652-6452
909-652-7430
909-652-8150
You can make an in-person appointment for tutoring or Workshops, or ask for walk-in availability.
Students must be enrolled in one or more classes to use the Success Center services.
Download the image to view the Virtual Success Center Flyer
Need a study space? Study spaces are available in the Library.
Contact Us
During Business Hours
During Non-Business Hours

Option 1: Locate the Ocelot chat box in the lower right-hand corner of the screen and type one question at a time. You can ask Success Center questions at any time of the day.

Option 2: Call the campus

Rancho Success Center 909-652-6452 (Tu, W, Th 8am-8pm)
Fontana Success Center 909-652-7430 (M 8am-4:30pm)
Chino Success Center 909-652-8150 (M 8am-4:30pm)

Option 3: Online - Go to the Canvas Success Center Home Page and click on the hyperlinked title of the Success Center Zoom room. You will fill out a brief survey and be redirected to the virtual Success Center where you can speak to a live staff member.

Option 2: Fill out the contact form and a Success Center staff member will contact you within 24 – 48 business hours.
Activities in the Online Success Center
You can fulfill your supplemental learning requirements with activities such as
Workshops: Faculty-led groups (50 minutes)
Learning Groups: Apprentice Tutor-led groups (50 minutes)
Directed Learning Activities (DLAs): Instructor-designed activities that are completed independently and require tutor feedback for verification and proof of completion. (about 45-60 minutes)
To access these services, visit the virtual Success Centers, located in Canvas.
We also offer free tutoring in multiple subject areas. The Peer Assisted Learning (PAL) tutors are in the Success Centers. We also offer petition clearance for math and science courses.
Prepare for your appointments by doing the following
Make sure your webcam and microphone work.

Have questions ready for your tutor.

Prepare materials ahead of time, such as notes, textbook, and homework.

Be ready to participate in the tutoring session with your tutor.
Success Center Policies
Students have the opportunity to participate in one tutoring session, one DLA review session, and one workshop or learning/conversation group per day per course.
Success Center tutors cannot provide you with feedback on quizzes, exams, or other assessments. If you have questions about this, please email the Instructional Specialist in advance of your appointment. Violating this policy is an infringement of academic integrity and will result in the notification of your instructor and the dean of the school and may result in an assignment or course failure or college expulsion.
Frequently Asked Questions
Specialists by Academic Career Community
To align with the College's Guided Pathways transformation, starting Fall 2020, the Success Centers have been reorganized around the six Academic and Career Communities (ACC). The new ACC-aligned Success Centers will be led by the following Instructional Specialists.
If you are a prospective student, instructor, or staff member and have a question about the Success Centers, email an Instructional Specialist, and they will reply within 24 to 48 hours.
---
Rose Ann Osmanian
Arts, Communication, and Design Success Center
English, Spanish, ASL, ESL, Arabic, French, Chinese, and Music
roseann.osmanian@chaffey.edu
---
Greg Creel
Business, Technology, and Hospitality Success Center
Accounting, Business, CIS, and CS
Manufacturing, Industrial Design, and Transportation Success Center
Automotive, Aviation, Drafting, HVAC, and Electrical Technology
gregory.creel@chaffey.edu
---
Christina Holdiness
Science, Technology, Engineering, and Mathematics Success Center
Statistics, Chemistry, Biology and Physics
Health, Wellness, and Athletics Success Center
Nursing, Kinesiology, Nutrition, and Rad Tech
christina.holdiness@chaffey.edu
---
Manar Hijaz
Public Service, Culture, and Society Success Center
Psychology, Sociology, Social Science Statistics, Philosophy, Education, Economics, and Anthropology
Health, Wellness, and Athletics Success Center
Nursing, Kinesiology, Nutrition, and Rad Tech
manar.hijaz@chaffey.edu
---
Success Center Tutors
The Success Centers hire a diverse group of tutors who have various educational backgrounds to meet students' needs. Tutors may be peers who are also students at Chaffey, or undergraduate or graduate students at local colleges. Some Center tutors are faculty at Chaffey and/or other local colleges and universities. With the exception of faculty tutors, all subject-specific Success Center tutors are recommended by instructors and have successfully completed courses they support with an A or B grade. In addition, they participate in tutor training throughout each semester, including topics required by CRLA (an international tutor certification association) as well as multiculturalism, gender equality, neuro-atypical learners, and mental health.
Are you interested in working at the Success Centers? Currently, our tutors, student assistants, and Short-Term Workers work remotely. A computer and reliable internet connection are required. The interviews will be conducted online via Zoom. Please complete the interest form and attach your resume and unofficial transcripts.
Success Center Awards
The Success Centers have earned numerous awards, including
The Board of Governors Award
The statewide Academic Senate Innovations Award
An Innovative English Program Award from the National Council for the Teachers of English (NCTE)
Recognition from the state Chancellor's Office for best practices in basic skills
MetLife Award as part of the Opening Doors Program