NextUp and Foster Youth Programs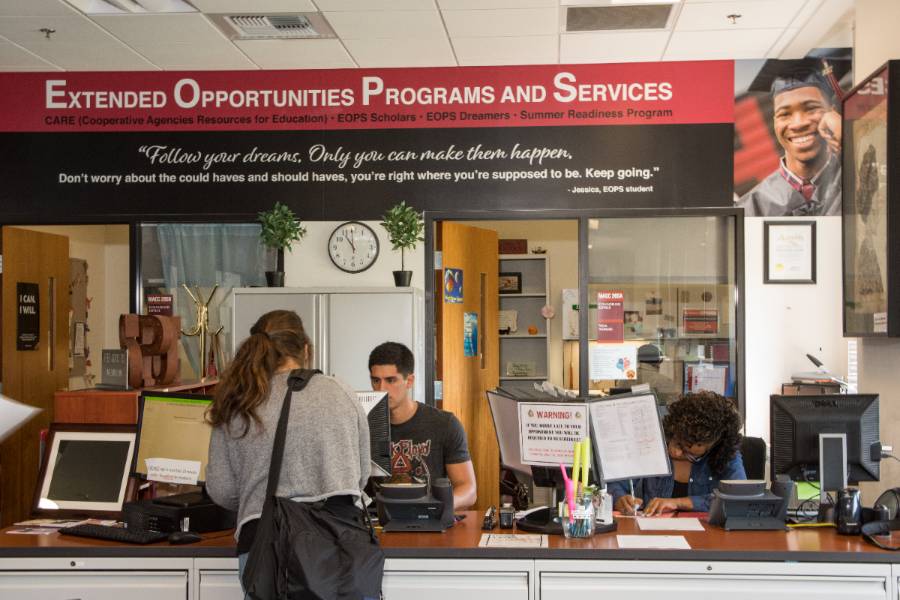 EOPS NextUp – Cooperating Agencies Foster Youth Educational Support (CAFYES)
Vision
The EOPS/CARE program is committed to providing a holistic and supportive approach in counseling to our former foster youth population. We strive to provide an open, understanding, and structured program to assist our students with academic career and personal goals. Our hope is to connect our youth to support services for foster youth at Chaffey College and act as a liaison to these resources including community based services.
Are you a current or former foster youth who younger than 26-years-old and enrolled at Chaffey College? NextUp is a supplemental component of EOPS. The purpose of NextUp is to strengthen and support your education, health and well-being so that you succeed.

Services
Designated EOPS counselors
Transportation assistance
Technology support for online courses
Grants to cover unmet needs
Child care reimbursement
Financial support to cover educational supplies

Eligibility Requirements
•Enroll in at least nine units for fall and spring semesters
Are currently 25 years of age or younger
Eligible for the EOPS program
You were in foster care through age 16

And provide one of the following documents:
Dependency status letter or county ward of court verification letter from your social workerindicating your status in foster care from age 13 and onward. Please make sure yourdependency letter indicates the date past the age of 13 years old to qualify for EOPS and/orIndependent Scholars Program)
Any documentation from a social worker or an Independent Living Program social worker statingyour dependency status in foster care
Any court documents indicating your full name and your dependency status in foster care from13-years-old and onward. (Age criteria for EOPS)
Transitional conference or TILP (Transitional Independent Living Program) paperwork indicatingyour full name, date of birth and your dependency status being in foster care from 13-years-oldand onward.
*Your ILP coordinator, after-care service social worker, former social worker, probation officer or the California Department of Social Services can verify your foster youth eligibility status.

EOPS Scholars
EOPS Scholars provides similar services as NextUp, but it's geared toward people previously in foster care who are 26-years-old or older.
Requirements
The same as for NextUp students, with the same documentation needed to prove previous foster care status.
Services
Specialized counseling geared toward foster youth
Cultural awareness and life skills activities
Emergency supplies for hygiene, transportation and food (depending on grand funding and availability)

EOPS Scholars FAQs
Q: What is the application period to apply for EOPS Scholars?
A: Current and former foster youth under the age of 24 can apply for EOPS at any time during the fall or spring semesters.

Q: How can I get an EOPS application?
A: Current or former foster youth can apply in person at one of the EOPS office locations.

Q: Is there an EOPS Scholars counselor?
A: Yes. In EOPS we have a scholar counselor who is the student liaison to resources on and off campus in order to support the student in completing their educational goals.

Q: Is there a program at Chaffey College for former foster youth that is less than 12 units?
A: Yes. Chaffey College has the Independent Scholars Program.

Q: Can you be in both EOPS and Independent Scholars?
A: Yes.

Q: How do I apply for the Independent Scholars Program?
A: Make an appointment with Independent Scholars program Counselor Lindsy La Valle at lindsy.lavalle@chaffey.edu or 909-652-6279.

Q: What is Assembly Bill 12?
A: AB12 is a California law that allows foster youth to remain in foster care and receive services until 21 years old.

Q: Am I eligible for medical coverage?
A: Former foster youth younger than 26 qualify for Medi-Cal coverage, which includes health, dental, vision, mental health and substance abuse services.

Q: What does "emancipation" mean for foster youth?
A: Emancipation means a youth has aged out of foster care by reaching the ages of 18-21.
Foster Youth Resources
Financial Aid - federal and state tuition assistance
Gabby Gulliver
Scholar contact
909-652-6199

Independent Scholars - academic counseling and financial support services
Lindsy Lavalle
Independent Scholar Counselor
909-652-6279
ischolar@chaffey.edu

Health Services - physical, mental and emotional health
909-652-6331

Chaffey Foundation - scholarships
909-652-6545
foundation@chaffey.edu

Disability Programs and Services (DPS) - academic counseling and academic accommodations
909-652-6379
dps.staff@chaffey.edu


Documentation/ Foster Youth Services
Housing
Housing Resources – Housing programs available for foster youth

Independent Living Program (ILP) - Assists current and former foster youth between the ages of 16 and 21 to achieve self-sufficiency prior to, and after, exiting the foster care system. The organization has resources in San Bernardino, Riverside and Los Angeles counties.
Fontana Community Assistant Program - Fontana's community assistance program brings local organizations, churches, and schools to create a network designed to help connect people to resources that will best meet their needs.
Medical
Medi-Cal/ Covered till 26 - Free Medi-Cal coverage in California if you were in foster care in any state at age 18 or older.
Food
CalFresh - Monthly benefits to assist low-income households in purchasing food they need to maintain adequate nutritional levels.
Community Action Partnership of San Bernardino County
Financial Aid Resources
Chaffey College Financial Aid Office
Chafee Education and Training Voucher (ETV) - Awards current and former foster youth, who qualify, up to $5000 to help pay for college or career/technical training programs.
I Can Afford College - A financial aid awareness initiative for students.