Are you looking for an easier way to get around campus? DPS offers tram service to all qualified students in the program. You have access to trams that accommodate a variety of student needs, including vehicles with ramps that can transport wheelchairs.
Note: The trams have a load capacity limit of 950 pounds and the wheelchair ramp has a load capacity of 500 pounds, so most electric wheelchairs cannot be accommodated.
Your interest in receiving tram service for courses and student service support is important to the DPS Team. In order to provide timely access to this support, you will need to complete this form for each term you will need mobility support (Rancho Campus Only). We will need you to complete this form a minimum of 72 hours in advance so that a team member can be scheduled to be on campus when needed. Please do not hesitate to reach out to a DPS team member with any questions at DPS.Staff@chaffey.edu or 909-652-6379 (please leave a voicemail with your name and student ID number if call is not answered) IMPORTANT NOTE: Students requesting tram services must be current with the DPS department and be approved for tram services as an accommodation by a DPS (Disability Programs & Services) Counselor. If you are unsure if you have been approved for tram services please contact DPS.staff@chaffey.edu.
If your scheduled tram ride is during normal business hours Mon-Friday 7:45am-4:30pm the trams are facilitated by DPS and students should call 909-652-6379 if their scheduled tram ride does not arrive within 5 minutes of its scheduled time. Students need to utilize the Tram Service Request Form for all rides and give the appropriate 72 hour notice.
Evening Tram services available from 5pm-9:50pm Monday through Friday through Campus police. Students need to book these rides in advance using the Tram Service Request Form and be approved for Tram services through the DPS office. If you have booked an evening tram ride and it does not arrive within 5 minutes of your scheduled time please call 909-652-6911.
Available DPS Trams
Please review our Disability Programs & Services Tram Guidelines
Club Car Transporter 6: This custom built wheelchair tram features comfortable seating and a number of safety features for its occupants.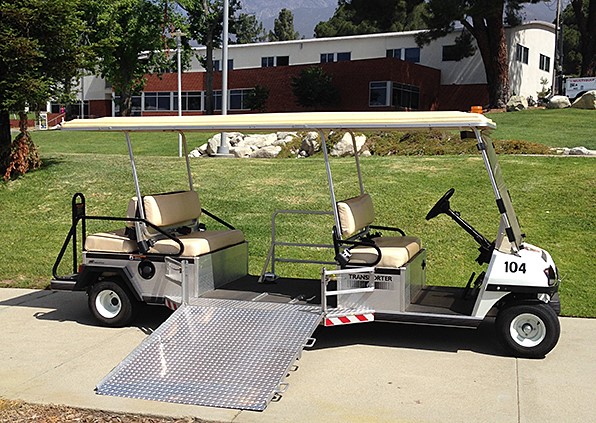 Club Car Mini: This tram features comfortable seating for 4 individuals and a number of safety features for its occupants.