California Lieutenant Governor Eleni Kounalakis Visits Chaffey InTech Center
January 30, 2023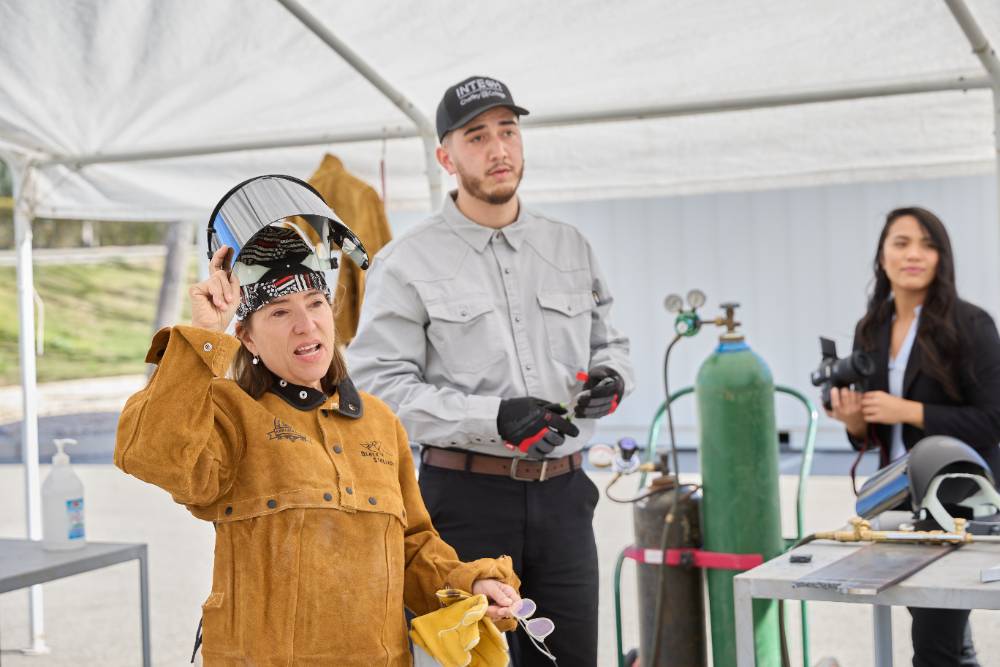 Wearing a dark face visor and yellow protective gear, California Lt. Gov. Eleni Kounalakis aimed a cutting torch at a piece of steel and split it in two. And after the metal cooled, she proudly took her handiwork as a souvenir.
The state's second highest executive officer, who visited the Industrial Technical Learning Center on Feb. 2, remarked on the skill involved in welding.
"I came out of a building background, but to be able to do it and understand the pride of the students and those hopeful students who are on the waiting list — it's just cool," Kounalakis said.
Kounalakis is the most recent high-ranking dignitary to visit the Fontana facility. U.S. Secretary of Education Miguel Cardona and the U.S. Secretary of Labor Marty Walsh also toured InTech in spring 2022, seeking ways to replicate the center in other areas of the country. Vice President Kamala Harris toured InTech in 2017 while serving as U.S. Senator, calling it a "national model."
Kounalakis praised InTech for its work to prepare students for skilled trades and meet employer demand in the manufacturing industry.
"This will keep California at the vanguard, at the forefront of innovation," she said. "It is so overwhelmingly inspiring to be here and to see what you're doing."
Chaffey College Superintendent/President Henry Shannon said that the program remains strong thanks to its partnerships between Chaffey, California Steel Industries and Nucor, but it needs continued funding to maintain its mission.
"We appreciate you being here and supporting not just the Inland Empire, but the entire state of California," Shannon said.
Several students shared testimonials about how InTech has improved their lives including Carlos Morales, an industrial electrician apprentice at CSI.
Morales said he heard about InTech in 2020 while struggling to make ends meet and working long hours at his previous job. While enrolled in the program, a CSI employee who serves as an InTech instructor took him under his wing after seeing his dedication.
"Now I have more time to spend with my wife and daughter and they are so proud of me," he said.