President's Update
COVERING NOVEMBER/DECEMBER 2021
A Message from Superintendent/
President Shannon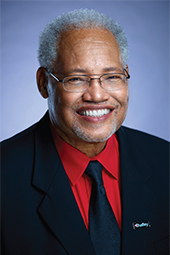 Dear Campus Community,
I hope that you had an enjoyable and safe Thanksgiving holiday. I know for many of us, this year there is an eagerness to make up for lost time and to resume family traditions that may have been skipped last year. While we are still in a very real pandemic, I am hopeful that this year there are more opportunities to safely reconnect and celebrate with the people we love.
It is hard to believe that the fall semester is soon coming to a close. I must say, one of the things I am most thankful for this year is getting to welcome our Panthers back to campus for in-person classes. And I am truly grateful to our Administrative Services and Emergency Operations team for helping to facilitate a safe return by implementing countless safety measures and protocols.
As we know, some of these measures included the installation of 590 air purifiers, 500 Plexiglass barricades and more than 400 gallons of available hand sanitizer on campus. These efforts, coupled with our Vaccine Implementation Plan, will continue into the spring semester as we look forward to welcoming even more students, faculty and staff to campus.
I am filled with gratitude for all of the hard work our Chaffey community has collectively put in to ensure our students have the best educational experience possible. Thank you to our faculty, staff and administrators for adapting in your unique capacities to serve our students – whether it was adopting a hybrid model of work or taking on new responsibilities to fill a need. Your efforts are appreciated and respected.
As the holiday season continues, I would like to recognize that this time of year can be challenging for many of our Panthers. Anticipation and anxiety about completing end-of-semester tasks is one thing but when you add food and other basic insecurities into the mix, it can make for a very difficult season. Please remember that Panther Care services are available to provide a variety of support to Panthers who need assistance.
We have much to look forward to and I am excited to keep up our momentum into the new year. Let's finish this year the only way we know how – Panther strong!
Go Panthers!
Sincerely,
Henry D. Shannon, Ph.D.
INSIDE THIS ISSUE