President's Update
COVERING JANUARY 2023
A Message from Superintendent/
President Shannon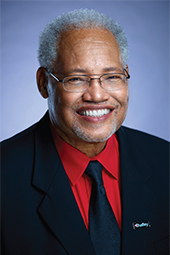 Dear Chaffey and Community Members,
I trust that January has ushered in a new and refreshing energy for all of us as we embark on what I believe will be a busy and purposeful year ahead. At Chaffey College, we are off to a strong start to the spring semester. As indicated by full parking lots and busier hallways, we are serving about 2,000 more students than we were at this time last year. That is something to celebrate!

As part of our mission to support student success, we are once again providing campus grants to all actively enrolled students this semester. Full-time students will automatically receive $300 and part-time students will receive $100 to help cover their expenses. Additionally, students do not have to pay for parking at any of our campuses this semester. It is indeed a great time to be a Panther!

This month the Wignall Museum of Contemporary Art opened its latest exhibit, "Reunion" – which features original works by our own faculty and staff created during the height of the pandemic. You don't want to miss this. Exhibit hours are Monday – Thursday from 10 a.m. – 4 p.m. As always, admission is free.

We are gearing up for many more exciting events ahead – such as Chaffey College's 140th Anniversary! To help commemorate this momentous occasion, we are hosting three celebrations at each of our campus locations.

Please save the dates:
• Saturday, March 11 from 12- 3 p.m. will be our "Family Day" celebration on the Rancho campus
• Thursday, March 23 from 12-3 p.m. will be our Chino campus celebration
• Thursday, March 30 from 12-3 p.m. will be our Fontana campus celebration

We invite the community, faculty, students and staff to join us for food, giveaways, entertainment, activities and much more! Learn more about our 140th celebrations and RSVP at Chaffey.edu/140years.

There is much to be grateful for and much to look forward to in 2023. Thank you for being a part of our Chaffey community.
Sincerely,
Henry D. Shannon, Ph.D.
INSIDE THIS ISSUE