President's Update
COVERING AUGUST 2023
A Message from Superintendent/
President Shannon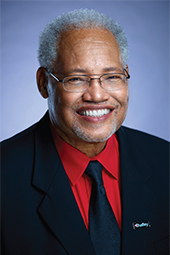 Dear Chaffey College and Community Members,
I am always grateful for the changing of seasons and especially look forward to every fall semester. For those of us who work in higher education, I believe this time of year is like a fresh beginning. We always get a second chance to do something different that will ultimately benefit our students. Maybe you are setting higher goals, improving a process, or just trying to achieve more than the year before. Whatever your aim, I trust you will aim high!


The fall semester at Chaffey College is off to a solid start. A few weeks ago, we welcomed more than 1,000 students and their families to our Orientation Day events, giving them a preview of the college experience and an opportunity to get acquainted with Chaffey staff and resources. I was pleased to meet so many new students and was inspired by their energy and enthusiasm to be a new Chaffey Panther.

At the present time, we have the largest unduplicated student headcount since the onset of the pandemic – a clear indication that there is a growing demand in the region for educating and upskilling our communities.
We continue to support students in a variety of ways including our Panther Promise program, which gives first-time students two years' free tuition, and our growing dual enrollment program that provides high school students access to college coursework.

Our eyes are on the future at Chaffey College – and this is evident with a quick stroll through any of our campuses. There is construction everywhere! Thanks to taxpayer dollars through Bond Measure P, we are breaking ground and making progress on new buildings that will expand learning opportunities for current and future generations. Updates on our various campus projects in Rancho Cucamonga, Fontana, Chino and Ontario can be found on our Measure P website.

I am excited for all the fall semester will bring and I hope you are too. Let us make this the best fall semester yet.
Sincerely,
Henry D. Shannon, Ph.D.
INSIDE THIS ISSUE