President's Update
COVERING NOVEMBER/DECEMBER 2022
A Message from Superintendent/
President Shannon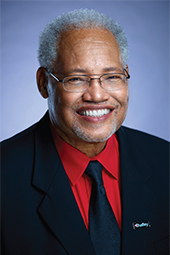 Dear Chaffey and Community Members,
Just like that, we are nearing the end of another year and another semester. While it amazes me how quickly the time seems to pass, I am always left with a feeling of pride and gratitude when I think about all we have accomplished as a community.
On November 9 more than 250 city and educational leaders and community members from the Inland Empire attended our annual Report to the Community in Ontario. The event highlighted the relevancy of a college education, showcased Chaffey's latest equity initiatives and shared student success stories from the Industrial Technical Learning Center, English as a Second Language (ESL) and Extended Opportunity Programs and Services (EOPS) programs. I was left inspired and fueled for the future, as I know so many of you were as well.
I am also still reeling from welcoming nearly 400 community members to campus to attend our inaugural Black and Brown Minds & Mattering Conference on November 1. We continue to receive positive feedback from attendees and community members alike who are grateful that Chaffey is actively addressing the needs of our underserved populations and uplifting them as well. We are excited to grow this conference next year.
At Chaffey, we are forging ahead into our 140th year with exciting plans in 2023, which include expanding our programs, growing our campuses and serving more students in-person and online. (And yes, there will be a celebration to mark our 140th anniversary – more details on that soon!)
A key factor in providing more opportunities for student success is community support. I am grateful to share that Chaffey College has received seed money to establish the Randall Lewis Center for Entrepreneurship with a gift of $250,000 from Lewis Management Corp. This will enable Chaffey to offer students more tools, resources and connections to help them reach their entrepreneurial endeavors.
In closing, I'd like to acknowledge the season that is upon us and let each of you know how grateful I am for your commitment and dedication to our students and this community. As we know, the last month of the year is always a whirlwind, but I hope you will join me in taking a moment to reflect on a successful year and set some intentions for another great year ahead.
Enjoy the holidays and stay safe!
Sincerely,
Henry D. Shannon, Ph.D.
INSIDE THIS ISSUE