President's Update
COVERING MAY 2022
A Message from Superintendent/
President Shannon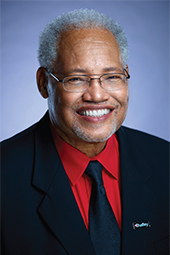 Dear Campus Community,
Chaffey College marked another important milestone as we celebrated our 105th commencement at our in-person ceremony at the Toyota Arena on May 19. I am still feeling elated from the joy and energy we experienced along with family, friends, faculty and staff who united to cheer on the Class of 2022.
This year we had a record number of valedictorians – 18 – the most in Chaffey College history! In total, we awarded 3,100 degrees and 1,500 certificates. Our ceremony was highlighted by encouraging words from non-other than NBA Champion Metta World Peace, who delivered our keynote.
I hope you were inspired as much as I was during this commencement season – as this is what we collectively work towards – seeing students realizing their dreams. A heart-felt THANK YOU to our faculty and staff whose dedication makes it possible for us to celebrate our students' accomplishments in meaningful ways.
In May, we also celebrated the groundbreaking of the new Chino Instructional Building, a project funded through Measure P and the state. The 35,100 square-foot building will bring new classrooms, an expanded library, a learning resource center and new faculty offices to our Chino campus. I am excited for this project and look forward to its completion in May 2024.
Looking ahead, we are gearing up for our Summer 2022 term and are excited to welcome more students for in-person instruction as well as online. Classes begin June 6.
As we continue our work through the summer months, I encourage you to also make plans for some rest and relaxation with loved ones. Enjoy the summer and continue to stay safe and healthy!
Sincerely,
Henry D. Shannon, Ph.D.
INSIDE THIS ISSUE