President's Update
COVERING JANUARY 2021
A Message from Superintendent/
President Shannon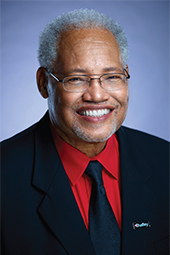 Happy New Year! Spring semester has begun, and while we are facing many of the same challenges we did last spring, I believe we all have the benefit of familiarity now. Connecting remotely has become a way of life for us, our spouses, children and extended family.
But 2021 brings us some hope of an eventual return to normalcy. We now have a vaccine that is being administered to the first phase of eligible Californians, which should bring down the number of infections and free up bed space in our hospital ICUs. And Congress passed a $900 billion COVID-19 relief package in December to help people with the economic fallout from the pandemic. We may not have the answers to what happens next for our country, but it is encouraging to see some progress toward rebuilding what we have lost.
Chaffey College has been working hard to help students stay on track toward their goals. We plan on distributing a third round of funding through the Coronavirus Aid, Relief and Economic Security (CARES) Act to students in need. And whether they're meeting with students online or handing out laptops, food and classroom supplies in our drive-thru events, our amazing faculty and staff continue to keep the success of our students their top priority. We may not be on campus, but we have been very busy.
I thank you all for your perseverance and hard work. We're going to make it through this!
Sincerely,
Henry D. Shannon, Ph.D.
INSIDE THIS ISSUE