Nichols 5-Column Model
Chaffey College has adopted a paradigm pioneered by James O. Nichols, who designed an Institutional Effectiveness Model devised to facilitate the implementation of outcomes-based assessment. The "5-column model" focuses on assessment results and is broken down into five steps:
Institutional Mission and Goals
Statements of institutional purpose
Assessment should connect to the broader mission, purpose, and goals
Program Intended Outcomes
Identify outcomes in relation to broader goals
Means of Assessment and Criteria for Success
Assessment methods used to measure success
Establish criteria for success and define what success looks like
Summary of Data Collected
Summarize the findings
Assess performance against criteria
Use of Results
Make changes or modifications based on assessment findings

The widely recognized assessment model was selected and implemented, with a minor modification, to guide Chaffey College's ongoing outcomes-based assessment goals. In addition to connecting outcome statements to broader Chaffey goals, Chaffey's assessment process requires alignment between institutional learning outcomes, program learning outcomes, and course learning outcomes.
Learning Outcomes Assessment Cycle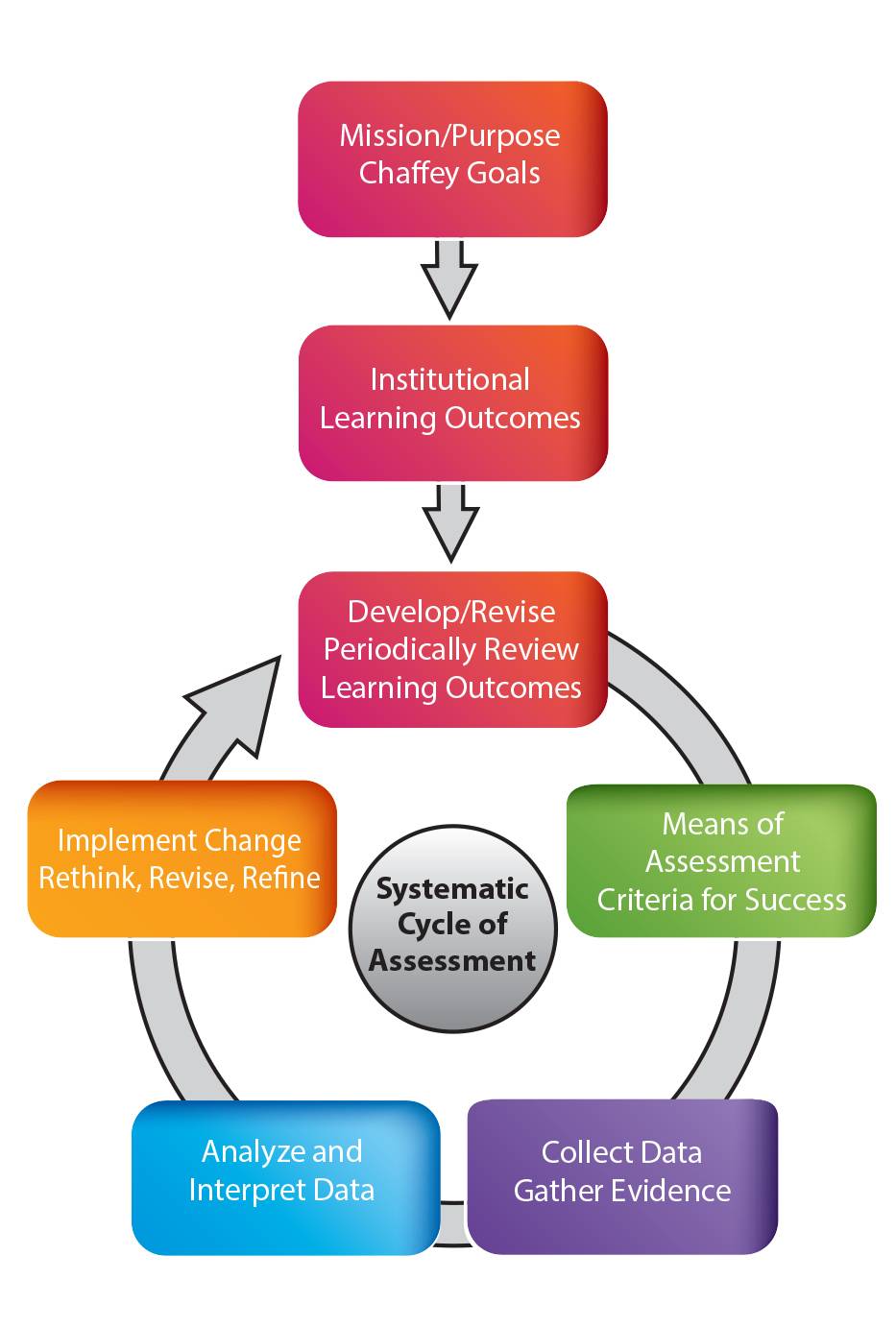 Phases of Assessment
Step 1:
Develop / Revise
Periodically Review
Learning Outcomes
What are the most important abilities, skills, or knowledge students should achieve upon completion of a course or program?
Step 2:
Means of Assessment Criteria for Success

What are your criteria or benchmarks for success?
What tools or methods will be used to measure success?
Do we need to revise the means of assessment?

Step 3:
Collect Data
Gather Evidence

Carry out the assessment and collect data.
Summarize the findings.
How close were the results to the benchmark or criteria for success?

Step 4:
Analyze and Interpret Data

Discuss the evidence. Identify strengths and areas of improvement.
What conclusions can be drawn?
What, if anything, is needed for course or program improvement?
Discuss, if any, resources that are necessary to maintain program strength or improvement.

Step 5:
Implement Change
Rethink, Revise, Refine
Implement changes when appropriate.
What specific plans does the department make?
Does the department need to revise learning outcomes, reassess the measurement tool, reassess learning strategies and/or teaching methods, revise or modify curriculum, or rethink the sequence of courses?