Chaffey Students Accepted into NASA Programs
September 1, 2022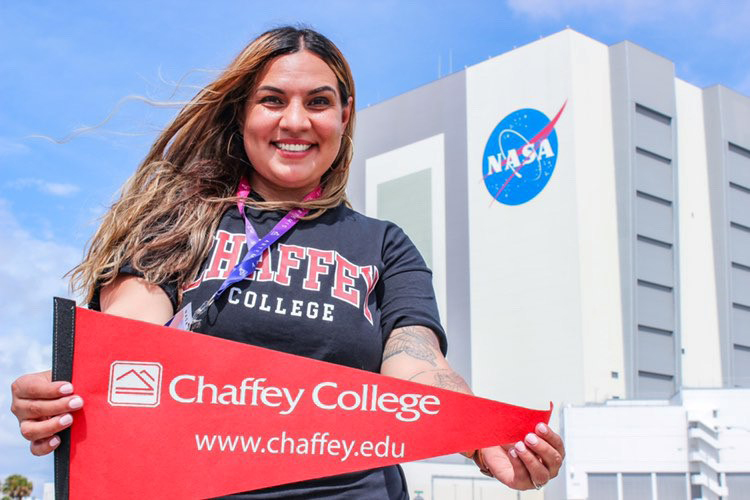 The National Aeronautics and Space Administration selected two Chaffey College students for space exploration workshops in August and September, including one student who got to see the Artemis I rocket.
Sheetal Ram, an aerospace engineering student, and Jessica Estrada, an English major, attended separate fall seminars organized by NASA.
"I have always dreamed of being an astronaut, so this experience was kind of a dream come true," Estrada said.
Estrada was one of only 100 digital creators selected for the Artemis I Social program. The three-day event included an opportunity to see the Artemis I, a rocket carrying the Orion spacecraft. Although the launch was delayed, Estrada toured the Kennedy Space Center, met with the NASA social media team and received clearance similar to news media while attending the event.
Estrada holds bachelor's and master's degrees in business, but continues to take classes at Chaffey to expand her knowledge.
Ram participated in the NASA Community College Aerospace Scholars (NCAS) program, a virtual experience to learn about NASA missions and careers in science and engineering. She completed a five-week online NCAS course to earn her spot. Ram and other students worked in teams to design missions to explore the moon or Mars. They learned to manage a budget, and develop communication and outreach strategies. Students also attended workshops to learn how to apply for NASA internships and toured facilities virtually.
"At the end of the program, I felt that I was a much more confident engineering student, and had a deep sense of pride and accomplishment," Ram said.
Ram plans to transfer to a four-year university and pursue degrees in aerospace or aeronautical engineering. She envisions a future working as an operations engineer for NASA, Boeing or Northrop Grumman. The Veterans Resource Center employee hopes to use her career to help other veterans interested in the aerospace industry.