300 Chaffey College Students Celebrate Tailgate
October 8, 2021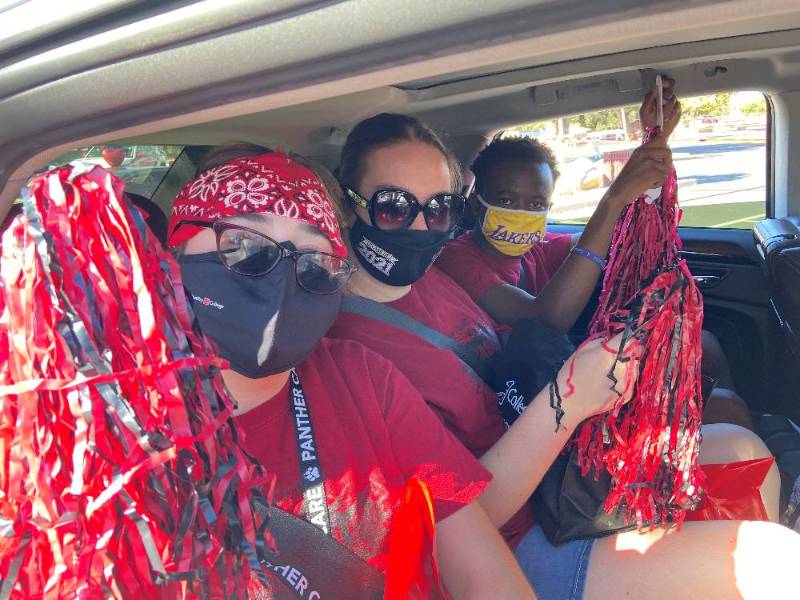 Students waved pompoms, honked their horns and showed off decorated cars in Chaffey College's first-ever drive-thru Tailgate celebration on Oct. 1.
The event, taking place on the Rancho Cucamonga campus, drew about 300 students who came to pick up Chaffey swag bags.
The event normally occurs on Grigsby Field and gives the community and alumni a chance to check out information booths, food trucks and petting zoos prior to a home game. It was held in drive-thru format due to the pandemic.
For Branden Bocanegra, a 2020 Kaiser High School graduate and business major, it was his first time seeing the campus.
"It's great that Chaffey was still able to give everyone something to come out and have a good time," he said.
The event served as the introduction for Chaffey's newly-named mascots Rocky and Roxy, who waved and danced for students.
Business student James Burk came with his son, Zachary Hoppock, a computer science major.
"I just enjoy going to Chaffey events," Burk said. "It's a lot of fun."
About 160 students also took the opportunity at the event to get an Amazon gift card by showing proof of their COVID-19 vaccination.