Chaffey Celebrates Life of Donna Colondres
February 28, 2022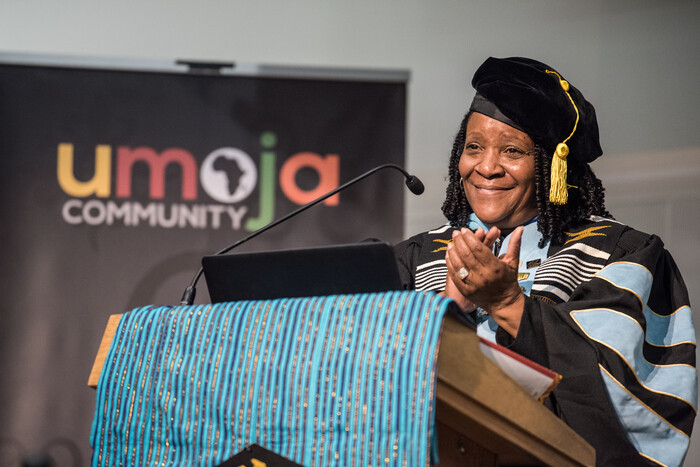 More than 300 students, colleagues and family members gathered to remember longtime Chaffey College counselor and Umoja co-founder Dr. Donna Colondres during a virtual celebration of her life on Feb. 1.
The event included stories and tributes, a "pouring of libations" ceremony and even some tap dancing from former Umoja President Tony Merriwether.
"We love you. You will forever be remembered. Your mark is incalculable," Merriwether said.
Colondres, who worked as a counselor and professor at Chaffey for 31 years, passed away in her sleep in late January. She helped pioneer Chaffey's Umoja program, which supports Black students with specialized counseling, cultural activities and leadership opportunities. Chaffey College Superintendent/President Henry Shannon, who often referred to her as "Doctor Donna," credits Colondres with guiding thousands of students throughout her career.
"She worked tirelessly to help whoever needed assistance," Shannon said. "Being a mentor, she was always a great listener and someone who always gave of herself for the betterment of Chaffey College."
Numerous members of Colondres' family spoke in her honor including her son, Cesar.
"We will go on and live her legacy of being strong and persevering through everything we need to," he said. "I thank you all and love you all for being here."
Bridgette Warren spoke of the pride she felt of being Colondres' sister.
"Donna was my sister, my teacher, sometimes my mother, and with all of that, she is just remembered and loved and was so full of warmth," she said.
When alumnus Brandon Washington '20 first met Colondres in his freshman year at Chaffey College in 2017, he remembers the counselor spending some time with him on his education plan. But the majority of time they talked about their families and images of the Caribbean on her office walls. Washington later transferred from Chaffey to UCLA.
"I just feel like she's a prime example and a model of what counselors, professors and staff members of institutions of higher learning should strive to be like," he said. "She cared so much about her students, herself, her family and her work."