Classified Success Network
The Classified Professionals Advisory Committee, now known as the Classified Success Network Advisory Committee, was formed in 2011 to address the professional learning needs of classified employees. This committee created the Classified Success Network, a program that provides training and resources for Chaffey's classified staff in the form of workshops, quick tips, conferences, and more. Training topics vary and have included technology, equity, customer service, leadership, and state initiatives. Training participants can earn pins and are recognized for their professional development efforts at an annual recognition ceremony.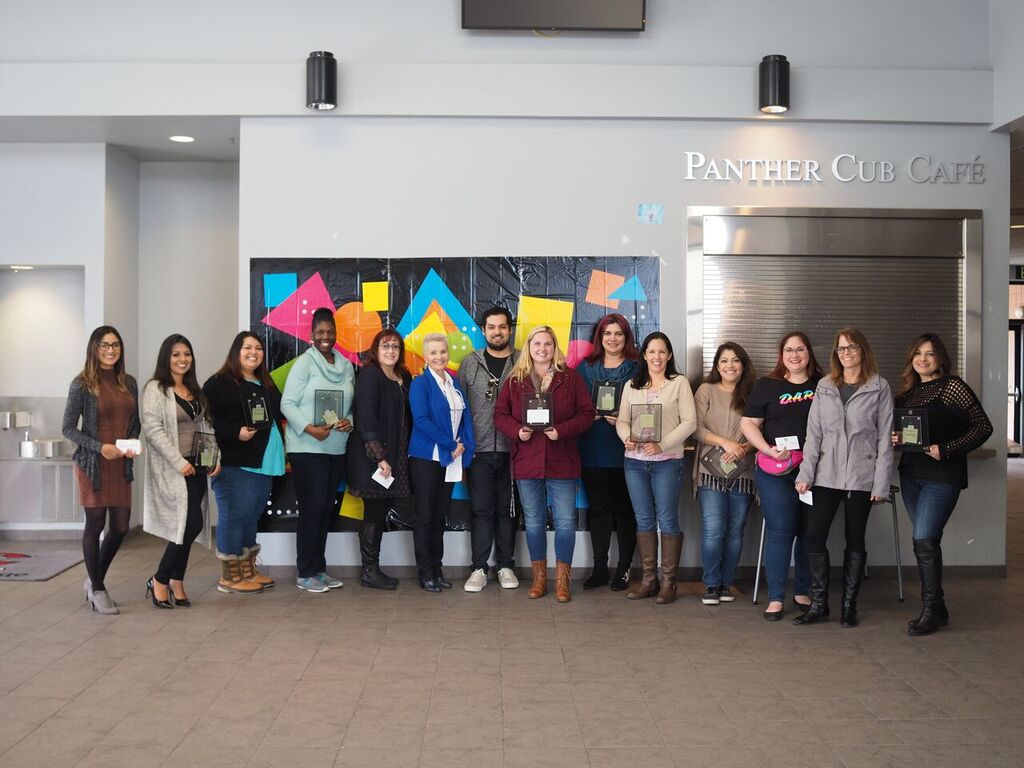 Members
Rob Rundquist, Advisor
Olympia Olaluwoye
Jackie Carmona
Saba Kazmi
Elisa Lewis
Sabrina Sanchez
Alisha Serrano
Tina Altis
Vicky Valle
Contact
Do you have fabulous, useful information to share with other staff members at Chaffey College? Send us a quick tip by drafting a one-page document and email it to csn@chaffey.edu.
Presenting for the Classified Success Network
Are you interested in leading a Classified Success Network workshop? Please use this outline to understand what we expect from presenters and what you can expect from us.
General Workshop Information
The Classified Success Network provides a variety of workshops for classified staff. Topics are identified through manager and classified staff surveys. Most workshops are between 1-1.5 hours in length with the first and last five minutes devoted to pre and post assessments.
I've Agreed to Present. What Else Do I Need to Do?
Once you've agreed to lead a workshop we will send you an email link to a form that you will need to complete. Please let us know when you have completed this form. This form assists us in advertising the workshop and scheduling a room.
Pre and Post-Assessment Questions
The CSN works with the office of Institutional Research to measure the effectiveness of our training workshops. Please create 3-5 multiple choice questions that will be used for both PRE and POST assessments. The questions should not be easy to guess without having taken the training. This allows us to measure any improvement between the PRE and POST assessments. You can see some sample questions below:
1. The Quick Add feature in Google Calendar allows you to do what? (Answer: b)

Create a new calendar
Create a new event
Enter additional information for an existing event
Change settings to an existing calendar

Which is not one of the customizable options under General Settings within Google Calendar. (Answer: c)

Default View
Date/Time Options
Embedding a Calendar
Event Dimming

What application is not used in Google Drive? (Answer: c)

Documents
Presentations
Access
Forms
Drawings
More Pre and Post-Assessment Questions Information
These assessments are completed via cell phone or the classroom computer during the first and last 5 minutes of the workshop. A CSNAC member will provide you with the links to the pre and post assessments.
What to Cover During Your Workshop
As you prepare for your workshop, the content of the workshop may evolve. If your workshop has changed since submitting your description and/or assessment questions, please check them to make sure they still apply. This will ensure that participants receive the information they expect, and that assessment results will be accurate. In short:
Cover information that was included in the description/advertisement for the workshop.
Answer all questions that you submitted as pre/post assessments questions.
Handouts
Presenters may wish to create a handout for their workshop. We can print these for you to give to each workshop participant. An electronic copy of this may be posted to our website after the workshop. You may visit our website at www.chaffey.edu/csn to view handouts from past workshops towards the bottom of the page.
Accessing the Workshop Room
We will book a room for the day and time of your workshop after you have submitted that information. Campus Police can unlock the workshop room for you if you are a Chaffey employee. Call them on the day of the workshop about 10 minutes before you need to access the room. The number is (909) 652-6911.
What Happens After the Workshop?
After the workshop you may receive a brief feedback survey. This is an optional survey that will help us in making this an enjoyable experience for presenters.
Compensation (for faculty)
Faculty who present during their regular, working shift are not financially compensated for leading a workshop. Faculty presenting outside of their shift will be paid at the trainer rate for the length of the workshop plus twice the prep time. For example, for a one hour workshop, there would be two hours of prep time, so the payment would be for three hours. Faculty also have the option to present in lieu of Flex with their supervisor's approval. Classified staff and managers will not receive financial compensation.