Aviation Maintenance Technology
A degree or certificate in aviation maintenance technology can lead you to careers with airlines, federal and state government, the military and more. Chaffey College's program is top-ranked in the country and fully approved by the Federal Aviation Administration.
Explore Your Programs Degree/Certificate Options
Contact
Aviation Maintenance Technology Department
Phone: 909-652-6830

AMT Entry Information
Rancho Cucamonga campus
Requirements:
In order to be eligible to register for and attend AMT classes:
Satisfy the steps to admission by fulfilling the following tasks:


Complete and submit a Chaffey College application
Attend Chaffey College orientation
· Take the Assessment Test (Required)
· Create an Educational Plan with a Counselor
· Pay all outstanding college fees (for returning students)

Contact the AMT department for more information by emailing

shawn.ward@chaffey.edu or by calling (909) 652-6865
Returning students do not have to complete the above steps, if already completed.
Mandatory Requirements for First Day of Class
All Returning Students are required to bring the following on the first day of class:
Required tools and toolboxes - See department syllabus
Required text books – See individual syllabus
Department and airframe or powerplant syllabi
Completed safety test
All new students are required to bring the following on the first day of class:
Department and general syllabi
Completed safety test
Copy or proof of assessment
Required tools and toolboxes (See department syllabus)
Required text books (See general syllabus)
Program Information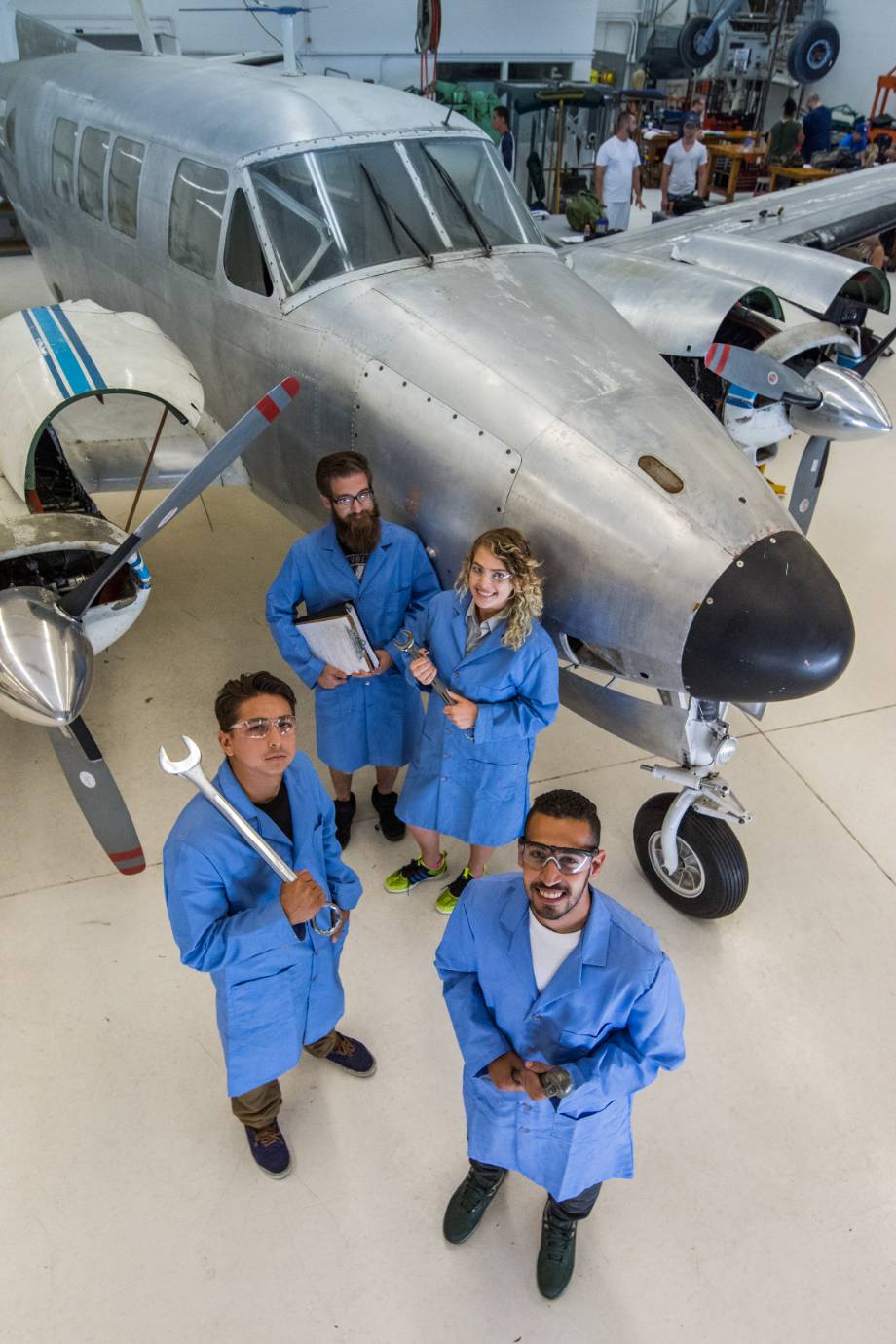 This program provides the training needed to become an aviation maintenance technician. Students who successfully complete the program will have the experience required by the Federal Aviation Administration for certification as an airframe or power plant mechanic. Airframe and power plant technicians are in demand by airlines and aviation maintenance providers. The aeronautics program at Chaffey College is fully approved by the Federal Aviation Administration (FAA) to provide the 1900 hours of experience required to become an airframe or power plant technician. Students may earn an associate degree and/or separate college certificates in airframe or power plant.
FAA Requirements
To meet the FAA requirements for an airframe and power plant mechanic certificate, the student is required to complete a total of 1,900 hours of instruction. This includes both lecture and hands on lab work. The 1,900 hour requirement is broken down as follows:
General section: 400 hours

Airframe section: 750 hours

Power plant section: 750 hours
The general section is a prerequisite for the Airframe and Power plant sections. A student who is seeking only one certificate (i.e. airframe only or power plant only) is required to complete the general section prior to completion of the desired section.

Do you already have one certificate? If so, you are not required to take the general section to complete the other desired certificate.

Completion of FAA written, oral and practical tests are required to obtain the Airframe and Power plant mechanic certificates.
More information is available in the Federal Aviation Regulations, FAR part 147 and FAR Part 65. See the Federal Aviation Administration website or contact your local FAA office.
Frequently Asked Questions
Anyone eligible to enroll at Chaffey College can take the program. No prior mechanical experience is necessary. The program is excellent for those who are seeking a career in aviation maintenance, a foundation for higher education in aircraft maintenance or engineering, homebuilders, pilots and aircraft owners.
As a certificated mechanic, you are authorized to maintain and repair all civilian fixed wing and rotary wing aircraft. This includes helicopters, small general aviation aircraft, large commercial transport aircraft and those in between.
Yes. Chaffey College offers individual school certificates for completion of the airframe section and the power plant section. Contact a counselor for specific information.
The program takes approximately two years to complete when attending full time. Full time is Monday through Thursday from 7:15 a.m. to 4 p.m., or Monday through Friday from 7:15 a.m. to 2:15 p.m.
Currently, Chaffey College does not offer AMT at night. This is, however, under consideration.
Please check the school schedule for specific information.
There are two ways to obtain an FAA Airframe and Power plant Certificate: meet the minimum FAA work experience requirements (see the FAA web site or contact your local FAA office for details); OR, attend an FAA approved school. In an FAA approved school, students must complete a specific number of hours in the General, Airframe, and Power plant subject areas, as required by the FAA. In addition, there are required lecture topics and lab projects which must be completed. The required lecture topics and lab projects can normally be completed within the prescribed FAA hour requirements. In addition, students must pass a qualification exam with 85% or better for eligibility to take the FAA written exam.
The FAA requires completion of a specific number of hours and subjects, which must be carefully documented. This will be reviewed on a case by case basis by the instructors.
Yes. All hours and courses taken at any FAA part 147 approved aviation maintenance school can be transferred to the Chaffey College Aeronautics program. An official copy of transcripts and records of hours from the previous school will be required for an evaluation.