Social Wellness and Behavioral Support Team: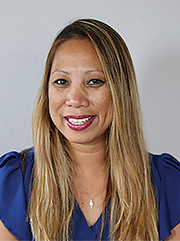 Jennifer Henry, DSW, LMFT
Director of Social Wellness and Behavioral Support
Jennifer M. Henry is a Doctor of Social Work and a Licensed Marriage and Family Therapist. She has been providing public mental health services for the past 14 years throughout Los Angeles county. She has worked with a diverse population ranging from children, adolescents,
families, adults with co-occurring disorders and domestic violence survivors. She has conducted comprehensive mental health assessments, created individualized treatment plans, and provided holistic individual, family, and group therapy. Her life's mission is to be a vessel of change. An altruistic and humanistic legacy is what she aims to gift this world.

Amelia Barrett
MFT/PCC Intern (Cal Baptist University)


Tristan Freeman
MFT Intern (CSUSB)


Shaina Goss
MFT Intern (CSUSB)


John Waterson
MSW Intern (CSUSB)


Sol Brenda Holmes
BASW Intern (UMASS Global)

Services Offered:
Individual therapy
Group therapy
Psychoeducational Workshops
Mental Health Assessments
Treatment Planning
Screening Tools (PHQ9, GAD-7, OQ-45)
Risk Assessments (C-SSRS)
Safety Planning (Stanley-Brown Safety Plan)