Chaffey College Photo Instructor Ardon Alger Reflects on 45-Year Career
October 1, 2020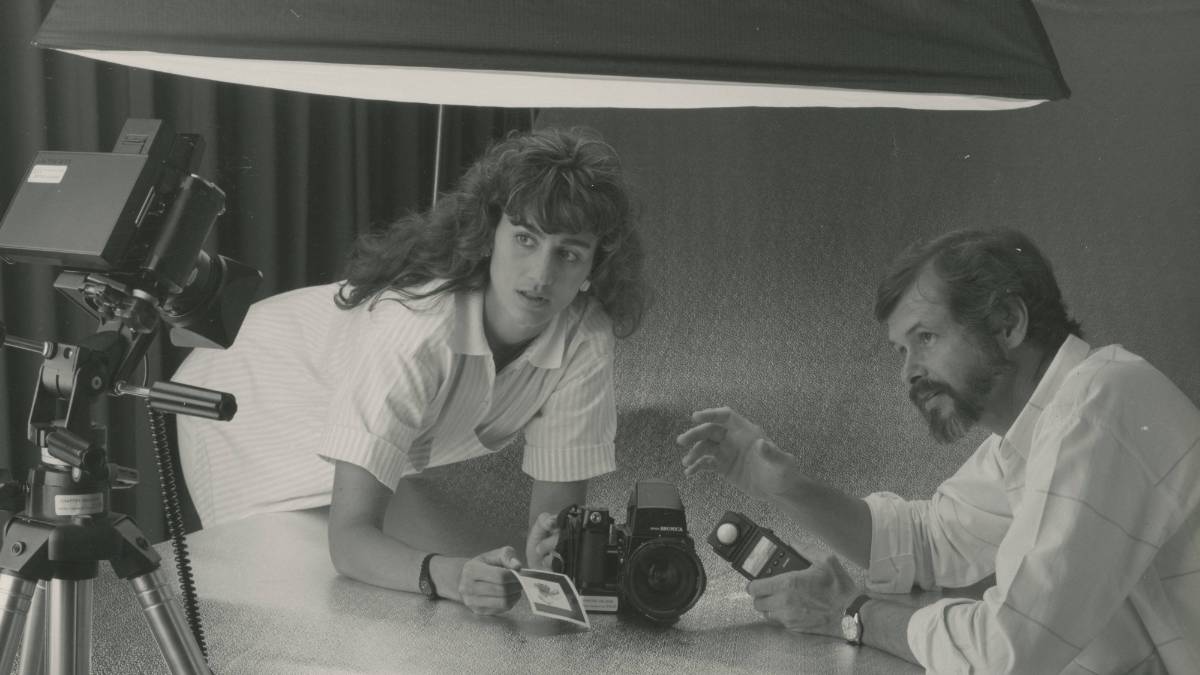 Photo: Ardon Alger instructs Barbara Kaufman during a studio lighting class at Chaffey College in 1990.
Shontā Ledbetter persevered through the challenges of raising three young children and taking college classes, all while surviving on meager wages as a fledgling photographer.
But when she became pregnant during her third year at Chaffey College, she didn't think she could continue.
Her favorite teacher, Ardon Alger, would not let her give up.
"I thought my life was over," Ledbetter said. "I was freaking out because I didn't know if I could keep doing this. But Ardon and some of the other professors told me 'You've got this,' so I kept going."
Ledbetter, a Rialto resident, now serves as a Career and Technical Education teacher for Fontana Unified School District and teaches writing classes as an adjunct professor for Cal State University San Bernardino.
It's not hard to spot Alger's impact on photography and education in Southern California. Just look at images in newspapers, magazines, wedding photos and gallery exhibitions and there's a good chance he's connected to them in some way. In 45 years as a professor, Alger has taught thousands of photographers who went on to earn a living taking photos or teaching.
Chaffey College recognized Alger's retirement and longtime service in early October and also held a parade for him in May.
Alger, of Claremont, grew up in Whittier and graduated from Whittier High School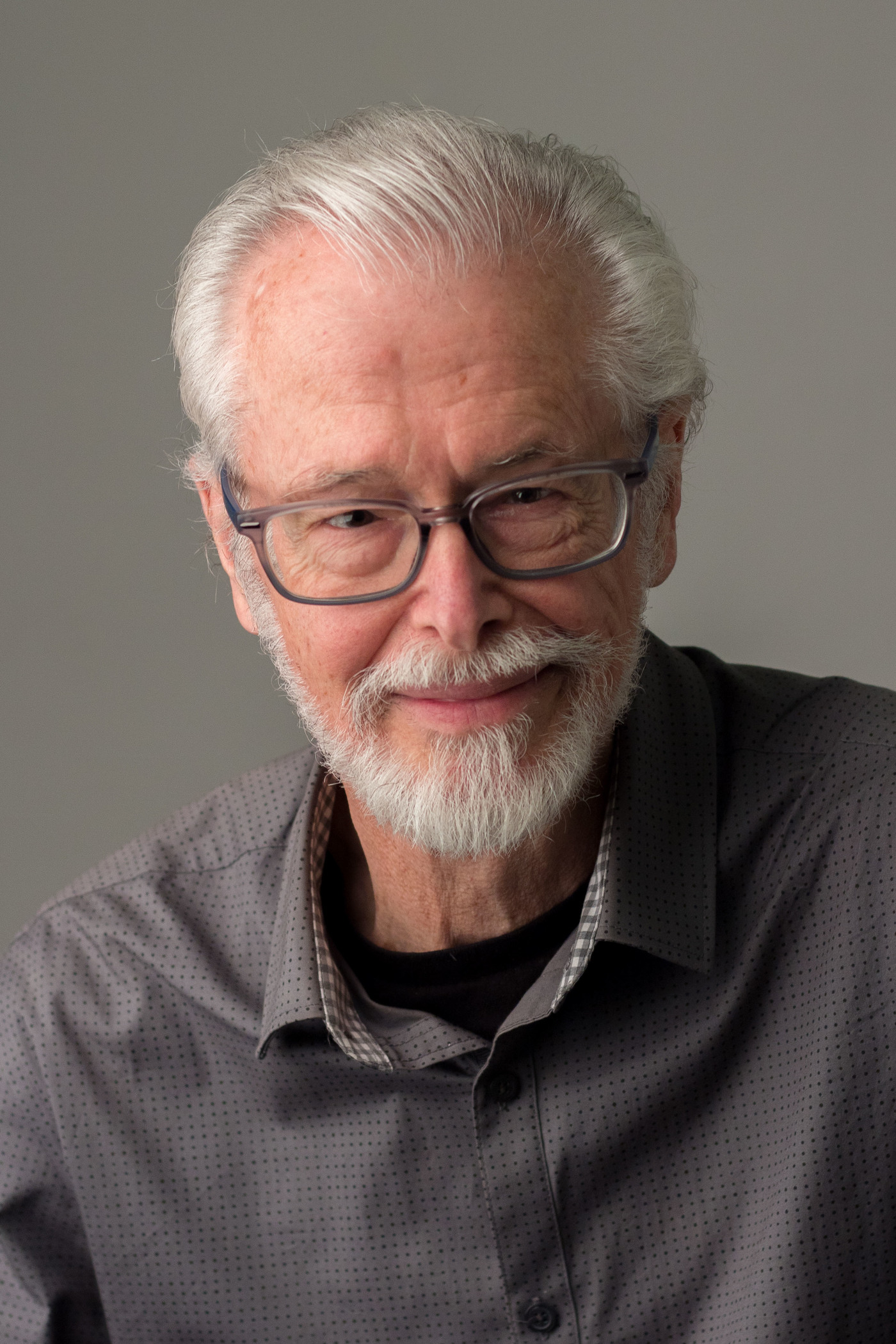 in 1964. He earned a bachelor's degree in Asian studies from Chapman University and enrolled at Claremont Graduate University with the goal of earning a Ph.D. and becoming a philosophy professor by the time he reached 25 years old.
But finances and his struggles with dyslexia prevented him from meeting that goal. He dropped out of CGU for a semester to get a job and earn some tuition money. When he returned, he decided instead to go after a Master of Fine Arts and turn his lifelong love of photography into a teaching career.
In 1975, he began teaching part time at Chaffey College and received a full-time instructor position the following year. The photo department back then consisted of a tiny lab in a cafeteria building and a classroom in Wargin Hall. He introduced Chaffey's studio lighting course back in the late 1970s but he and his students had to move all of the desks out of the lecture hall to teach it.
Alger worked to expand the photo department in the coming years, adding a dedicated photography classroom with computers and state-of-the-art software, a dark room and a studio.
"We went from almost nothing to being a robust program," he said.
Tommi Cahill, one of Alger's students who went on to earn degrees at the California Institute for the Arts and Yale University, now teaches photography at the University of Redlands. She remembers the photo lab being a place of creative energy – a hangout for photographers, whether they had a photo class that semester or not.
"Everybody was always just so welcoming," Cahill said. "I've never been in an environment like that before and I don't think I've been in one like that since."
To give his students connections with four-year universities and to share the quality of Chaffey's photo program with the region, he organized an annual exhibition at Montclair Place. He invited university professors to judge students' work. The event has grown so well-known that nearly every photo faculty member from a four-year college in Southern California has attended, Alger said.
Alger remembers the reaction by Kyle Reidel, the head of the photo department at Cal State Long Beach, when he judged the event for the first time.
"His mouth just flopped open and he said, 'This work is better than that of my (Bachelor of Fine Arts) students,'" Alger said. "And then he took out his camera and started taking photos," Alger said.
Alger says he found happiness giving students the skill to express themselves through the art of photography. But he also enjoyed earning the respect of his colleagues in the field. Cal State University San Bernardino Photography Professor Thomas McGovern made a point to reach out to Alger upon hearing about his retirement.
"You are certainly only of the best people I ever worked with! So smart and dedicated and a real gentleman," McGovern wrote. "You've had a huge impact on photography education, especially in SoCal where just about everybody has taught for you. Whenever your name comes up in conversation, folks have only the nicest things to say. That's a huge accomplishment in academia and art!"
When he wasn't teaching, Alger served as Chaffey College Faculty Senate president. He holds the record for being in that role for 18 years. While overseeing Chaffey's art programs, he established new programs and classes, partnerships with area high schools and arts organizations, and fought to fund new lab facilities for programs such as graphic design, hotel and food services and fashion merchandising and design.
He and several other professors launched Student Invitational, an elite juried art exhibition for students that includes photography, painting, sculpture, digital design and more. Student Invitation just celebrated its 43rd anniversary.
Alger applied for and won Chaffey's first National Endowment for the Arts award in 1982 to put on an exhibition featuring the work of Darryl Curran, renowned Southern California photographer and educator.
When Curran heard Alger was retiring, he had some simple advice: "He told me I should relax. But that's not in my nature," he said.
"I plan to start doing some of my own art again. I haven't decided yet if it will be seen by the public," he said.