Chaffey College Students Research Climate Change, Public Health, More
July 7, 2021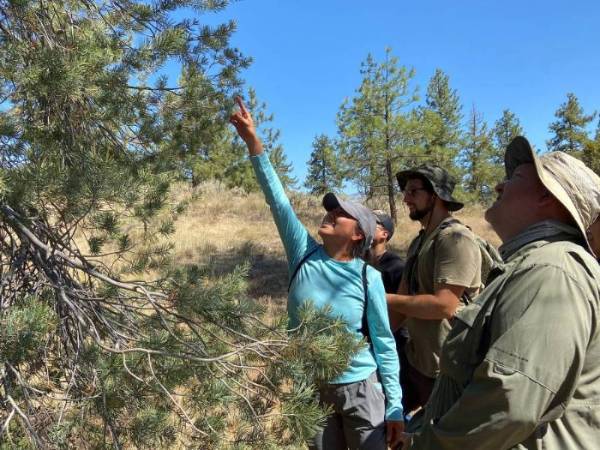 About 85 Chaffey College students collected data about fire-resistant trees, built aerospace parts in Ontario and handled 5-million-year-old fossils.
They were part of the Chaffey College Summer Research Opportunity, an eight-week program where students work with scientists and other professionals in areas such as mathematics, astronomy and anthropology.
"It's a serious commitment," said Linda Lamp, program director. "The students represent Chaffey College, they're getting experience, making connections, networking and working with post-doctoral researchers and professionals."
While many students in years past had to wait until they were upper classmen at four-year universities to do research, more and more community colleges have been giving their own students these experiences. And they're seeing the benefits.
Students who already have research experience by the time they transfer to a four-year university have an edge over their peers who do not.
"These students can list these experiences on their college applications, and most students who are freshmen and sophomores do not have these experiences," Lamp said.
Chaffey College has funded its summer program through a Title III STEM grant for five years.
Nick Charland, an engineering major, has joined three other students this summer to assist the U.S. Department of Agriculture with a monitoring project related to the endangered Quino Checkerspot Butterfly.
The butterfly and cattle both rely on plants in the Garner Valley area of Riverside County. The USDA study could affect future decisions about where cattle graze.
For Charland, a zipline instructor in Wrightwood, participating in the project aligned with his interests in the outdoors and future endeavors.
"It seemed like a cool opportunity and something that will look good on a resume," he said. "I'm always trying to grow my knowledge base."
Associate Professor of Chemistry Maryline Chemama said the summer program can be a game-changer for students upon transferring to a four-year university.
"I have seen students transform from the start to the end, gain confidence and literally bloom with this experience," she said.
Chaffey College Professor of Anthropology Marc Meyer says some of his students have had their research published in leading scientific journals and have had international recognition for their work.
"It is exceedingly rare for an undergraduate student to have a peer-reviewed published article, especially at a two-year college," he said. "My students who are now published authors have successfully leveraged their research projects into a transfer to top schools, scholarships and admission into graduate schools.
For some, the program can shape what they end up selecting as their career focus.
Biology major Nancy Granados, who is part of the USDA team with Charland, is leaning toward working with fossils. That's because she participated in the program two years ago with the Natural History Museum of Los Angeles County.
"It's a great experience," she said.
Alumna Ainaz Sharabyani, now a biology major at UC Irvine, earned the prestigious Regents' Scholarship and a spot in the college's Summer Health Professionals Education Program thanks, in part, to her experience in Chaffey's summer program.
Her research at Chaffey focused on the effectiveness of household pesticides on mosquitos for the West Valley Mosquito and Vector Control District. She presented her findings in January 2020 at the Mosquito and Vector Control Association of California conference.
"The research I did challenged me academically, and that challenge better prepared me for the classes I took at UCI," Sharabyani said. "It helped with critical thinking, oral and written communication skills. It's helped in every upper division course I've taken at UCI."
Journalism students, also a part of the summer program, team up with research students to document their experiences through a series of articles and other media published by Chaffey's student newspaper The Breeze.
Chaffey College has partnered with the following organizations for this year's program:
Aerospace Commercial Tooling
American Museum of Natural History
Cal State University San Bernardino
Chaffey College Anthropology Department
Chapman University
Cope Health Scholars
Duke Cultural Resources Management
Natural History Museum of Los Angeles County
Raymond M. Alf Museum of Paleontology
University of California, Irvine
University of California, Los Angeles
University of California, Riverside
S. Forest Service – U.S. Department of Agriculture