Biology students get lab experience at home thanks to kits
July 6, 2020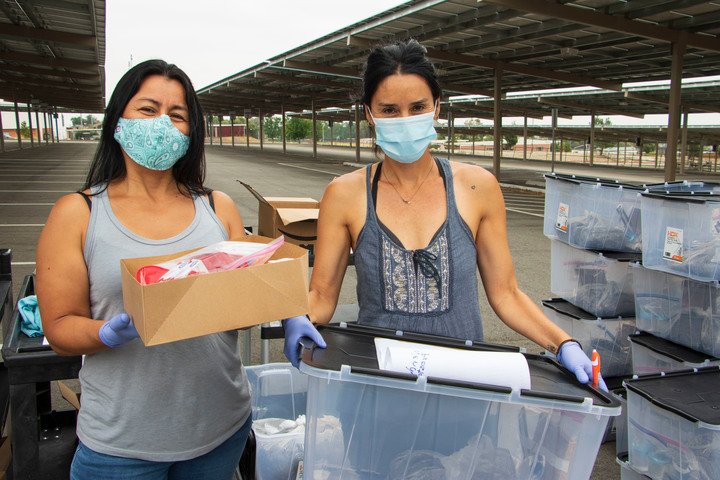 Chaffey College biology students can't come to campus to do lab experiments due to COVID-19, so the college decided to bring the "lab" to them.
Staff members have assembled hundreds of take-home kits – an assortment of measuring cups, yeast, testing strips and tubing – so that students in beginning biology courses can conduct simple and safe experiments from home.
"Faculty came up with a list of experiments that were approved by the college so that when students did their experiments at home, there was no risk involved," said Sira Palerm, Chaffey's science lab coordinator.
Biology Professors Sarah Cotton and Emily Avila-Teeguarden realized that with a few minor changes, in-person lab assignments could work from home. Students could still learn the process of fermentation by baking bread, experience the scientific method with Alka Seltzer tablets and understand environmental biology by using kits to test water from their communities.
The problem was that all of the supplies students needed would cost them more than $100 if they went to the store themselves. And companies offering similar biology kits boosted their prices to $300 apiece due to COVID-19 demand.
"In an era of trying to reduce costs, it's egregious to ask students to pay $300 for items they would have gotten for free if they were on campus," Cotton said.
But Palerm, a savvy shopper, managed to get the kits down to $14 each for 200 students. The college covered the cost.
Staff have been handing out the kits in drive-thru events on campus.
Biochemistry major Austin Moss, a Rancho Cucamonga resident who is transferring to Azusa Pacific University in the fall, said he never took online classes at Chaffey until the pandemic hit. But he is embracing the transition and picked up his biology kit from campus June 17.
"I'm actually looking forward to (the experiments)," he said. "Most of the time lab activities take place in laboratories, so it will be interesting in a home setting."
Cotton said that some experiences – such as learning how to use a microscope or other tools of science – need to be learned in a real lab. But for students starting in biology, the use of kits is a great solution for online. The approach will continue in the fall for some classes.