Chaffey Grad Achieves College Dream at Age 69
May 20, 2020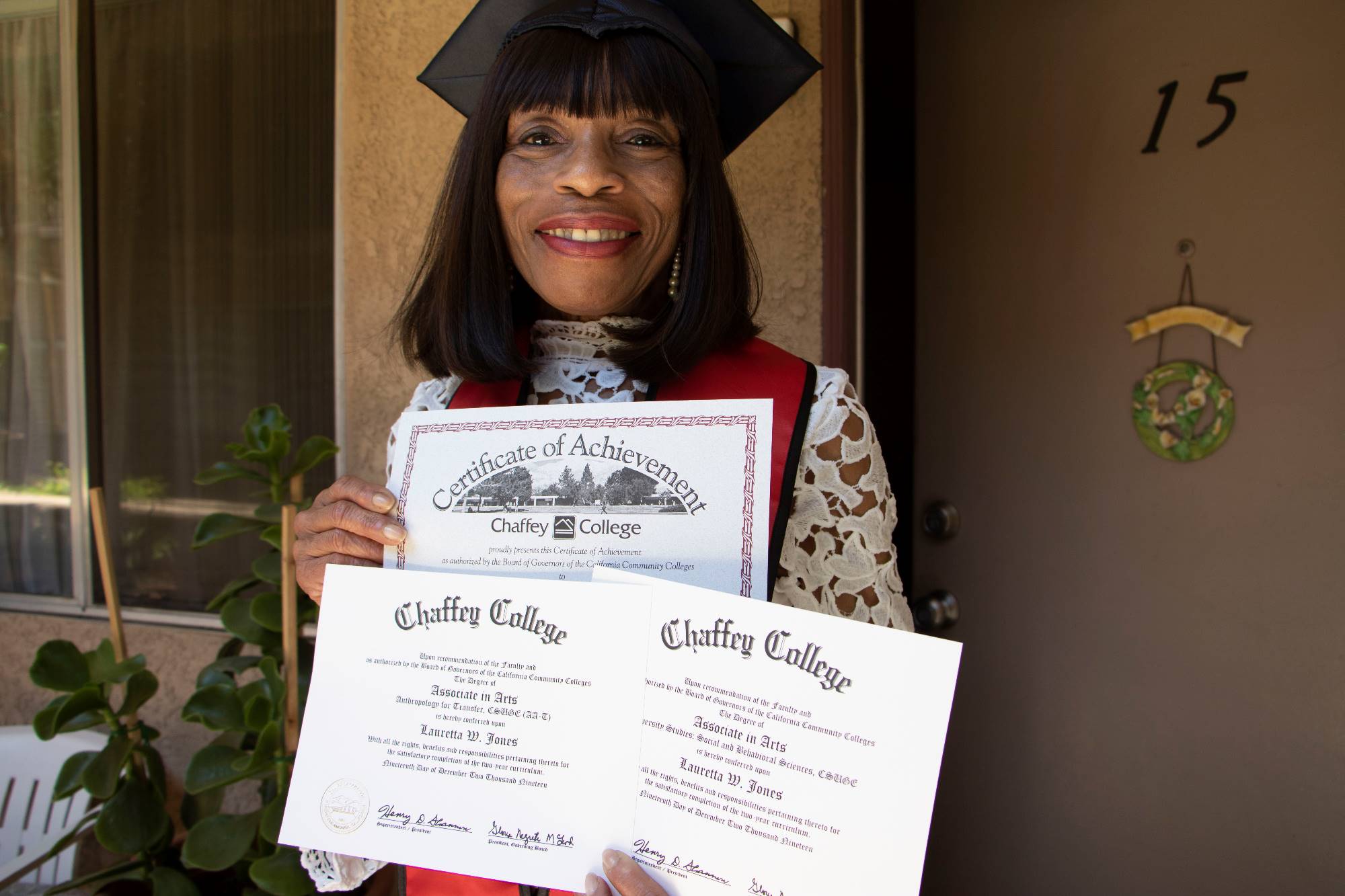 Lauretta Jones grew up in Los Angeles in the 1960s at a time when students in middle school had to decide on a career path. When she told her counselor that she wanted to pursue anthropology, she did not receive an encouraging response.
"We don't have negroes in that field," the man told her.
The 69-year-old Fontana woman never gave up on that dream and has received an associate's degree in anthropology, a general education degree and a certificate from Chaffey College. She participated in the college's "Grad Fest" celebration on May 20 and has been accepted to Cal State San Bernardino, where she plans to major in cultural anthropology. She hopes to become a social worker.
"I'm so grateful to Chaffey for giving me the chance to study something I'm so passionate about," she said.
She is one of more than 3,100 students receiving an estimated 6,400 degrees and certificates. It's the most awards given in the college's history. With the youngest graduate being 17-years-old and the oldest at 78, Jones is one of the oldest members of the Class of 2020.
The graduating class includes numerous Fontana residents with noteworthy achievements, including six graduating with 4.0 grade-point averages. Those students are Adedamola Adeyamo, Stacie Curcio, Mariah Rhodes, Jiselle Romero, Christian Smith and Adi Tuhuteru. Adeyamo is one of 13 valedictorians in the Class of 2020.
Jones, who has lived in Fontana since 2006, worked for 18 1/2 years as a correctional officer with the California Department of Corrections and also served in the U.S. Army National Guard. She stepped away from her career to take care of her parents, and later decided she wanted to return to school to pursue a different career.
While taking classes at Chaffey College to become an X-ray technician, she took an anthropology class that brought back memories of her middle school dream. She immediately switched majors.
But it didn't come without challenges. She lives on a fixed income – a combination of Social Security and disability benefits – and doesn't have a car. During her last semester at Chaffey, she had to take a three-hour bus ride to Chino to take a class that didn't end until 10 p.m.
But thanks to the college's Extended Opportunity Programs and Services (EOPS), she received support to get Uber rides back home since buses don't run that late.
Jones' niece, Felicia Womack, 46, said she draws inspiration from her aunt.
"I think it's amazing," she said. "I told her to get her master and Ph.D. and keep going."
Jones said people who have doubts about going back to school should not use their age as an excuse.
"Education doesn't have an age limit," she said. "You're never too old to go back."