Chaffey College Student Perseveres Through Homelessness to Graduate
May 7, 2021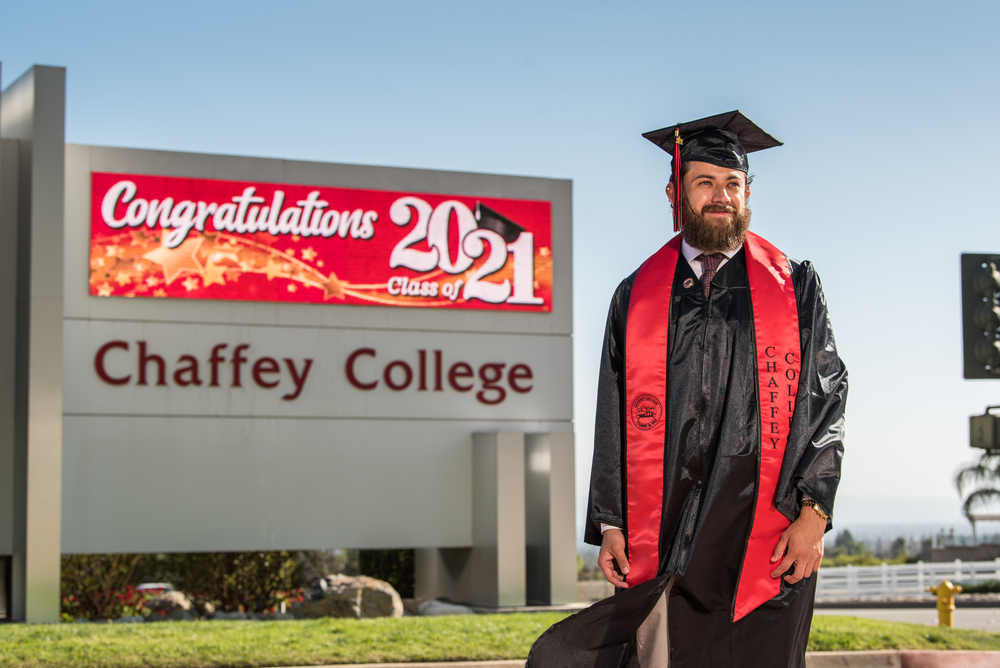 David Leon grew up in Upland, excelled in academics and sports through high school and enrolled at Chaffey College to build a future.
But what his classmates and professors likely didn't know is that often when he left campus for the day, he didn't return to a house or an apartment. He had to sleep in his truck.
"There's definitely challenges and it's scary at times," Leon said. "But I like the independence."
Leon — serving as class speaker for Chaffey's virtual commencement on May 20 — is one of about 2,800 students earning about 5,500 associate's degree or certificates at Chaffey College this year.
The 25-year-old business major works as an apprentice for a commercial real estate firm in Ontario and coaches youth basketball in Upland. When his parents decided to move away from the area in 2017, his choices were to give up all of his opportunities in the Inland Valley, or stay and live out of his truck so he could keep pursuing his goals.
His parents, who also faced housing insecurity at the time, supported his decision to stay. They've since found a home and offered him a place to stay, but Leon chose to remain in the area to complete his degree.
"It's really for my family," he said. "I'm sacrificing all of this for my family."
Leon has had a knife pulled on him, and has lived through extreme heat and cold. But he has also learned how to make his situation work. He uses a Chromebook and a WiFi hotspot issued by Chaffey and has paid for food and gas through part-time jobs. Chaffey College also connected him with temporary housing at an Ontario motel in 2020 just before the pandemic.
For Leon, getting off the street for a couple of months offered him the relief he needed to stay healthy and do well in his classes.
"When the pandemic started, I was really scared. They said on the news that homeless people were at a higher risk for getting sick," he said.
Leon now lives in a recreational vehicle in an RV park. He inherited the vehicle from his father, who died in March.
Between students working reduced work hours or losing employment altogether, and with colleges closing on-campus housing due to health mandates, the pandemic has caused an increase in housing insecurity across the nation.
About 54 percent of Chaffey College students who participated in a January survey by the Hope Center for College, Community and Justice said that they had experienced housing insecurity in the last year.
Leon has been accepted to Cal Poly Pomona, Cal State Long Beach, Cal State San Bernardino, UC San Diego and is on the waitlist for Cal State Fullerton – his dream school.
He's planning to major in business administration and hopes to one day run his own real estate company.
"I think of what I'm going through now as the down point in my life," he said. "But it's the downside of what will ultimately be a successful outcome."
The Class of 2021 includes 12 valedictorians. They are:
Mark Maldonado of Rancho Cucamonga, university studies major
Alec Lynch of Rancho Cucamonga, physics major
Simran Bhatia of Rancho Cucamonga, general education
Shiva Nia of Rancho Cucamonga, biology major
Evelin Avila of Ontario, general education
Nicole Herrera of Chino, accounting major
Cheyenne Ureno of Rancho Cucamonga, psychology major
Azalie Melchor of Fontana, photography major
Joshua Garcia of Ontario, general education
Clara Gaied of Rancho Cucamonga, general education
Meera Joseph of Fontana, pathway to law school major
Karmel Roe of San Bernardino, paralegal studies major