Chaffey Dreamers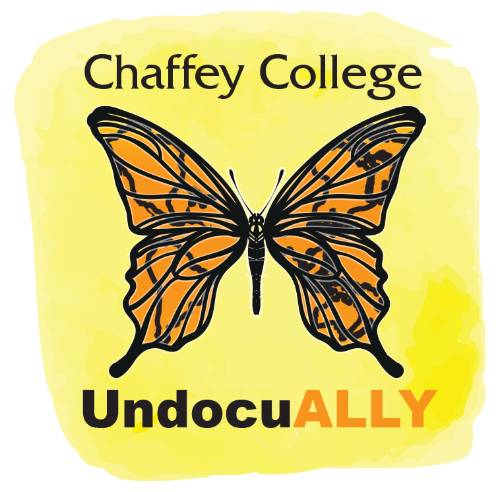 The Chaffey Dreamers student club provides personal, academic, legal and financial support to all undocumented students. All students are welcome, including those outlined in Assembly Bill 540, Dreamers and their allies. The Chaffey Dreamers provide a way for you to connect with other students, community resources and find more ways to succeed.
Chaffey College has significantly reduced operations due to COVID-19. As a result, in person services have been suspended. Staff is available via the Student Hub to assist you.
We are available Monday through Thursday 7:30 am - 4:30 pm and Friday from 7:30 am-4 pm.
Dreamers Resource Liaison Live Chat
Carlos Lequerica
Financial Aid Advisor/Interim Dreamer Resource Liaison
Financial Aid Advisor (alpha load H - L)
Phone:+19096586951
Email:Carlos.Lequerica@chaffey.edu
Video chat on Cranium Cafe with Carlos Lequerica
Email: chaffeydreamers@gmail.com
Neil Watkins
Faculty Adviser
neil.watkins@chaffey.edu
909-652-6952
Meetings
For Fall 2020, the Dreamers' Club meets every Wednesday, 2:00 - 3:30 p.m., by Zoom.
Please email neil.watkins@chaffey.edu for the meeting link.
Financial Aid/Scholarships
Financial support can be found through financial aid, on-campus and off-campus scholarships.
The

Chaffey College Financial Aid Office helps all students fund their education. The office is located in the student services administration building.
On-Campus Scholarships
Soñadores (Dreamers) Endowment Scholarship [NOTE: Need hyperlink to new URL]
Off-Campus Scholarships
Events
UNDOCU-TRANSFER INFORMATION SESSION SERIES
Come learn about support services and opportunities available for undocumented students at universities across California.
REGISTRATION LINK: https://tinyurl.com/UNDOCUTRANSFERSERIES2020
All community college and high school students are welcome to attend!
RECURRING MEETING CODE & ZOOM LINK:
TIME: 4:00 – 5:30PM
Zoom: https://cccconfer.zoom.us/j/96441732347
Click photo to enlarge file and view schedule
FAFSA/Dream Act Workshops
The Chaffey College Financial Aid Department holds numerous workshops throughout the year regarding the Free Application for Federal Student Aid and the Dream Act application. Financial aid staff provide one-on-one assistance to students who attend.
Student and Family Leadership Conference
Chaffey College holds this event to provide students and parents with information to support Dreamers. Workshops have covered topics such as how to ask for help, activism, entrepreneurship, contract licensing, steps to transfer to a 4-year college or university, resource fairs and more.
Chaffey College's AB540/DACA Resource List

Student Health Services
Rancho Cucamonga campus MACC-202
909-652-6331
Resources
Student Resources
AB 540/Dreamers California Nonresident Tuition Exemption Request for Eligible California High School Graduates
Supportive Organizations
Parent Resources
Educator Resources
Supportive Statements
The Chaffey College Governing Board passed a 2017 resolution in support of all students, regardless of immigration status.
Chaffey College Superintendent/President Dr. Henry Shannon issued the following statement on the Trump administration's action to end DACA:
"At Chaffey College, we stand behind the words of California Community Colleges Chancellor Eloy Ortiz that the decision to end DACA is "a heartless and senseless decision that goes against American ideals and basic human decency." The 800,000 lives affected by this decision are people who are law-abiding, educated and fluent in English. They serve in our military, teach in our classrooms and are the doctors, lawyers, scientists and leaders needed to continue building this strong nation. All of them were brought to this country as children and see this nation as their home.

"At Chaffey College, we have approximately 1,000 AB 540 students on our campuses. They are with us to pursue educational goals or to gain job skills. They positively contribute to our campuses and communities daily. For our students and the Dreamers across our nation, we urge Congress to find a permanent solution to this issue. At Chaffey College, we will remain committed to providing educational access to all students in the communities we serve regardless of their immigration status as written in our Governing Board Resolution in February 2017."
California Community Colleges Chancellor Eloy Ortiz Oakley:
"Ending DACA is a heartless and senseless decision that goes against American ideals and basic human decency. Those who are affected by this decision were brought to this country as children and are pursuing an education and making contributions to their communities. Some have served in the armed forces defending this country. In California, we don't put dreams --or Dreamers --on hold. The California Community Colleges remain committed to serving all students, regardless of immigration status, and to providing safe and welcoming environments in which to learn. We will do all within our power to assist students affected by this decision, and we will advocate tirelessly in Congress for a permanent resolution to this issue."
Chaffey College Classified Senate:
The Chaffey College Classified Senate stands in support of the Deferred Action for Childhood Arrivals (DACA) students at Chaffey College.
The Classified Senate provides Classified Professionals with a formal participatory voice in supporting the College's mission, vision, core values and promoting a successful learning environment for students. As an integral part of the college community, the Classified Senate strives to actively contribute to the growth and success of ALL members of Chaffey College. We encourage Classified Professionals and all other recipients of this email to continue to proudly stand by our students' rights to obtain support and pursue educational and vocational opportunities at Chaffey College.
Chaffey College Faculty Senate:
The Chaffey College Faculty Senate stands in support of the Deferred Action for Childhood Arrivals (DACA) students at Chaffey College.
Faculty inspire students to reach their goals, and have high academic and professional aspirations. Serving the "whole student" and developing safe, learning-centered environments is the cornerstone of our values. The Faculty Senate embraces equity principles, which include respect for students and all employee groups at the college, the dignity and diversity of all students, and the capacity of all students to learn, grow, and succeed. – Faculty Senate Pride Statement
And to this end, the Faculty Senate is dedicated to providing access, opportunity, and support services to all DACA students as they pursue their educational goals at Chaffey College. As faculty leaders, let us stand in unity in support of our DACA student's ability to learn and participate in all aspects of the educational opportunities afforded to them with freedom and hope. Our student's rights are human rights, which are indivisible.