Environmental Health and Safety
Your health and safety are important to us, whether you are a student, faculty or staff member or a visitor at Chaffey College. That's why the Chaffey Community College District has established health and safety programs to reduce and/or control occupational safety and health risks and promote a culture of safety throughout the college. We've integrated safety awareness and practices into activities at Chaffey College through education, training, communication, evaluations and inspections.
Advisory Notices
Painting
Spraying
Construction
Products approved for use on Chaffey College campuses:
Aqua Master
Fusilade
Glyphosate
Pathfinder
Pendulum
Primo
Revolver
Speed Zone
Sure Guard
Termidor SC
Turflon Ester
Vista XRT
Report Hazardous Conditions or Safety Concern
Please complete and submit this form to report hazardous conditions or safety issues. Dial extension 6630 for additional questions.
Biosafety
Chaffey College designed the biosafety program to minimize or eliminate employee, student and public exposure to biohazards with the district. The blood borne pathogen plan and the medical waste management plan are two principal components of the program. More information about material safety data sheets (MSDS) or safety data sheets (SDS) can be found MSDSonline. Contact Chemical Hygiene Officer Sam Gaddie for questions about biosafety at 909-652-6425 or sam.gaddie@chaffey.edu.
Chemical Safety
The chemical safety plan is designed to minimize or eliminate employee, student and public exposure to the health and physical hazards of chemicals used by the district. The chemical hygiene plan and MSDSOnline are the two principal components of this program. Additional resources are available through Flinn Scientific, Inc. and its material safety data sheets search, as well as information on scientific products, equipment and services at Avantor.
Injury and Illness Prevention Plan
Chaffey College provides the injury and illness prevention plan for supervisors and managers to promote safe and healthy work practices.
Medical Waste Management Plan
Chaffey College facilities: Rancho Cucamonga campus, Chino campus, and Fontana campus.
Sam Gaddie, Chemical Hygiene Officer, is responsible for implementation of the plan.
Rancho Cucamonga Campus
Date: July 12, 2018
Generator Facility: Chaffey College – Rancho Cucamonga Campus
Site Address: 5885 Haven Avenue
City: Rancho Cucamonga
State: CA
Zip: 91737-3002
Telephone: 909-652-6000
Chino Campus
Generator Facility: Chaffey College – Chino Campus
Site Address: 5897 College Park Avenue
City: Chino
State: CA
Zip: 91710-8241
Telephone: 909-652-8000
Fontana Campus
Generator Facility: Chaffey College – Fontana Campus
Site Address: 16855 Merrill Avenue
City: Fontana
State: CA
Zip: 92335-8626
Telephone: 909-652-7400
Health and Safety Committee
The district health and safety committee [NOTE: hyperlink to new URL] meets on a regular basis (at least quarterly) to review areas of concern to assure a safe and healthy environment for all students, faculty, staff and visitors. The committee evaluates and makes recommendations regarding district health and safety policies and procedures.
MSDS/SDS
Material Safety Data Sheets and Safety Data Sheets (MSDS/SDS) are an important source of health and safety information. The district currently uses MSDS Online chemical inventory/Material Safety Data Sheet management system to manage MSDSs/SDSs. Additional resources are available through Flinn Scientific, Inc. (MSDS Search) and VWR (MSDS Search).
A material safety data sheet (MSDS), safety data sheet (SDS) or product safety
data sheet (PSDS) is an important component of product stewardship and occupational safety and health. It is intended to provide workers and emergency personnel with procedures for handling or working with that substance in a safe manner, and includes information such as physical data (melting point, boiling point, flash point, etc.), toxicity, health effects, first aid, reactivity, storage, disposal, protective equipment and spill-handling procedures. MSDS formats can vary from source to source within a country depending on national requirements.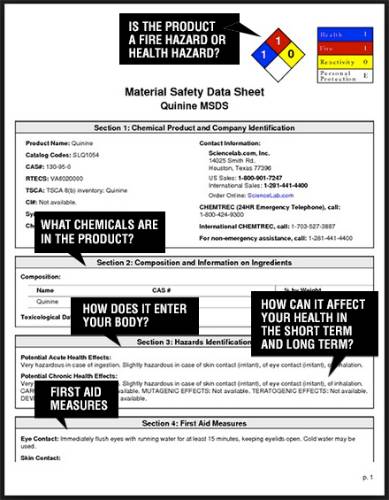 The US-based National Fire Protection Association (NFPA) has a standard NFPA 704 using a diamond with four colored sections each with a number indicating severity 0—4 (0 for no hazard, 4 indicates a severe hazard). The red section denotes flammability. The blue section denotes health risks. Yellow represents reactivity (tendency to explode). The white section denotes special hazard information. One example of a special hazard would be the capital letter W crossed out (pictured left) indicating it is water reactant. This label is used primarily in the US.